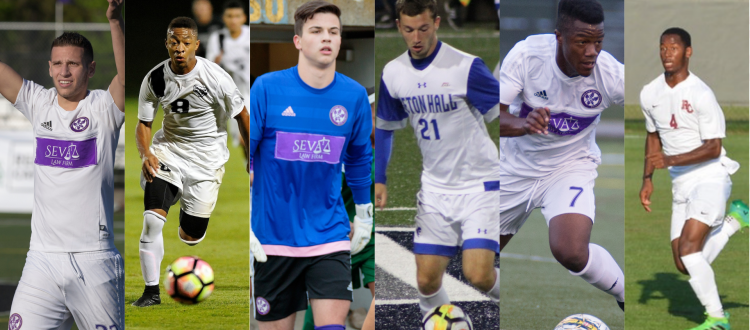 OCFC Welcomes First Players of 2018
Written by Robert Kerr, Staff Writer
—
Oakland County Football Club continues it's remarkable period of growth. After acquiring a new home and staff and launching a Supporters' Trust whilst joining a new league, it's now time for the players. The 2018 Oakland County FC players will be donning a very special edition of the Purple and White kit. OCFC will be wearing their first-ever supporter-selected jersey. Putting on a kit that was selected by the teams' own supporters is quite unique, and to be the very first in the state, is extraordinary. An experience only Oakland County FC offers to it's fans and players. The 2018 kit will be unveiled at the Supporters' Trust Preseason Party in early May.
On Thursday, April 5, Oakland County's semi-pro soccer team began announcing their 2018 roster. Midfielder Mario Morana; an OCFC original, was the first player named to the supporter-owned team. Oakland County FC then welcomed defender Willie Maddox, midfielder Nathan Tremonti and brought back goalkeeper Cary Wilson. Come Monday, OCFC had their first striker and a big time defender.
---
Mario Morana
Welcome back to the club, @MMorana23! An original rejoins #OCFC in 2018 for his third season in Purple. 🇮🇹🇺🇸 #BleedPurple pic.twitter.com/LW72r8M5IX

— Oakland County FC (@OaklandCountyFC) April 5, 2018
Mario Morana returns for his third season in the middle for the Purple and White. After his announcement on Thursday, the former Marygrove Mustang shared a few thoughts on the approaching OCFC Season:
"I'm very excited to be back for a third consecutive season, as well as playing at the new stadium in Clawson. I've played in Clawson Stadium in previous competitions and believe it will bring fans a more personal game day experience. [My goal for the team] this year is to make it to the post-season. In previous years we have been very close to achieving this goal, I'm hoping this year we can clinch a spot in the playoffs in forward hopes of a regional Championship."
Morana scored twice and set up three more goals in his six starts for the club in 2017.
---
Willie Maddox
Welcome to the club, @Maddox_IV! The former @GoldenGrizzlies defender joins the #OCFC backline for the 2018 season. 🇺🇸 #BleedPurple pic.twitter.com/7VON3IhGqd

— Oakland County FC (@OaklandCountyFC) April 5, 2018
Defender Willie Maddox became the first new OCFC player announced for the 2018 season. Hailing from Troy, and playing for Oakland University where he made 20 starts in his 25 game appearances, the 5'6 defender won't have to go far to his new home.
"I'm really grateful to have the opportunity to play for OCFC this year. I'm excited to play in front of great fans in an exhilarating environment at Clawson Stadium. I want to be the team at the top of the league that everyone is trying to reach."
---
Cary Wilson
Welcome back to #OCFC, @Wilson_Cary! The @TuMensSoccer goalkeeper returns to the club for his second season. 🇺🇸 #BleedPurple pic.twitter.com/fqvLno7oyy

— Oakland County FC (@OaklandCountyFC) April 6, 2018
Oakland County then welcomed back goalkeeper Cary Wilson. 2018 could be considered a comeback season of sorts for the second year player.
"Unfortunately, my season with OCFC ended very quickly last year when I got injured. I'm glad to be back and hope to make an impact at the club and strive to help the club reach new levels both on and off the field."
Measuring up at a towering 6'3, the Clarkson High School alumni will be a big figure in the OCFC goal. The starting Tiffin University goalkeeper earned a win in his single appearance, before suffering an injury last year.
---
Nathan Tremonti
Welcome to the club, @NateTremonti1! The @SHUMSOC junior joins the #OCFC midfield for the 2018 campaign. 🇺🇸 #BleedPurple pic.twitter.com/edurwH4brD

— Oakland County FC (@OaklandCountyFC) April 6, 2018
Next up: Nathan Tremonti, a 6-1' midfielder from Bloomfield Hills. Tremonti comes to the Purple and White after his sophomore year at Seton Hall University. During his 2017 college season, the imposing defender racked up 264 minutes of action. OCFC's new midfielder also excelled in the classroom, as he was accepted into Seton Hall's Honor's Program and the Stillman School of business.
---
Kaveon Dux
Welcome back to #OCFC, Kaveon Dux! The @GoldenGrizzlies forward returns in 2018 for his second season with the club. 🇺🇸 #BleedPurple pic.twitter.com/dXrfGzCWNt

— Oakland County FC (@OaklandCountyFC) April 9, 2018
On Monday, April 9, Oakland brought in two more exciting players. The very first striker was added to the 2018 roster. 20-year-old forward Kaveon Dux returns for his second season with the club. The Berkley native had a highly decorated high school career in which he won two All-State team selections in addition to an All-National Team Award selection. The Oakland University Golden Grizzly scored four times and assisted on another two goals in eight appearances for Oakland County last summer.
---
Alex Ofeimu
Welcome to the club, Alex Ofeimu! The @AthleticsRC defender will don purple and white for the 2018 season. 🇺🇸🇳🇬 #BleedPurple pic.twitter.com/z03fkXdpM9

— Oakland County FC (@OaklandCountyFC) April 9, 2018
Arriving in Clawson with high praise and standing at a whopping 6'4, there is plenty to be excited about with the announcement of defender Alex Ofeimu. The center back won two regional championships at West Bloomfield High School and was a letter winner in both football and basketball. Ofeimu started 8 of 12 games as a freshman at Oakland University before transferring to Rochester College for his sophomore season.
"I'm excited to play for OCFC, a club that represents something. There's a lot of familiar faces, so it should be a fun time with good soccer. Clawson is new to me as well, so I'm going to try my best to create some good memories."
---
OCFC will play in it's first season in the United Premier Soccer League (UPSL).
The nation-spanning UPSL expanded to the region after the 2017 season, and created the UPSL's Midwest Conference – East region. The division consists of six teams; four teams from Michigan, and one each from Indiana and Ohio. Oakland County FC will kickoff their home opener on May 12, against the Indiana Old Bhoys at 7pm. Tickets can be purchased here.
---
About Oakland County FC
Oakland County Football Club is a Semi-Professional soccer team dedicated to providing a remarkable on-field product as well as an unforgettable game day experience. OCFC will strive to bring high-level soccer and entertainment to Oakland County and surrounding communities. Additionally, we aim to cater to every audience, both youth and adult. OCFC's long-term vision is to create a community backed club sponsored by both local and regional organizations, which will give back to the residents of the community in the form of pride and involvement.