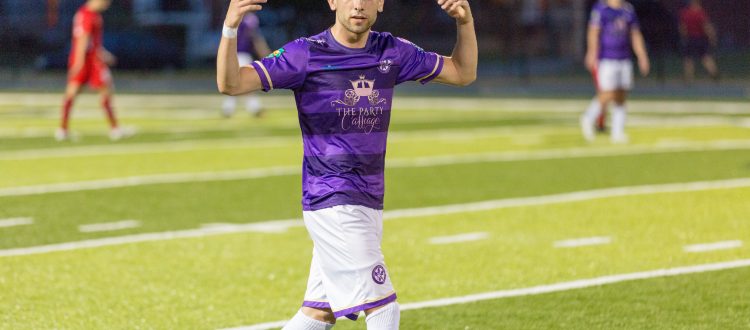 Match Preview: Must-Win Friday
Written by Robert Kerr, Staff Writer
—
After three weeks away from Clawson, Oakland County returns to home field action on Friday night. OCFC will be welcoming visitors from the west as the Muskegon Risers arrive as the next opponent for the Purple and White. Coaches Darryl Evans and Derek Peters will have the team fully prepared to return to winning ways, as the team has had an extra week to prepare for Friday's match.
While fans can get restless when their team has a break in action, it can be a big help for the players and coaches. Defender, Travis Harrington, on Tuesday, said,
"The bye week was very helpful, as it allowed for us to recover and improve on some tactics as a team." The weekend off also gave the players time to take in the World Cup. "I haven't missed a game so far and I've definitely been enjoying the tournament. But, my favorite thing about the World Cup, is how the game of soccer is a universal language that connects everyone around the world."
Forward AJ Williams comes into Friday's game having scored in both of his two appearances for the team. The Saginaw resident echoed similar thoughts towards the bye week.
"The [extra time] was helpful to do some extra tactical things. It was also good for me, and some other players that were nursing injuries, it gave us more time to fully recover." As far as keeping the streak going, Williams is quite sure of himself, "I'm an extremely confident kid, so I expect to score every time I walk on a field, meaning, the [scoring] streak will, indeed, continue Friday."
The club enters Friday's contest in the third spot of the UPSL Midwest – East Division standings, and a win could put the club back within three points of the top spot. Every game becomes more and more crucial, as only the Divisions' top team earns a playoff birth. OCFC enters the second half of their regular season on Friday, as the match will be their sixth of ten league matches.
The Muskegon Risers, most notably, were Oakland County FC's first ever 'Friendly' opponent (2016). In the four total matches played between the clubs, each stand even with two wins and two losses. The last encounter in 2017 saw winger Mario Morana score an 85th minute, game-winning goal from a free kick, to give OCFC the dramatic victory. Morana, who currently leads the team in assists, is expected to be in the lineup again on Friday.
Kickoff is slated for 7:30 PM. Discounted tickets to the match can be purchased here.