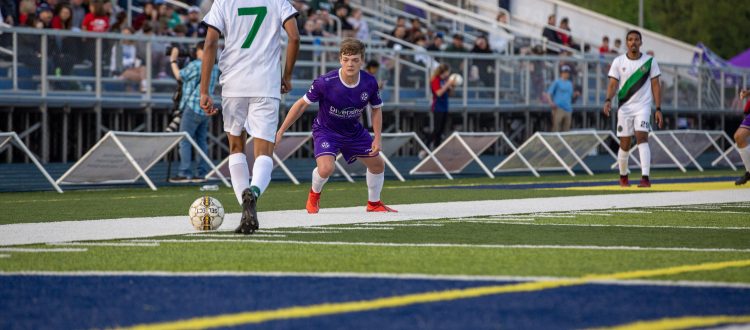 Match Preview: OCFC vs Waza Flo – Act 2
Written by Robert Kerr, Staff Writer
—
Oakland County FC seeks a return to their winning ways, as they welcome Waza Flo to Clawson City Park Stadium. Thursday night's bout is the fourth of eight home games in 2019, presented by Diversified Members Credit Union. County comes home having just dropped consecutive matches on the road. The midweek match will give the Purple Gang an opportunity to earn instant revenge for their 2-1 defeat at Waza Flo, on June 7.
The door to the top of the division has been left open and the arriving period of three-games-in-six-days will play a large part in the story of County taking their chance to step through it. OCFC hosts Waza Flo, Thursday night, then heads off on the road to play the top two teams in UPSL Midwest Conference – East Division: Saturday night in Grand Rapids and then off to Auburn Hills on Tuesday. The meat of the 2019 league season is here. Getting a win at home Thursday night is imperative, and can be the catalyst for a great run of results.
👀 @metcalfe_nick | @louis2sala | @NateTremonti1 | @Cwilde_13 #BleedPurple pic.twitter.com/Xly0z9XHLO

— Oakland County FC (@OaklandCountyFC) June 10, 2019
With the congestion of fixtures ahead, and the pressure mounting in the league, it was great to see a bright and energetic training session on Monday night. The OCFC coaching staff has a complex management moment on their hands, as they look to balance game tactics with player workload and availability. Head coach Darryl Evans has said he believes there are at least 20 players performing at starting lineup level in the squad. That depth, will surly be tested through the of the course of the busy week.
County received a fitness boost on Monday, too, with a return to training for forward Fred Prest. The Brazilian born attacker had been missing from the group since having to be subbed out during May 30th's 1-1 draw with Carpathia FC. Fred has scored  three goals in all competitions, this year, and adds an explosive and defense penetrating element to the County frontline.
Thursday's game will be a Fathers Day celebration, and will feature prematch yard games, and a halftime Hot Dog eating contest. Buy tickets at a special pre-sale price, HERE.
The Oakland County FC experience, presented by Diversified Members Credit Union, continues beyond the final whistle. Zeoli's Italian, in downtown Clawson, at 110 E 14 Mile Road, is the official OCFC match day bar. Zeoli's is serving $1 beers, during every match day, in 2019! Socialize, dine, and cheer with your fellow fans, before and after the game.