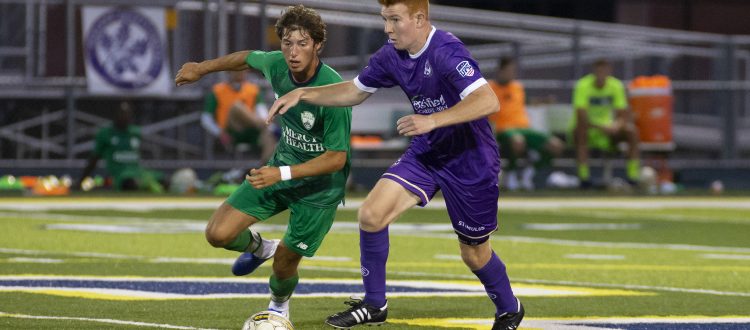 Match Preview: OCFC vs Risers
Written by Robert Kerr, Staff Writer
—
Oakland County FC takes to the road one final time in 2019 this weekend. County will venture to the west coast of Michigan's lower peninsula, to play the return leg of the cross-state exhibition series with the Muskegon Risers. OCFC scored four, at home, against the Risers, in the 4-0 win on July 13. The win leveled the all-time record between the two clubs, at 3 wins apiece. Club original, Mario Morana, netted twice that day, bringing his season total to eight. Morana is now tied with Mike 'Big Mike' Melaragni, as OCFC's top scorer of 2019. Kickoff is set for 7:15 PM, on Saturday night, at Kehren Stadium.
In the teams' first meeting of the summer, the game was truly a tale of two halves. The first of which was sun drenched and featured big saves and missed chances. The second saw OCFC's superior fitness and teamwork shine, as the day's hot sun faded behind the County goal. OCFC's Fred Prest, Mario Morana, and Jonah Kibirige, then made the most of their chances, in what turned out to be a four goal second half performance.
🎥 | Postgame comments from Saturday's victory over @MuskegonRisers. Hear from goalscorers @MMorana23 and Fred Prest along with HC Darryl Evans.https://t.co/4XxZLRz4yf#BleedPurple

— Oakland County FC (@OaklandCountyFC) July 15, 2019
Repeating July 13th's result will be no small task for County. The Risers will, no doubt, be highly motivated to reverse the 4-0 scoreline in front of their hometown fans. Saturday's game will serve as MKG's last of their transitional 2019 season, too. The Risers are operating as a league independent team, this year, playing only in exhibitions, as they departed the UPSL in 2018, to play in the NPSL in 2020. A win on Saturday, would be a major boost for MKG, as they head into their Men's summer offseason.
What a season it's been. Our 2019 campaign comes to a close on August 3️⃣ as we play host to @LivoniaCityFC! Join us as we celebrate our fourth season and our #MilkCup Co-Title!

TICKETS 🎟️ | https://t.co/0G2kjZBGix#BleedPurple | #OCFC pic.twitter.com/C7deoQKrCV

— Oakland County FC (@OaklandCountyFC) July 23, 2019
Oakland County's best entertainment returns to Clawson one last time, in 2019, on Saturday, August 3rd. The final match weekend will be a celebration of the Club's fans, partners, and neighbors. The season's finale weekend will begin with the first annual Supporters vs Staff game and BBQ, on Friday night, from 6-8 PM, at Clawson City Park. August 3rd's game against Livonia FC, will also serve as the jump-off point to OCFC's offseason community partnership with St Jude Children's Research Hospital. A portion of proceeds from game tickets sold by August 1, will be donated as part of Oakland County FC's participation in St Jude's Run Walk in Detroit, MI., on September 28. To join or donate to OCFC's St Jude Run Walk team, visit here. For tickets to August 3rd's season finale, visit oaklandcountyfc.com.