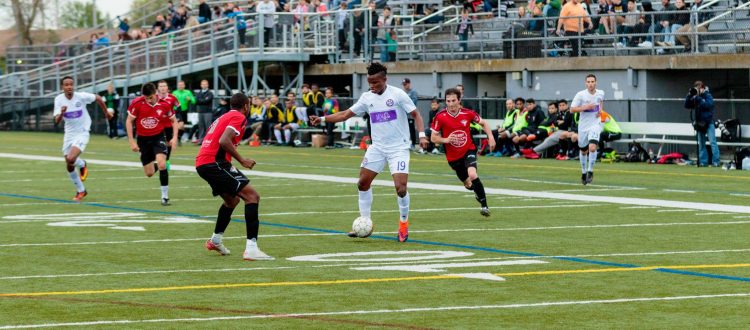 OCFC Kicks Off the Season With a 2-1 Victory
Written by: Andrew Morgan
The Purple and Gold started the Royal Oak era with a bang Saturday night, securing the team's first win of the season in their first PLA fixture.  The attack got to work immediately, and within two minutes of kick off, Forward Mario Morana sent a cross into the box that found the foot of Midfielder Hamid Barry at the back post, and his volley hit the back of the net for the team's first ever goal at Royal Oak High School.
The scoreline remained 1-0 until the 31st minute until a foul was committed by an OCFC defender just outside the box, and Yovany Duran of Ole SC put the ensuing free kick into the net.  Just seven minutes later, Left Wingback Talal Hamodi found the ball at his feet off of a pass from Forward Chukwudi Nwokoye, and his shot beat the Ole SC keeper to the far post.  This rounded out the scoring for the day, despite Oakland County FC having a total of 10 shots on goal throughout the game. The back line of Joe Beshara (65' Subbed off for Jeff Okerstrom), Jeremy Stoychoff, Talal Hamodi and Connor Ballantyne, was strong throughout the game, and did not allow many looks on goal for the opposition.
Coach Nick Morana was very pleased with the side, and also with getting his first win as Head Coach of the club.
Overall very proud of the team, it's a good victory. After all the hard work we put into this club it just feels really good to get this victory.
Oakland County FC (2-3-2-1-2): Wilson; Ballantyne, Stoychoff; Hamodi, Serwatka (c), Beshara (Okerstrom 65); Tawill (Schmid 84), Barry, Jallow (Dux 63); Nwokoye (Harrington 61), Morana
Unused Subs: Gonzales, Foxwell.
Goal Scorers: Barry 2, Hamodi 38
The Purple and Gold are back on the pitch at Royal Oak HS next Sunday 5/14 in a friendly match against Livonia City FC, kickoff will be at 5:00pm. Tickets for the upcoming match can be found here.