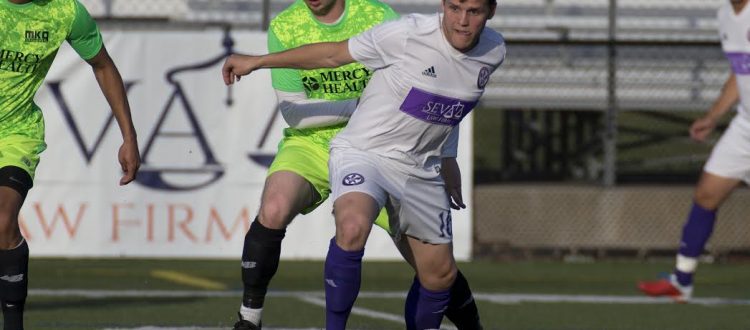 First Loss of Season Overshadowed by Record Crowd
Written by: Andrew Morgan
Saturday's

match was a milestone point for the club, as it was the highest attendance Oakland County FC history : 707. On the pitch, however, it turned out to be a tough one for the Purple and Gold, as the team was handed their first PLA loss of the season, and the first defeat at home in the Royal Oak era.
The Muskegon Risers (2-1-1) took the 3 points and second place from OCFC (2-1-0), in a 3-0 victory.

Through the first 45′ of the match, the teams were in a deadlock at 0-0.  Oakland County FC struggled to get any looks at goal during the first half, and Goalkeeper Zach Walker made save after save during the half to keep OCFC even with the Risers.

The second half started similarly to the first, with a few chances for each side, and nothing really doing for either club. In the 65th minute, Muskegon Risers captain Stuart Collins fired from 20 yards out and beat Zach Walker for the match's first goal. In the final 10 minutes of the contest, OCFC Forward, Azaad Liadi was taken down in the box, but appeals for a penalty were waved off, and in the ensuing counter, Brandon Dinsmore of the Muskegon Risers slotted the ball into the net off of a cross for a 2-0 lead.
In the 88th, the Risers scored again on a Justice Sikkema shot, and the 3-0 score line stood as the final result.
"We controlled possession for the majority of the game. But all that matters is that final tally on the scoreboard. The reality is, it's only one loss, and everybody loses. It's how a team responds that truly exemplifies what they are all about", coach Morana preached after the match. "I have the utmost confidence in every single player within the club and we will bounce back from this. Props to our fans for coming out in waves. It's a testament to how far we have come as an organization."

Oakland County FC (2-3-2-1-2): Walker; Leslie, Ballantyne; Hamodi, Miles, Beshara; Clauss, Serwatka; Barry; Dux, Morana;
Unused Subs:

 Gonzales
Goal Scorers: None
The next home game will be June 18th, as OCFC hosts 1st place RWB Adria (Chicago, IL) at Royal Oak HS. The kick off is slated for 5:00PM. Tickets can be purchase online here for $7 or at the gate for $10.