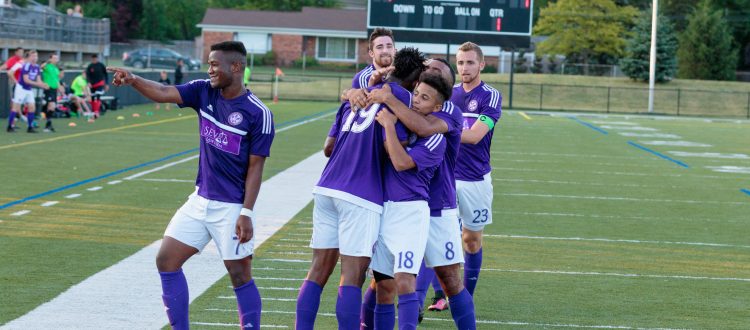 Match Recap: Back in the Win Column
Oh how sweet it is. Coming off a three-game losing streak, Oakland responded with one of their most complete performances of the 2017 season with a 2-1 defeat of PLA expansion side Toledo Villa FC this past Saturday.
Things didn't looking promising right from the get-go of the match, as in the 4th minute, Toledo's Abdullah Mulatawfiq controlled an outside pass as he streaked down the flank and rocketed a volley into the opposite side of the net to give Villa the early 1-0 lead. Keeping their composure, the boys in purple settled things down and controlled possession for the majority of the half. Debut starting performances from Julian Birge (Alma) and Ludvick Asigo (Madonna) gave us a more offensive look as the Villa defense was on their heels throughout the half. After 45 minutes of play and several dangerous opportunities, the 4th minute goal proved to be to difference.

Beginning the second half with the same formation as the first, with new subs Charlie Miles (SW Florida Adrenaline) and Jeff Okerstrom (Marygrove), Oakland was determined to find that equalizer. With just one minute into the half, that's exactly what happened. In the 46th minute, Nwokoye Chukwudi (Kachi FC, Nigeria) curled a left-footed stinger from outside the penalty box that slipped past the outstretched arms of the keeper and into the back of the net. A mere fourteen minutes later, Nwokoye found himself in a similar situation in a scramble in the penalty box after a corner kick in the 60th minute where he volleyed a rocket above the opposing keeper's head that greeted the netting for his second goal of the match and third of the season. Oakland continued their domination of possession throughout the match up until the final ten minutes where they sat with eleven men behind the ball to secure the victory at 2-1. Second half substitutions of Kevin Pinkos (Detroit Mercy), Kevin Lencioni (Washington & Lee), Leutrim Shefkiu (Saginaw Valley) and Brendan Woodfull (Oakland University), guided your Purple & Gold to their third league victory of the 2017 campaign.

Oakland County FC (4-4-2)

: Walker; Harrington, Leslie, Stoychoff, Asigo (Okerstrom 45′), Birge, Tawil (Shefkiu 76′), Jallow (Miles 37′), Barnes (Pinkos 63′), Dux (Lencioni 71′), Chukwudi (Woodfull 63′)
Unused Subs:

 Dylan Brown
Goal Scorers: Chukwudi 47′, 60′

Both teams return to face off again Saturday,

 July 15th in Toledo, OH

.  The next home match for OCFC is 

July 23nd at 7:30pm

, where they will take on Carpathia FC for the second time this season. Tickets for the match can be purchased here. #BleedPurple