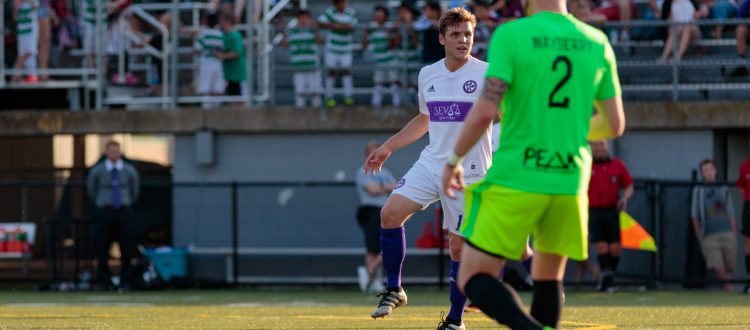 Matchday Preview: OCFC vs. Muskegon Risers
Tomorrow marks our eighth Premier League of America (PLA) contest as we are set to travel to Muskegon Cahtolic Central High School for the rematch against the Risers of Muskegon (2nd place; 15pts, 5-1-1).  Earlier this season, Muskegon defeated your Purple & Gold (5th place; 9 pts, 3-4-0) by a score of 3-0 in front of our largest crowd in club history (707). In their last match, Muskegon defeated Carpathia FC, 1-0. Coming off a fresh win over Toledo Villa FC, Oakland looks to secure a revenge victory and extend the win streak to two as playoff hopes are on the line. Kickoff is slated for 6:00 PM. Win and stay alive.
Every match is important in such a short season. But to say that this is as 'just another game' is an understatement. Our players are ready. I'm ready. Let's get it. – Coach Morana.
The players traveling for tomorrow's match:
Goalkeepers: 

Ludin Gonzales, Zach Walker
Defenders: Jeremy Stoychoff, Jason Leslie, Jeff Okerstrom, Ludvick Asigo, Talal Hamodi
Midfielders: 

Saeed Tawil, Leutrim Shefkiu, Hamidou Barry, Travis Harrington, Chris Serwatka, Charlie Miles
Forwards: 

Chukwudi Nwokoye, Azaad Liadi, Mario Morana, Jonathan Barnes

What's On Tap:
After Muskegon, OCFC travels to Toledo on July 15th to square off against Toledo Villa FC for the second time this season. Kickoff is set for 7:00 PM at Northview High School (5403 Silica Dr, Sylvania, OH 43560).
The next home match falls on Saturday, July 22nd as we welcome cross-town rival Carpathia FC in what will surely be one of the most anticipated matchups of the entire 2017 PLA season. Be there for the 7:30 PM kickoff at Royal Oak High School. Tickets can be purchased for a discounted price here. #BleedPurple