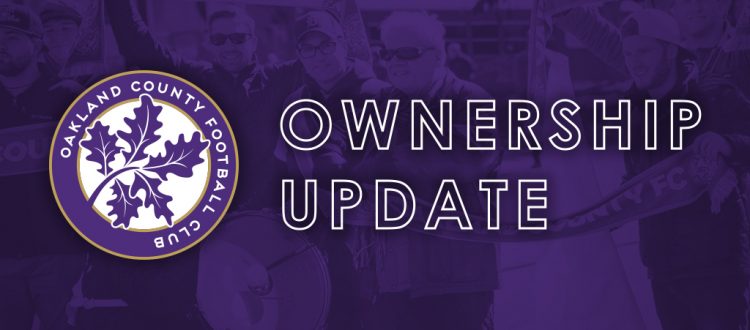 Oakland County FC to Offer Fan Ownership in 2018
BREAKING: Come early 2018, Oakland County Football Club will be offering an ownership stake of the club to fans via a supporters' trust.
BREAKING: Your opportunity to OWN an equity stake of Oakland County FC is coming in 2018. For exclusive upcoming content, join the list: https://t.co/rqcX7MSGIq. This is big. #BleedPurple #FanOwnership pic.twitter.com/JJKfGiawUL

— Oakland County FC (@OaklandCountyFC) December 1, 2017
Join our list below for upcoming content as we approach our supporters' trust launch in 2018:
An Exclusive Opportunity Awaits
What is Fan Ownership?
A supporters' trust is an organization of passionate fans who attempt to strengthen the influence of supporters for the club that they support

A trust will ultimately hold an equity stake in the club

The main objective of the trust is to provide a vehicle for fans to influence the running of the club and to garnish a supporter culture that will guide the club for years to come

Members within the trust will have exclusive voting rights on numerous club decisions
Complete information, including stake purchase and official launch date, will be announced in the coming months.
This has been in the works for quite some time now but we still have some work to do. Our main objective from day 1 was to get our fans involved as much as possible with the club and create a supporter culture that every type of fan can be proud to be a part of. This is a new page for the club and we can't wait for the story that unfolds. – Ben Rode, Co-Owner



---
Oakland County Football Club is a Semi-Professional soccer team dedicated to providing a remarkable on-field product as well as an unforgettable game day experience. OCFC will strive to bring high-level soccer and entertainment to Oakland County and surrounding communities. Additionally, we aim to cater to every audience, both youth and adult. OCFC's long-term vision is to create a community backed club sponsored by both local and regional organizations, which will give back to the residents of the community in the form of pride and involvement.