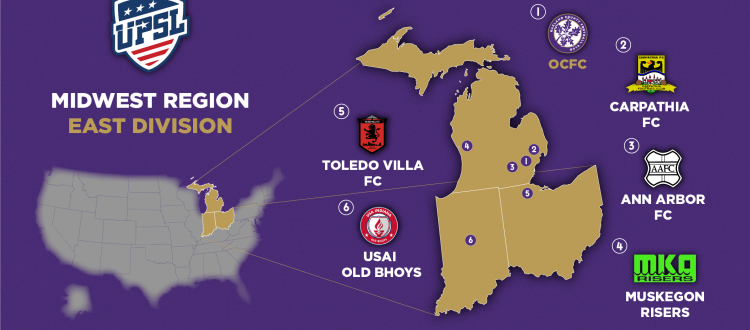 2018 UPSL Midwest Conference: East Division Alignment
With Oakland County FC joining a new league for the 2018 season, a division alignment has followed suit.
The UPSL Midwest Conference will begin play in four regions – West, North, Central and East – with 23 teams in total set to kick off with league matches in late April. OCFC will compete in the East Division of the Midwest Conference with the likes of several familiar foes.

2018 Midwest Conference – East Division:
Ann Arbor FC Lumberjacks

Carpathia FC

Indiana Old Bhoys

Muskegon Risers

Oakland County FC

Toledo Villa FC
New comers Ann Arbor FC and Indiana Old Bhoys enter the UPSL as expansion clubs. Carpathia, Muskegon, Oakland and Toledo return from the 2017 Premier League of America, East Division.
The regular season will consist of 10 matches with home-and-away fixtures between each team. A four-team playoff pitting the region winners will determine the UPSL Midwest Conference champion and its representative at the UPSL National Playoffs. Full conference alignment can be seen here.
The full season schedule is set to be released in the coming weeks and will feature several friendlies in addition to league matches.
---
About Oakland County FC
Oakland County Football Club is a Semi-Professional soccer team dedicated to providing a remarkable on-field product as well as an unforgettable game day experience. OCFC will strive to bring high-level soccer and entertainment to Oakland County and surrounding communities. Additionally, we aim to cater to every audience, both youth and adult. OCFC's long-term vision is to create a community backed club sponsored by both local and regional organizations, which will give back to the residents of the community in the form of pride and involvement.