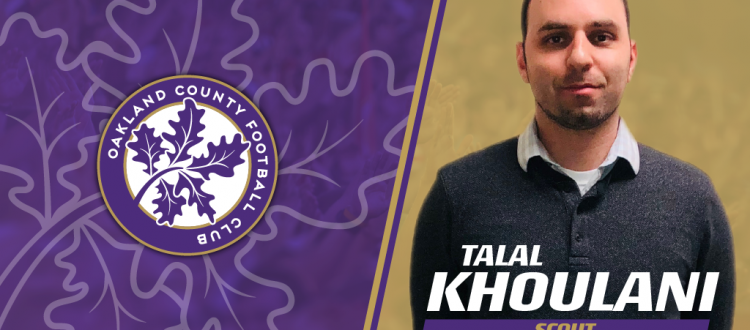 OCFC Signs Club's First Scout: Talal Khoulani
In a milestone event this afternoon, Oakland County Football Club has announced the signing of the club's first official Scout: Talal Khoulani.
A Flushing, MI native, Talal arrives to the club with 17+ years of scouting and management experience as the Founder and Director of FOB Soccer, a non-profit soccer organization located in Flint.

We couldn't be more thrilled to have Mr. Khoulani join our club. With his prior years of player-recruitment experience and knowledge of the current landscape of talent throughout the Midwest, Talal is the perfect man for the task at hand. – Theo Foutris, Co-Owner
Talal currently resides in Flushing with his wife and three kids. He attended Carmen Ainsworth High School and studied economics at University of Michigan – Flint.
I'm really looking forward to this opportunity to work with the club. They have welcomed me with open arms and I can't wait to get started. The product on the field this season will be fun to watch. – Talal Khoulani
This staff announcement comes as the first of several for the 2018 season. Stay tuned for future staffing updates as the season inches closer.
---
About Oakland County FC
Oakland County Football Club is a Semi-Professional soccer team dedicated to providing a remarkable on-field product as well as an unforgettable game day experience. OCFC will strive to bring high-level soccer and entertainment to Oakland County and surrounding communities. Additionally, we aim to cater to every audience, both youth and adult. OCFC's long-term vision is to create a community backed club sponsored by both local and regional organizations, which will give back to the residents of the community in the form of pride and involvement.