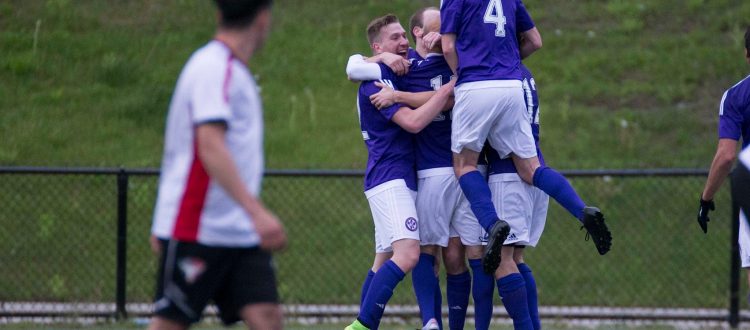 More Talent. More Purple.
Written by Robert Kerr, Staff Writer
—
The purple gang is taking shape and is eager to start the action. Oakland County FC's 2018 season is rapidly approaching and the club has continued making their player announcements. First year OCFC head coach Darryl Evans has his work cut out for him, as he is tasked with picking his first ever starting XI. Technical Director Nick Morana and Scout Talal Khoulani have amassed a highly talented roster of players ahead of the club's groundbreaking season. Thus far, the club has announced 25 players ahead of the 2018 season, with several players returning from last year.
---
August Hunter
PLAYER SIGNING ✍🏻: Welcome to the Purple & White, @AugustTheHunter! The @OcelotSoccer forward joins #OCFC for the 2018 campaign. #BleedPurple pic.twitter.com/qXK21UQeCH

— Oakland County FC (@OaklandCountyFC) April 27, 2018
Oakland County FC's contingent of Schoolcraft College attackers continues to grow, with the club's announcement of striker August Hunter. The ever-smiling forward hails from St. Clair Shores and scored twice in nine appearances for the Ocelots in 2017. The forward returns to the club after playing with the OCFC reserve team last summer. He returns with plenty of positivity.
"I really want to make a good, hard push for first place in the 2018 campaign. We have a really solid squad this year and I think we could do big things."
Hunter is also pumped about Oakland County's new home.
"The [new] location just tops it off, as it's in the middle of a neighborhood.The city [of Clawson] seems like they are really excited to have us. The stadium and the pitch itself are excellent and much more suited to our liking."
---
Ian Walker
PLAYER SIGNING ✍🏻: Welcome to #OCFC, @ianwalker1997! The @OcelotSoccer alum joins the defense for the 2018 campaign. #BleedPurple pic.twitter.com/dGXSBQtu68

— Oakland County FC (@OaklandCountyFC) April 30, 2018
The return of hard-nosed defender, Ian Walker, gives the OCFC's defense an edge. The Dearborn native brings back playing experience from Schoolcraft College and Waza Flo back to Oakland County.
"I am very honored to be a part of OCFC for a second year. I'm looking forward to helping the club win, as well as seeing our fans."
Walker appeared in two games for OCFC in 2017.
---
Corbin Cecchini
PLAYER SIGNING ✍🏻: Welcome to the club, @cecchini_corbin! The @NUmenssoccerMI sophomore keeper joins #OCFC for the 2018 season. 🇺🇸 #BleedPurple pic.twitter.com/pu1Y8jNckt

— Oakland County FC (@OaklandCountyFC) May 2, 2018
Oakland County's goal was then provided a new guardian with the announcement of goalkeeper Corbin Cecchini. The 6'3' Macomb native is excited to arrive at OCFC ahead of their UPSL (United Premier Soccer League) debut season.
"I have attended many UPSL games and have always enjoyed the play. I'm extremely excited to get out there at the new Stadium in Clawson. I feel blessed to have this opportunity to show the fans what I have to offer the club. The team is gearing up for a great season, and I can't wait to be a part of it. Bleed purple."
Cecchini started in each of his 18 appearances for Northwood University in 2017, winning 11 games while earning eight clean sheets.
---
Robbie Cort
PLAYER SIGNING ✍🏻: Welcome to the club, @Robbie_Cort! The @MSUmsoccer junior joins the #OCFC midfield for the 2018 season. 🇺🇸 #BleedPurple pic.twitter.com/o10JGfUuI8

— Oakland County FC (@OaklandCountyFC) May 3, 2018
Joining the very competitive pool of players, seeking a starting midfield or defender spot for the club is Robbie Cort. Cort joins Oakland County FC following his junior year at Michigan State University. The Brother Rice High School alumni appeared in 12 games for the Spartans during his junior season. The Bloomfield Hills native says he's really excited to be joining OCFC this year and it should be a great year in a good league.
Prior to joining the MSU spartans, Cort was the Vardar Academy captain for two seasons, in addition to earning All-State honers on his high school skiing team.
---
Ludin Gonzales
PLAYER SIGNING ✍🏻: Welcome back to the club, @elNinoGonzales7! A purple original, the @ClearyUniverse keeper rejoins #OCFC for his third season between the pipes. 🇺🇸🇬🇹 #BleedPurple pic.twitter.com/m1lg2UvOc8

— Oakland County FC (@OaklandCountyFC) May 8, 2018
Oakland County's group of goalkeepers continued with the return of Ludin Gonzales. The Carthage, Missouri native brings some veteran experience to the squad, as 2018 will be his third season with OCFC. Prior to his collegiate experience with Cleary and Upper Iowa Universities, Ludin earned All-Region and All-Conference honors at Carthage Senior High School, where he set a school record in 2011 for shutouts in a season, blanking opponents 15 times.
"Playing for OCFC has been a blessing. "[The ownership group] are phenomenal, they do a great job of making everyone feel welcome and provide a professional environment. Joining the UPSL is an upward movement, [it is] a league that makes each player more accountable. Each league game is a must win. Personally I have a winning mentality, I always have and always will. For the 2018 season I expect to win [our division]. The quote I live by is 'Primero Dios', which translates to 'God first'. My grandmother would always tell me; in order to succeed, 'Primero Dios'."
---
The players who earn starting spots for the May 12, season opener at Clawson Stadium will be the first players to wear the Supporters' Trust selected jersey. An experience only Oakland County FC offers to it's fans and players. The 2018 kit will be unveiled at the Supporters' Trust preseason party on May 10.
OCFC will play in it's first season in the United Premier Soccer League (UPSL).
The nation-spanning UPSL expanded to the region after the 2017 season, and created the UPSL's Midwest Conference – East region. The division consists of six teams; four teams from Michigan, and one each from Indiana and Ohio. Oakland County FC will kickoff their home opener on May 12, against the Indiana Old Bhoys at 7:00 PM. Tickets can be purchased here.
---
About Oakland County FC
Oakland County Football Club is a Semi-Professional soccer team dedicated to providing a remarkable on-field product as well as an unforgettable game day experience. OCFC will strive to bring high-level soccer and entertainment to Oakland County and surrounding communities. Additionally, we aim to cater to every audience, both youth and adult. OCFC's long-term vision is to create a community backed club sponsored by both local and regional organizations, which will give back to the residents of the community in the form of pride and involvement.