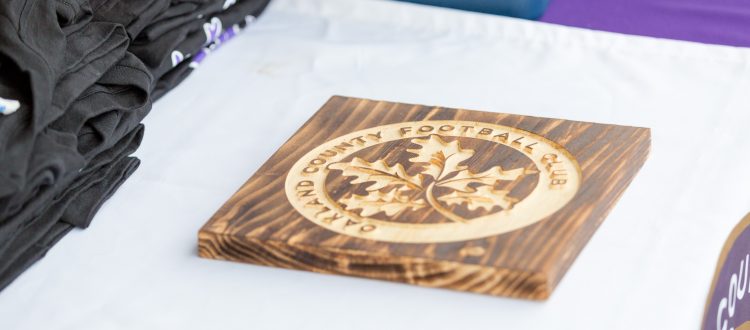 A Tale of 10-Men: Oakland Falls in a Humid Shootout
Written by Robert Kerr, Staff Writer
—
Oakland County FC (3–2-0) were defeated by Carpathia FC (4-1-0) Saturday afternoon, by a scoreline of five to three.
During a uniquely festive afternoon in suburban Detroit, fans and festival goers were treated to a high-scoring battle for the top spot in the UPSL Midwest – East Division standings. The action packed game featured multiple lead changes, a terrific long distance goal, and a number of sparkling performances. Unfortunately, the game also included a serious injury to Carpathia FC's goalkeeper Scott Messer, and a late three-goal-spree from the hosts.
The hosts opened the day's scoring near the half hour mark, through forward Michele Lipari. The O's response was quick and emphatic as OCFC's Dylan Borczak bagged two goals in a six minute span. The first goal, a rocket shot that hit the net's top right corner was struck sweetly from at least 20 yards out. The goal was spectacular and was OCFC's top moment in the match. Without delay, Borczak then headed in a second goal, when he rose highest to a Mario Morana cross. The teams went into halftime tied at two, as the hosts were able to find an equalizer just moments before the break.
37′ | A brace for @ACMDylan ! Headed in from a @MMorana23 cross makes it 2-1. #BleedPurple #CFCvOCFC pic.twitter.com/S3ZOF0ChG9

— Oakland County FC (@OaklandCountyFC) June 16, 2018
The game's second half turned out to be a difficult one, as a number moments did not favor the O's. Before the teams rejoined the field, midfielder Cam Panley suffered an apparent foot injury, and had to be switched out for AJ Santavy. After falling behind 3-2, OCFC defender Alex Ofeimu received two yellow cards in quick succession, putting the team in a big hole. OCFC were down a goal, and down to 10 players with around a half hour to play.
Oakland County then looked to have saved a point, as striker AJ Williams was able to even the score at three, with roughly 20 minutes remaining. The level energy and fight of the OCFC players was remarkable during this moment. Williams has now scored in each of his two starts for OCFC.
Saturday's game then looked destined for a 3-3 draw at this juncture, but the scoreline would not last. Following a pair of late substitutions, Carpathia FC were able to score two late goals, and clinch the full three points. The question of offside was present on the hosts winning goals, which made the defeat a touch tougher than it may have been.
They score again to make it 5-3, another offside looking goal, but no #VAR here at the Carpathia Club. #BleedPurple #CFCvOCFC

— Oakland County FC (@OaklandCountyFC) June 16, 2018
Carpathia FC now take over first place in the UPSL Midwest – East Division. The return fixture should be exciting to say the least, as the local foes are set visit Clawson Stadium for OCFC's regular season finale, on July 21st.
---
Oakland's 18:
Starters: Cary Wilson, Cam Roberts, Nate Tremonti, Travis Harrington, Julian Birge, Cam Panley, Kaveon Dux, Mario Morana, Dylan Borczak, Alex Ofeimu, AJ Williams
Substitutes: Ludin Gonzales, AJ Satavy, Vince Vultaggio, August Hunter

---
Watch Match Replay:
---
What's on Tap
Oakland enters their off-weekend with a record of 3-2 (+5 goal differential). The action starts up again on Friday, June 29, at Clawson Stadium at 7:30 PM when the Muskegon Risers come to town.  Discounted tickets to the match can be purchased here.