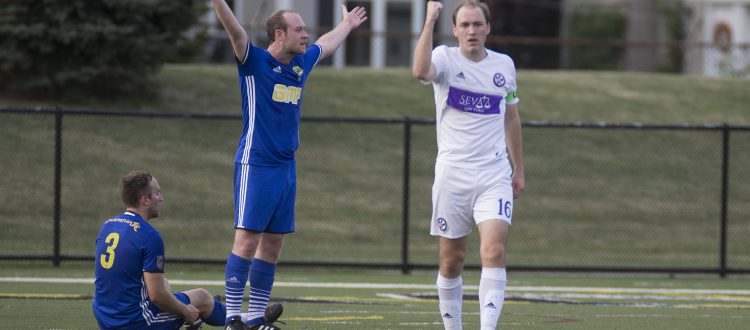 Rivalry Weekend: A Familiar Foe Awaits
Written by Robert Kerr, Staff Writer
—
During the biggest weekend on the world football calendar, Oakland County FC take a 12 mile trip east, to nearby Sterling Heights, for a Saturday afternoon derby. The weekend's game against Carpathia FC will be played at the Carpathia Club – kickoff scheduled for 5:00 PM. The local matchup will be a battle for the top spot in the region, as the teams are even on points at the head of the table.
While the two teams are tied on points, OCFC sit atop of the UPSL Midwest Conference – East Division standings by having a superior goal difference. This means this weekend's winner will jump ahead and solely occupy the division's top spot. Saturday's visit to the Carpathia Club also marks the midway point of OCFC's regular season. After playing four of their ten regular season games, OCFC enter the weekend on nine points; with three wins, and one loss.
Another element to heat up Saturday's game is the familiarity between OCFC and their opponents. Brought on by their close proximity, the two clubs have numerous player ties. OCFC and Carpathia FC have had a number of players in common, both in past seasons, and currently. Saturday's game will feature friends and former teammates squaring off against one another.
A battle for the top of the division against a strong regional foe is a near poetic way to gauge the seasons' progress. Midfielder and leading scorer, Robbie Cort, described the game as a "great test for us as a team, against a well organized side with good players". Fellow midfielder, and Beverly Hills native, Cam Panley, referred to Saturday's game as "season defining". It is difficult to argue with the pressure packed statement, as the winning team will take a notable step towards the playoffs. A full three point lead is highly significant within the ten game regular season.
Only 12 miles separate the homes of Oakland County FC and Carpathia Club. With that, OCFC will be able to field a strong and confident lineup. The squad will not limited by travel times or crowded team vans. Also, players' supportive family, fans, and friends, that so often have had to travel far and wide to support their playing careers, will be able to enjoy a local matchup with the teams having a lot on the line.  The matchup will be streamed lived via mycujoo and can be found here.
Following OCFC's fathers day weekend trip the Carpathia Club, Michigan's only supporter owned club return home to Clawson Stadium Friday, June 29. The club aims to break the standing home attendance record of 707 supporters, when they welcome the Muskegon Risers. Discounted tickets to the match can be purchased here.