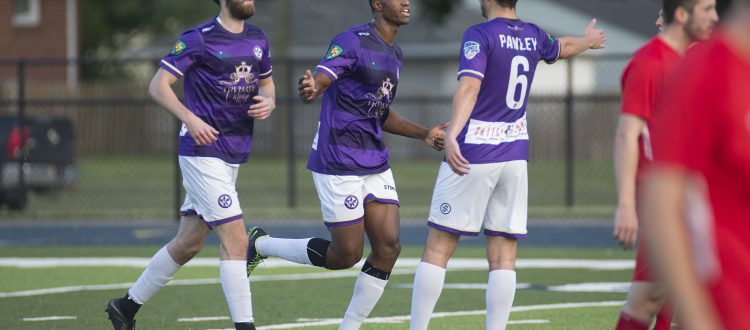 Victory is Sweet: Oakland Jumps Back Into First Place
Written by Robert Kerr, Staff Writer
—
Oakland County FC (3-1-0) defeated the AAFC Lumberjacks (0-2-0) Friday night by a score of three goals to one.
OCFC earned a come from behind victory on a picture perfect night in metro Detroit. The visitors took advantage of a slow start from the home club and took the lead in the 23rd minute. Oakland County's equalizer came just moments later, however. The quick reply became the turning point of the game. An outstanding start to the second half led to go-ahead goals by AJ Williams and Hakeem Sadler, snatched three valuable points for your Oakland club.
AAFC began the game on the front foot and used physical play and counter attacks to earn the early game advantage. Going down a goal seemingly woke up the purple side, as OCFC came straight down the field to tie up the game following the restart. The equalizing goal came from an energized move between Mario Morana and debutant striker AJ Williams. Morana linked with Williams in front of goal, who got a touch which deflected in, for the tying goal.
Once the score was level, OCFC found a boost of energy and confidence that carried them through the game. Oakland County were then able to posses the ball in midfeild, and the link passes in the opponents third of the field. Astute halftime changes from the club played a large part in the teams second half surge.
Mario Morana was ever-present throughout the night and was seemingly always available for a pass. It was Morana's standout play on the right side that created the go ahead goal shortly after halftime. The former Marygrove College standout ran onto the end of a through ball, and played a wonderful cross that forward AJ Williams gladly placed into the back of the net.
The third goal also came from good work by Morana. The OCFC original's breakaway in the 68th minute led to a goalmouth scramble, and ultimately at penalty kick decision. Substitute midfielder  Hakeem Sadler stepped up to take the penalty, and cooly finished the chance to make it 3-1.
Sadler's PK. Silky. #BleedPurple pic.twitter.com/as2XM5Al6n

— Oakland County FC (@OaklandCountyFC) June 9, 2018
Following the third OC goal, the home team did well to shut down any comeback attempt from Ann Arbor FC. The backline of Nate Tremonti, Cam Roberts, Travis Harrington, and Willie Maddox put in great shifts to deny the visitors a lifeline. Substitute Vincent Vultaggio tracked back well to defend nicely on a number of occasions to deny late crosses. The wide man also made a splendid tackle in his own box, late in the game.
---
Oakland's 18:
Starters: Cary Wilson, Cam Roberts, Nate Tremonti, Travis Harrington, Willie Maddox, Cam Panley, Belal Khoulani, Mario Morana, Dylan Borczak, Robbie Cort, AJ Williams
Substitutes: Dylan Brown, Nick Metcalfe, Julian Birge, AJ Santavy, Hakeem Sadler, Mike Machila

---
Derek Peters – Assistant Coach
Reaction to the comeback:
"We came back fast, were down a goal and got a little nervous and then we scored, what was it a minute and a half later? I knew we were going to score again, but we needed to calm down. We came out flat and it was nice to see the guys pick it up, especially after halftime. We've got to keep things a bit more even keeled, and get a bit more consistency going, but it was nice to win don't get me wrong."
---
AJ Williams – Forward
Reaction to first OCFC game:
"It was a good performance from the guys, backline was tremendous and the midfielders fed me. Great ball from Mario for the goal there, and its just great to get off to winning start in my debut tonight."
On the games atmosphere:
"The atmosphere was great here and the fans were amazing. It was a physical game but you expect that at this level, at the end of the day it was a three one win so its a good night."
---
Mario Morana – Midfield
Thoughts on the game:
"They were outplaying us the first 25 minutes or so then I played a good ball to AJ for the first goal. You put a ball into a dangerous area and good things can happen. Second half changes that we made really worked for us. For the second goal the ball was played out wide to me, and AJ made a darting run I played the ball to his foot and he finished that for a good one. The third goal was mostly a bad call but good things happen sometimes. We finished it off and we held it down even after the red card, gave up no more goals and got a good W."
---
Scoring Summary & Notes:
Hunter Olson – AAFC 23:30

AJ Williams – OCFC 25:00

AJ Williams – OCFC 46:50

Hakeem Sadler – OCFC 69:45
Oakland – Shots: 16, SOG: 14, Corners: 5
AAFC – Shots: 19, SOG: 14, Corners: 2
Attendance: 350
Man of the Match
 Tonight's MOTM: @a_williams97! 2 goals, including the game winner. #BleedPurple pic.twitter.com/JnheSJmlLy
— Oakland County FC (@OaklandCountyFC) June 9, 2018
---
What's On Tap
Oakland County FC return to action Saturday, June 16, at 5 PM when they travel to Sterling Heights, MI, to play Carpathia FC. OCFC then returns home to Clawson Stadium on Friday, June 29 when they welcome the Muskegon Risers.