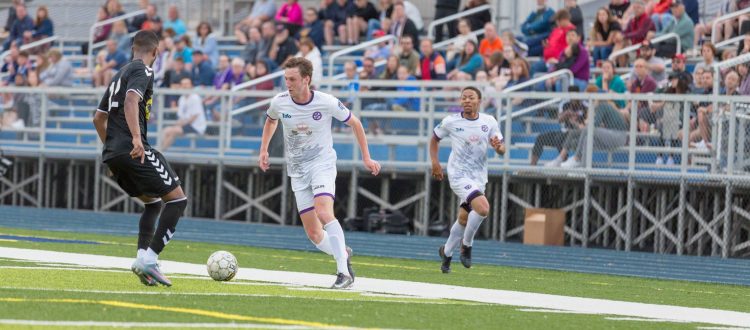 Match Preview: The Lumberjacks Visit Clawson
Written by Robert Kerr, Staff Writer
—
Oakland County FC looks to get back to winning ways as the AAFC Lumberjacks make their first ever visit on Friday night. The men in purple will be hungry for goals after being held scoreless last weekend. Another solid week of training, and a new striker on the roster, may give OCFC an attacking boost heading into the encounter with the Lumberjacks. Friday night will be a great time to catch Michigan's supporter owned team, as the match is the last chance to watch OCFC at home until June 29.
Oakland County were felled by the slimmest of margins at the weekend. The purple side held their opponents to just one goal, but couldn't manage to find the back of the net themselves. The OCFC center back pairing of Nathan Tremonti and Cam Roberts were stout, and made a number of timely stops throughout the game. The latter of the pair was awarded Man of the Match Honors for the strong performance on the night. A number of narrow misses at the other end of the field became the night's deciding factor.
Ahead of OCFC's match against the Lumberjacks, defender Nathan Tremonti relayed the team's mentality.
"This week we've been working on some finishing and shooting drills. We have been taking our minds off of playing super defensively, and focusing more on attacking. We've been focusing on taking more shots and going to the goal. Because that's how we are going to get back to scoring, because we do need to. The formation we play is pretty solid defensively and everyone knows what they are doing. I think [the formation has] made it pretty easy to play well defensively, now it's about us coming together to score."
In a move that may spark the OCFC attack, club leadership have added forward AJ Williams. The Saginaw native officially joins the team after training with the squad for the past three weeks. The tall striker joins OCFC ahead of his final season at North Florida University in the fall. Previous to playing Division One college soccer, Williams won two Division Two conference championships with the University of West Alabama. Williams said Wednesday that he is "excited to play with and against high level players" over the summer.
Friday's game will serve as the AAFC Lumberjacks second ever UPSL game. The visiting team drew their inaugural UPSL game, playing in a 4-4 goal storm in Muskegon on Saturday. There will also be a familiar face amongst the Lumberjacks, former OCFC assistant coach Matt Johnson makes his return to Oakland County as the Head Coach of the Ann Arbor based outfit.
Tickets to Oakland County FC's game against AAFC can be purchased here. The game will be played at 7:30 PM ET, June 8, at Clawson Stadium.