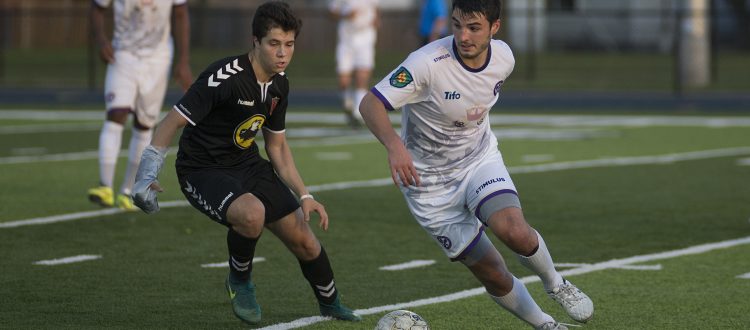 Oakland Suffers First League Loss of 2018
Written by Robert Kerr, Staff Writer
—
Oakland County FC (2-1-0) fell to Toledo Villa FC (2-0-0) on Saturday night, narrowly loosing by just a goal to nil.
The O's lost their first league game of the season in front of the home fans on a warm night in southeast Michigan. In a tight and competitive game, the men in purple were unable to convert on their many chances throughout the game. Toledo's Amandy Ayima's right footed strike in the 45th minute, became the eventual match winner.
OCFC started Saturday night's game on the front foot, keeping the ball in the opponents half for long stretches. Midfielder Hakeem Sadler controlled the ball well and supplied Robbie Cort on the left flank with a number of quality through balls. Cort, the team captain on the night, was brought down during a break away in the 5th minute, and then his shot missed wide right on another chance in the 24th minute.
Toledo Villa FC had a few counter attack chances in the first half, including hitting the OCFC goalpost in the 19th minute. The visitors scored the lone goal of the game just moments before the halftime break. Villa forward Amandy Ayima collected the ball with his back to goal at the top of the OCFC box, was then able to pivot and shoot with his right boot. OCFC goalkeeper Cary Wilson was able to get a hand on Ayima's shot, as he dove to his right, but was unable to stop the powerful blast.
Outside of being beaten on a good transition play, OCFC's center back pairing of Nathan Tremonti and Cam Roberts had a strong game. The defensive pair, along with outside backs Travis Harrington and Willie Maddox, put in a number of strong and timely challenges during the game to keep the score tight. Oakland County FC poured on the pressure as time wined down, but were ultimately unable to net an equalizer.
The club returns to action on Friday, June 8, at Clawson Stadium. Kickoff is set for 7:30 PM.
---
Oakland's 18:
Starters: Cary Wilson, Cam Roberts, Nate Tremonti, Travis Harrington, Willie Maddox, Cam Panley, Belal Khoulani, Mike Machila, Hakeem Sadler, Robbie Cort, Vince Vultaggio
Substitutes: Corbin Cecchini, Ian Walker, Mario Morana, AJ Santavy, Julian Birge

---
Derek Peters – Assistant Coach
Reaction to losing the close game:
"I think they got us on a good transition and we didn't have much creativity. I think we played pretty well. Their defense was ok but I think it was their good transitions that got us tonight."
What do you want to see ahead of the next game?
"I want to see if we can come together more as a team with our gameplan. I'd Like to get some players back, get healthy, and have a stronger game next weekend."
---
Hakeem Sadler – Midfielder
Reaction to loss:
"The coach gave us a gameplan and we tried to execute to the best of ability but we just came up a little short tonight."
Reaction to missed chances:
"Yes, I don't even know what to say about all of [the chances], I tried to do my best [by putting in a number of crosses] and do my best for the team, but like I said, we fell just short and couldn't put one in."
---
Match Highlights
---
Scoring Summary & Notes:
Amandy Ayima – Toledo 44:36
Oakland – Shots: 11, SOG: 6, Corners: 8
Toledo – Shots: 10, SOG: 4, Corners: 4
Attendance: 414
Man of the Match
Tonight's Man of the Match: Cam Roberts. Stellar defense all night long. #BleedPurple pic.twitter.com/115rLQLMOR

— Oakland County FC (@OaklandCountyFC) June 3, 2018
---
What's On Tap
OCFC returns to action this upcoming Friday, June 8th at 7:30 PM. The opponent: Ann Arbor Lumberjacks. Tickets for that match can be purchased here.