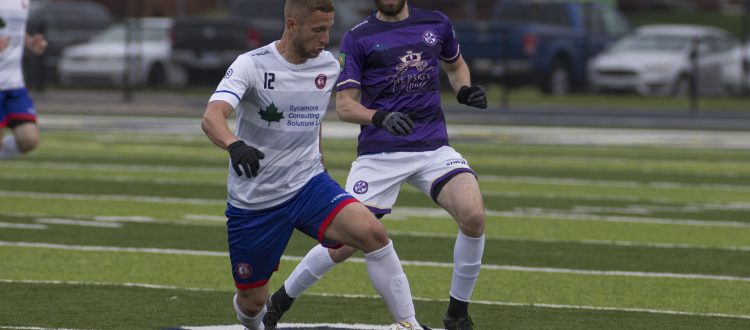 Match Preview: Ohio Comes to Town
Written by Robert Kerr, Staff Writer
—
Oakland County returns home for a match Saturday evening. Michigan's supporter-owned team have won their opening two league games and are the highest scoring team in their division. After spending the holiday weekend playing two games away from home, OCFC will meet Toledo Villa FC at Clawson Stadium.
---
The first place O's are the top team in the division after the first two games, in large part to their potent attack. The club has scored a whopping 11 goals in their opening two league games. A good share of the goals have come from the state's leading scorer, midfielder Robbie Cort. Cort, a Bloomfield Hills native, scored four times on opening night, and netted his fifth goal in Indianapolis this past Saturday. Cort is followed closely by striker Kaveon Dux, among the clubs leading scorers, netting three times himself this season.

Conditions for Saturday night are forecasted to be highly favorable for a fun night out in Clawson. Sunny skies and temperatures in the mid 70s should make for a perfect night for fans, friends, and neighbors to enjoy an exciting soccer game. A comfortable forecast will bring out the best in the players, following games that OCFC's Jamaican midfielder Hakeem Sadler described as "crazy hot", over the Memorial day weekend.
For Oakland County FC's third ever game at Clawson Stadium, the men in purple will welcome Toledo Villa FC. The Ohio club visit while sitting three points behind OCFC in the division, but with a game in hand over their hosts. The Toledo based club were founded in 2017, and plan to field a women's side in 2019. Last season the two teams met twice, with each team winning one game apiece.
Fans that desire to socialize ahead of Saturday's game, are encouraged to meet at OCFC's official watering hole, Tavern On The Main, located in downtown Clawson. Drink specials are provided to OCFC fans before each game in 2018. Tavern On The Main also serves as the starting point for OCFC's march to the match. From downtown Clawson, it's approximately a ten minute walk to the Stadium.
Tickets to Oakland County FC's game against Toledo Villa FC, can be found here, along with team merchandise, and further information about the club. The game is scheduled for Saturday, June 2, at 7:00 PM, and can be streamed live and on demand at golivesportscast.com.