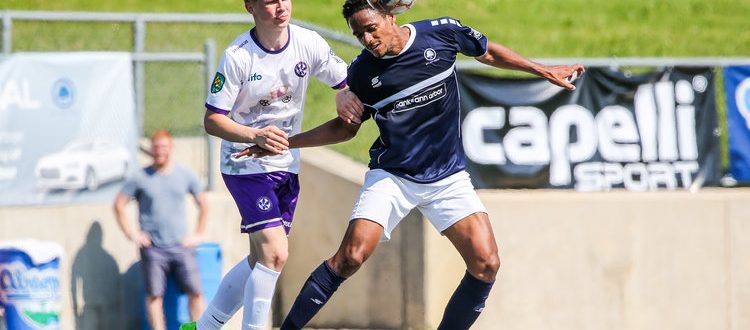 Oakland Takes 3 Points Over the Weekend – Sit Atop of Table
Written by Robert Kerr, Staff Writer
—
Oakland County's men in purple may need some time to relax in an air-conditioned room after a steamy holiday weekend on the road. OCFC played two matches over the Memorial Day weekend. The O's started the weekend by collecting three points on Saturday by winning in Indianapolis 5-3 to sweep the season series against the USAi Old Bhoys. The weekend wrapped up with a 2-1 defeat against AFC Ann Arbor, which eliminated Oakland County FC from their first Michigan Milk Cup campaign.
---
Indianapolis – May 26
The lengthy bus ride to Indianapolis provided the squad time in which to do some team building. The small squad that was able to travel had plenty of time to form a bit of chemistry together. The traveling OCFC players were able to watch the UEFA Champions League Final on the bus, and share a rare meal together. With the team comprised of players from across a number of different schools and backgrounds, the time spent together this weekend was invaluable.
Today's traveling roster includes 5 debutants. Let's get it. #OCFCvsIndy pic.twitter.com/iwbd05owlR

— Oakland County FC (@OaklandCountyFC) May 26, 2018
Saturday's match proved to be quite eventful, too. The game included a weather delay, two comebacks, and eight goals. After falling behind to an Old Bhoys goal in the fourth minute, and waiting out a 50 minute first half weather delay, OCFC showed their spirit and rallied to score the next three goals.
Five minutes after the restart caused by the weather, OCFC defender Alex Ofeimu nodded home a Hakeem Sadler corner kick to equalize.
"The goal was nice, it felt great to get my first goal for the club. Hakeem put it perfectly on my head, not much work was needed from me"
Oakland County took the 1-1 scoreline into halftime, feeling much cooler after the rain, and having equalized. OCFC then struck twice in the early moments of the second half, with goals from Robbie Cort, his fifth of the season, and Kaveon Dux, his first of two in the game. From there, the game turned into a goal-fest. The O's allowed Indiana to come back with two goals in quick succession.
The game was all knotted up at three apiece heading into the final minutes. With a draw against the team OCFC had beaten 6-2 at home looking imminent, Kaveon Dux secured victory when he scored an 86th minute winner.
Tonight's Man of the Match with 2 goals is Kaveon Dux! #bleedpurple pic.twitter.com/A4r9NymXjT

— Oakland County FC (@OaklandCountyFC) May 27, 2018
Midfielder Demetri Pliakos added a fifth OCFC gaol when he netted from the top of the box in the 89th minute, to ensure the full three points for the men in purple.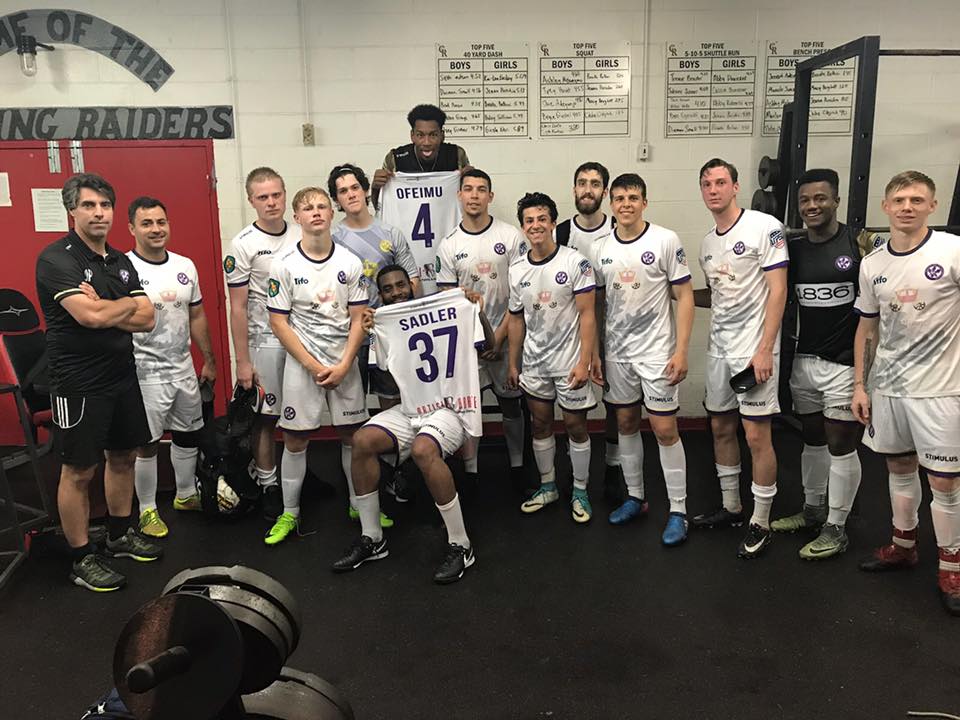 ---
Ann Arbor – May 28
Despite the quick turnaround and high temperatures, Oakland County put in their toughest and heart-filled performance of the young season on Monday. The men in pulled into Ann Arbor down by two goals, but were nowhere near defeated.
Today's roster vs @AFCAnnArbor in today's @michiganmilkcup matchup. #BleedPurple pic.twitter.com/HDPY60fbjD

— Oakland County FC (@OaklandCountyFC) May 28, 2018
Midfielder Dylan Borczak played 180 minutes over the weekend and won Man of the Match in Ann Arbor. The speedy blonde attacker excelled on Monday and earned his team a penalty. Kaveon Dux's penalty conversion ended AFC Ann Arbor's season-spanning clean sheet, a notable achievement, against perhaps Michigan's top team.
Today's Man of the Match: @ACMDylan

A full 90 on Saturday followed by a full 90 today. #BleedPurple pic.twitter.com/StjqAXFxUr

— Oakland County FC (@OaklandCountyFC) May 28, 2018
After playing in temperatures in the 90s, and with less than 48 hours rest, the players pushed a really good AFC Ann Arbor team to their limit. Despite falling just short in the two legged affair, OCFC can take pride in Monday's outing. The squad may just look back at this past weekend as the launching point to a fantastic UPSL season.
---
What's On Tap
The players will now try and relax and recover as best they can this week. The resting of sore bodies and taking in of fluids is now needed ahead of another game at the weekend. Oakland County FC returns to the comforts of Clawson Stadium and welcome Toledo Villa FC, Saturday, June 2, at 7 PM. Tickets are available to purchase here, and can be streamed live on golivesportscast.com.