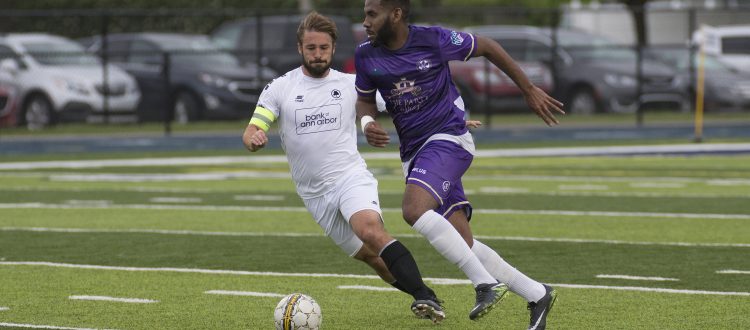 Weekend Preview: OCFC Hits Road For First Time in 2018
Written by Robert Kerr, Staff Writer
—
Oakland County heads out on their first road trip of 2018 this Saturday. The group will be busy with two games in three days over the Memorial Day holiday weekend. OCFC opened their season with two wonderful nights in their new home of Clawson and will now best tested away from the comforts of home.
The upcoming holiday weekend will feature a trip to Indianapolis to play the USAi Old Bhoys Saturday, then to Ann Arbor for the second leg of OCFC's Michigan Milk Cup matchup with AFC Ann Arbor. Unique scheduling and a tournament fixture finds Oakland County playing rematches of games one and two, in games three and four, of the 2018 campaign. Technical Director Nick Morana chimed in on the weekend ahead:
This weekend will be a nice test to see how far we've come as a club over the last month. We had a nice victory to open the campaign and then were grounded by a very talented Ann Arbor team. Luckily for us, these tests are coming early in the season and gives us the ability to adjust for the long stretch ahead. Unfortunately, we won't have our full roster for Saturday due to the holiday, but we are confident the group will get the job done.
The squad sounded confident ahead of the busy weekend. Defender Nick Metcalfe stated this week:
"The weekend will be a challenge with two games in three days, especially being away from home. I think we are ready to go out and get a couple results."

Equally confident was the latest addition to the squad, attacking midfielder Dylan Borczak. The Detroit native made his OCFC debut when he came on as a second half substitute during Friday's Milk Cup game.
"Since joining OCFC it has been fun. I enjoy practicing and playing with the team and the competition has been great. With two away games, I'm looking forward to getting two wins of course, as well as improving with the team."

USAi Old Bhoys have had a tough start to their UPSL season. The first year UPSL team has lost all three of their games played, including OCFC's opening day 6-2 romp. Oakland County will look to replicate their May 12 performance and climb the UPSL Midwest Conference standings. Head coach Darryl Evans has said several times that the best thing for his team is time together to form chemistry, the nearly five hour bus ride to Indianapolis may provide just that.
Skyline High School in Ann Arbor is the destination for Oakland County FC's Monday matchup. Monday will serve as the second leg of OCFC's Michigan Milk Cup first round clash with AFC Ann Arbor. The game will be a tough test for the men in purple, as they trail by two goals, after the first leg. Oakland will have to score at least twice and keep a clean sheet to even the score with the NPSL side. Oakland County will draw from their second half performance against Ann Arbor, as they were able to keep the opposition off the scoresheet and created more chances.
Oakland County FC take on the USAi Old Bhoys at Cardinal Ritter Stadium in Indianapolis at 7 PM ET Saturday and will be streamed at mycujoo.tv. Monday's Milk Cup match against AFC Ann Arbor is set to be played at 3 PM ET, at Skyline High School in Ann Arbor.
---
About Oakland County FC
Oakland County Football Club is a Semi-Professional soccer team dedicated to providing a remarkable on-field product as well as an unforgettable game day experience. OCFC will strive to bring high-level soccer and entertainment to Oakland County and surrounding communities. Additionally, we aim to cater to every audience, both youth and adult. OCFC's long-term vision is to create a community backed club sponsored by both local and regional organizations, which will give back to the residents of the community in the form of pride and involvement.