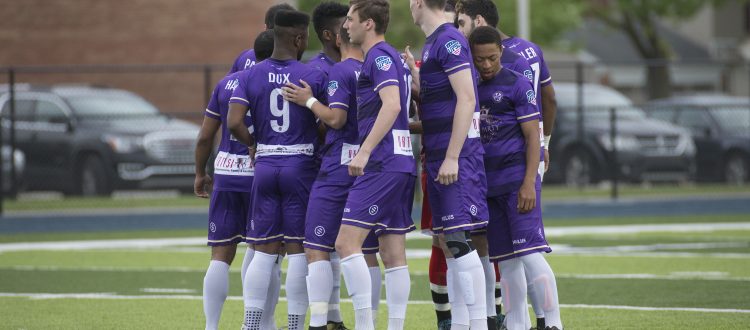 Match Recap: OCFC Falls in Milk Cup Leg 1
Written by Robert Kerr, Staff Writer
—
In front of more than 500 fans and neighbors, Oakland County fell to AFC Ann Arbor by a scoreline of 2-0 in the first leg of the first round of the Michigan Milk Cup.
AFCAA scored two goals with their first two shots to put the hosts on the back foot early. Oakland responded well to stop their guests from adding to the scoreline, but were unable to pull a goal back ahead of the matchup's second leg on May 28.
After opening the season with a 6-2 win last Saturday, OCFC entered Friday's Milk Cup match with confidence. Their attitude was measured however, as the AFC Ann Arbor team came into Clawson with just the same amount of confidence as they put their undefeated streak on the line.
Ann Arbor's Azaad Liadi opened the scoring in the 12th minute as he found space down the right hand side and was able to finish the chance with a shot off the inside of the far post. The visitors added a second goal in the 21st minute when Jordan Montoya was able to finish from close range.
The introduction of substitutes Hamidou Barry and debutant Dylan Borczak helped solidify the midfield and create chances in the second half. Oakland continued to battle throughout the remainder of game, but were unable to convert on their chances.
The rematch is set for May 28 as we travel to Ann Arbor on Memorial Day. The boys in purple will have their work cut out for them as the aggregate currently stands at 2-0 (two away goals) in favor of AFCAA.
---
Oakland's 18:
Starters: Corbin Cecchini, Nick Metcalfe, Cam McNeil, Travis Harrington, Willie Maddox, Cam Panley, Belal Khoulani, Kaveon Dux, Hakeem Sadler, Robbie Cort, Mario Morana
Substitutes: Ludin Gonzales, Ian Walker, Nathan Tremonti, Demetri Pliakos, Hamidou Barry, Vince Vultaggio, Dylan Borczak
Tonight's Starting XI presented by Ortisi & Abate Dentistry. #BleedPurple pic.twitter.com/UPQF2bhW38

— Oakland County FC (@OaklandCountyFC) May 18, 2018
---
Darryl Evans – Head Coach
Reaction to performance/goal:
"First half we had to get used to the speed of play, their center midfielders kind of controlled the game. Second half we talked to each other on how to prevent what they were doing. The half was a lot better, defensively a lot stronger and we didn't let them create many chances.  We created a few chances ourselves as well. For us, we are still getting used to each other after two games, I think we learned a lot from this game. Overall I'm happy with the second half as we keep learning and building our chemistry, and understanding of what we have to do against good teams."
Thoughts ahead of next game:
"My center midfielders have to figure out how to defend against good teams like that. The other team's center midfielders were in between our midfielders and defenders, and we have to work on our communication to deal with that and defend the right way. Going forward, I think we just need to build more chemistry and play faster with good communication."
---
Dylan Borczak – Debut match
Reaction to OCFC debut:
"It was a good opportunity with a lot of good players that are older than me. It was good playing, and a good experience overall."
On creating chances:
"I tried my best to get through the, but it's difficult against a good team like Ann Arbor."
What can the team improve on?
"I would say we can just be a little more composed on the ball through the midfield, and have just more touch, thats about it."
---
Scoring Summary & Notes:
Azaad Liadi – AFCAA 12:26

Jordan Montoya – AFCAA 21:20
Oakland – Shots: 8, SOG: 1, Corners: 6
AFCAA – Shots: 6, SOG: 4, Corners: 1
Attendance – 508
Men of the Match
Tonight's Men of the Match: INTERN CREW for managing a crowd of 500+! #BleedPurple pic.twitter.com/OFm1anhHHP

— Oakland County FC (@OaklandCountyFC) May 19, 2018
---
What's On Tap
OCFC now hits the road for two games on Memorial Day weekend (5/26 USAi Old Bhoys, 5/28 AFC Ann Arbor) and returns home to Clawson Stadium, Saturday, June 2 at 7:00 PM against Toledo Villa. Tickets for that match can be purchased here.