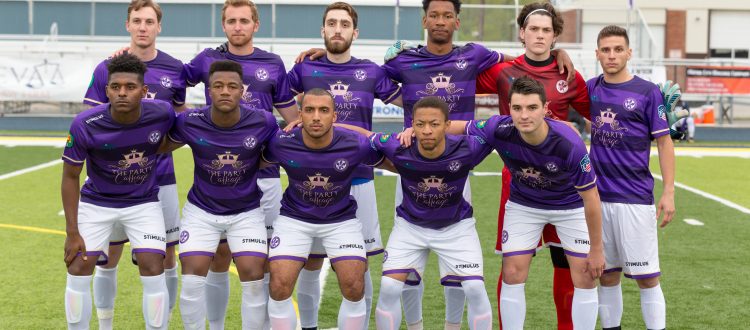 Match Preview: Battle of the Oak
Written by Robert Kerr, Staff Writer
—
After an amazing 6-2 win on opening day, Oakland County Football Club will get straight back to work this week for a tough test on Friday night. The men in purple are set to play AFC Ann Arbor in the Milk Cup, an all-Michigan based tournament. 2018 is the second year of the competition which features eight teams from across four leagues, all hailing from the Great Lakes State. Friday's match will be the first time OCFC will participate in the Milk Cup, and will serve as the third matchup between the clubs, each with a win apiece.
Our Leg 1/Leg 2 @michiganmilkcup dates vs. @AFCAnnArbor have been confirmed:

Leg 1 (Home): 5/18 at 7:00 PM
Leg 2 (Away): 5/28 at 3:00 PM

May the best Oak win. #BleedPurple pic.twitter.com/z3ADA4Oqh2

— Oakland County FC (@OaklandCountyFC) February 19, 2018
---
Fans were treated to some wonderful action during Saturday night's six goal outing. Not only did those in Clawson Stadium witness a four-goal-game from midfielder Robbie Cort, the crowd saw great performances throughout the squad. Left-back Willie Maddox put in a fiery performance, along the touchline. The Troy native won countless challenges and had the liveliness to be open for passes.
Julian Birge, Belal Khoulani, and Cameron Panley were strong and poised in the middle of the park, as was forward Kaveon Dux. Dux was involved in close to all of OCFC's positive attacking moves. The player sparkled as he linked well with others when building attacks, and pressed opposition defenders into numerous mistakes. The 21-year-old also converted a penalty kick to score OCFC's second goal of the game.
Following Saturday's historic opening day win, head coach Darryl Evans believes his team only needs more time together in order to improve.
"For us it is [still about] getting to know each other. The way we move as a unit, going forward, and just kind of how we want to defend [takes time together]. Obviously, we're going to keep working on it this week, and hopefully, we are going to be the smarter team each match."
During Tuesday night's practice, coach Evans and assistant coach Peters pushed the squad hard. The intense fitness training followed up by fast-paced keep away games worked the squad up to a fiery level. The spirit of the group was fierce. The competition to earn a game day spot has elevated.
AFC Ann Arbor are set to arrive in Clawson in top form, after winning their first two games of the season. Friday's visiting team opened their NPSL (National Premier Soccer League) season by defeating the Milwaukee Torrent, and Detroit City FC, by a combined score of 5-0. OCFC will visit AFC Ann Arbor on May 28, for the second leg of this exciting Milk Cup matchup.
Friday's match against AFC Ann Arbor is scheduled for 7:00 PM kickoff, discounted tickets can be purchased here. The first 100 fans at the match will receive an exclusive gameday poster.
---
About Oakland County FC
Oakland County Football Club is a Semi-Professional soccer team dedicated to providing a remarkable on-field product as well as an unforgettable game day experience. OCFC will strive to bring high-level soccer and entertainment to Oakland County and surrounding communities. Additionally, we aim to cater to every audience, both youth and adult. OCFC's long-term vision is to create a community backed club sponsored by both local and regional organizations, which will give back to the residents of the community in the form of pride and involvement.