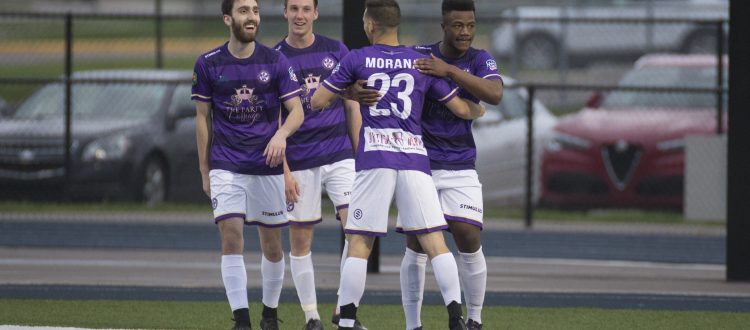 Match Recap: OCFC Opens Season With 6-2 Victory
Written by Robert Kerr, Staff Writer
—
Clawson, MI (May 12, 2018) –  Oakland County FC (1-0-0) defeated the visiting USAi Old Bhoys (0-2-0) on Saturday night at Clawson Stadium in a thrilling home opening affair.
Third year player Mario Morana scored the first OCFC goal of the 2018 campaign when he finished off a goalmouth scramble from close range. Forward Kaveon Dux converted a penalty moments later to put the home team up by two goals, before the ten minute mark.
The Oakland defense, led by Alex Ofeimu, Cam McNeil, Travis Harrington, and Willie Maddox pressed the visitors into a number of mistakes throughout the game. Midfielder Robbie Cort pounced onto a loose Indiana pass in the nineteenth minute and buried a right footed shot into the corner for the third tally of the match. Cort added his second goal of the game, and OCFC's fourth, before halftime when he tapped home the rebound from a low Kaveon Dux shot.
Robbie Cort took man of the match honors as he ended the game with four goals. The Bloomfield Hills, MI native's fourth and final goal came from a towering header as the midfielder flew through air to latch onto a well-worked cross from the right side.
The boys in purple jumped out to a 6-0 lead in their opening game of the season, a scoreline not many expected. The visitors were overrun for the majority of the game, but were able to net twice in the later stages of the game after a questionable red card was given to OCFC substitute August Hunter in the 63rd minute.
---
Oakland's 18:
Starters: Corbin Cecchini, Willie Maddox, Alex Ofeimu, Cam Panley, Belal Khoulani, Kaveon Dux, Julian Birge, Robbie Cort, Cam McNeil, Mario Morana, Travis Harrington
Substitutes: Ludin Gonzales, August Hunter, Ian Walker, David Tetaj, Saeed Tawil, Mike Machila, Hakeem Sadler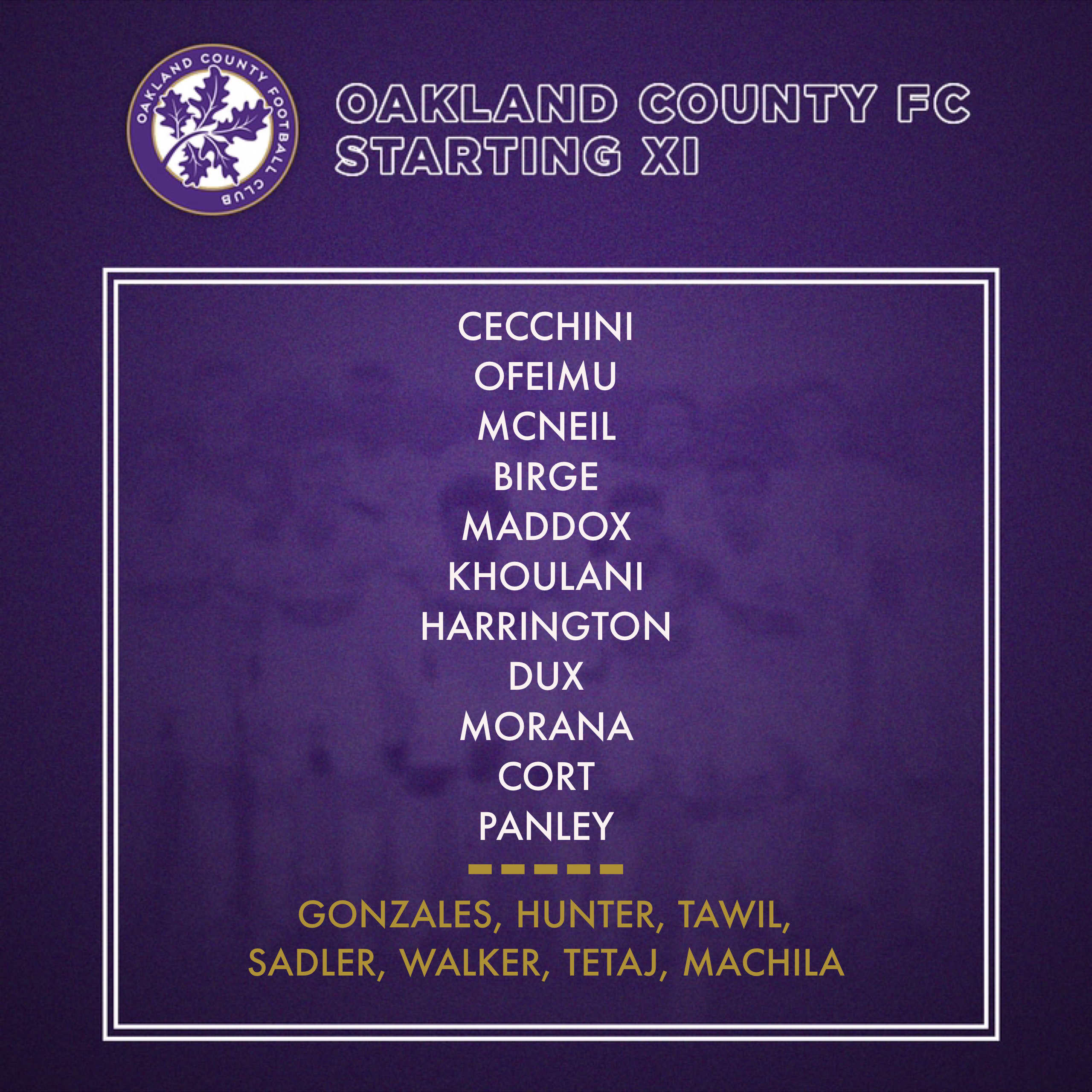 ---
Darryl Evans – Head Coach
Thoughts on the victory:
"It was definitely a good start, I mean a lot of these guys never played together and I think especially the first half was pretty good. I think the ball movement was pretty good. We got the ball wide, we wanted the ball wide and I think they did that and we scored some nice goals. And second half, that red card definitely hurt a lot and that's where we have to control the emotions a little bit more. And just kinda be smart especially when we're up by a couple of goals. I think we just have to be smart. That's why it kinda opened up a little, because they got pinned in the other end, they got a red card. Other than that I think we were the better team. We dominated possession, I think we were the better technical team."
On first game in charge and getting first win:
"It feels good, I think the guys worked hard the past couple of weeks, and I think they really started to understand the system that I want from them, the way I want them to play. They started to buy in, so that's good to see. Like I said, it's the first game, a couple things were good, some things we could still improve in my opinion, but overall I can't complain."
On Robbie Cort scoring four goals:
"Honestly, we planned on having him play left back, but then decided to put him at left mid. And he played pretty good, he scored four goals, great finishing you know, he took people on, so I think he had a great game today."
On his team's pressing:
"I mean we have to understand it doesn't just work when one is pressuring, we have to find the moment when everyone is shifting and then all of a sudden we have everyone on the same side and then we have three guys that can maybe pressure the ball. I think we started to understand where you wait a little second and then try and go for it, I think we did a good job on that".
---
Robbie Cort – Man of the Match
Reaction to game and Man of the Match:
"It was awesome. It was a lot of fun, great crowd tonight. Weather got better, good win and good experience overall."
On scoring four goals:
"You never really expect that to be honest, Im happy that that happened. We took advantage of our opportunities tonight."
On the first night playing in Clawson:
"It's a great field here, I love this field, and it close to home for me so that is really nice. A great experience tonight."
---
Scoring Summary:
Mario Morana – OCFC 2:20

Kaveon Dux – OCFC 8:30(PK)

Robbie Cort – OCFC 19:30

Robbie Cort (Dux) – OCFC 34:46(2),

Robbie Cort – OCFC 42:30(3)

Robbie Cort (Morana) – OCFC 51:45(4)

Juan Alberghetti – Indana 69:30

James Jenkins – Indiana 74:40
Oakland – Shots: 17, SOG: 10, Corners: 5
Indiana – Shots: 10, SOG: 5, Corners: 1
---
Next Match
Oakland plays their second home match in a row when they return to Clawson Stadium on Friday, May 18 at 7:00 PM where they will face the National Premier Soccer League foe AFC Ann Arbor in their first round matchup of the 2018 Michigan Milk Cup. Tickets to the match can be purchased here.