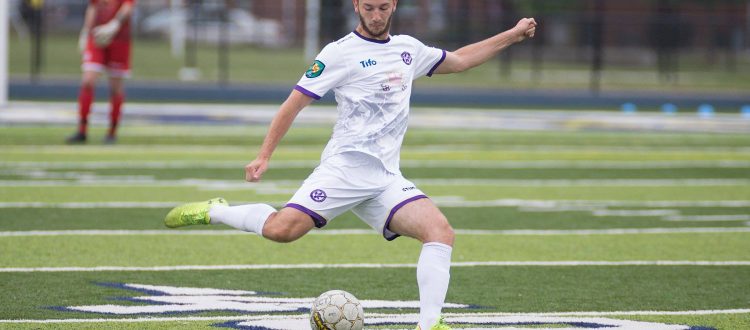 Player Series – Volume 1: Nathan Tremonti
Written by Robert Kerr, Staff Writer
—
Central defender Nathan Tremonti has been a stalwart in defense for Oakland County FC in 2018. The first year player has consistently played at a high level, for high level clubs, and is now reveling his play near home. The Bloomfield Hills native has a soccer endpoint, however— not due to something unfortunate or dramatic, but from another calling. In a candid conversation, OCFC's starting center back revealed that he is now pursuing a career that will take him off the pitch, and deeper into the classroom. While the pre-med's future may lie in the medical field, he's giving it his all on the pitch right now.
Nate arrived to OCFC this summer following his sophomore year at Seton Hall University. As he describes it, his soccer life spans around 10 to 12 years. The center back began as a youngster with the Bloomfield Force, then moved on to the Michigan Elite which became part of the Vardar Academy. Once he arrived at high school, there were real decisions to be made. Tremonti was excelling and played varsity soccer as a freshman. The high level development academies have rules against players participating for their schools, so, the young man had to decide where to play next. The young defender made the choice and went on to play the next three years of his soccer career for Vardar's Development Academy. From there, he was able to take the next step up, to Seton Hall in the Big East Conference, which is considered perhaps the most competitive division in the college game.
The defender speaks modestly about both his academic and soccer progression. He credits the quality of his teammates and coaches throughout his playing career for helping him locate his ideal college program, and then to land at his ideal collegiate program.
"I've been fortunate to have good coaches and teammates, which made it pretty nice in picking a good school. [They helped] picking a good program I could see myself in. I don't know if there's ever a perfect team, with a perfect coach, you have to deal with it either way and make something happen with what you have."
An on-field highlight of Tremonti's time at Seton Hall thus far came during his freshman season, when he scored a late game winning goal against Xavier:
GAME-WINNER ALERT: Nate Tremonti came up clutch as @SHUMSOC knocked off Xavier 2-1 tonight! #HALLin #BEfutbol https://t.co/0EeQkolIgU

— Seton Hall Athletics (@SHUAthletics) October 30, 2016
Due to the collegiate soccer season being limited to the fall, players are encouraged to find teams to play for in the summer. Thanks to the recommendation of a former teammate, and the good work of team scout Talal Khoulani, Tremonti came home to OCFC for the 2018 season.
"It's been significantly better and more professional from the top down" says Tremonti, who played for the now defunct Michigan Stars in 2017. "Just from the small things and up to the coaches, who are very good guys, there is a serious atmosphere here, which is nice."
The central defender has enjoyed coming home to play locally this summer, too.
"Its really cool, it's [good] to see these teams like OCFC, it's nice to play where you're from. In the Fall I get to play for my school, but in the summer it's fun being able to play for the area that you live in, and represent them. I've been very surprised with the turnouts at some of these games, it's been really impressive. I think a few weeks ago there were four or five hundred people [at the game], and that's awesome. It's cool to see people of all ages: kids, adults, and parents, come out and support because it's cool to see that this small team has such a strong supporting cast. I like the involvement for sure [of the Supporters' Trust], those are the people that care the most, and it's nice to see them [have a hand in the team]. And I love the jerseys, they're nice jerseys for sure. They are really nice, you get the name on the back and everything."
When he's not playing for the club this summer, Tremonti is staying plenty busy. The 21-year-old has been picking up part time work, and shadowing doctors as part of his pre-med schooling. The biology major has a number of years to go before deciding what kind of medicine he wants to go into. Tremonti says he is using this summer for, "shadowing psychiatrists, surgeons, and family physicians, to seek out a wide range [of fields]. I don't want to set my sights on just one thing this young."
The Brother Rice High School graduate described his style of play as, "pretty simple, not usually too flashy, but consistent and a good team mate." The defender continued by saying his favorite part of being a soccer player is simply being part of a team. The team are "just guys you can have fun with and laugh with on a daily basis, as well as get to compete with at a high level. It's one of those things that makes being on a team awesome."
After his four years are through at Seton Hall, the defender sounds confident that he will be able to hang up his boots:
"Right now I'm a pre-med major studying biology, that is kind of my main focus.  I don't really want to give it up, that's why I played in college,  I didn't want my dream to die [after High School, but] I think 4 years is enough. I'm going to miss it, but I think I'll play in side games and Sunday league stuff. I don't think I'll pursue a career [in soccer]."
Tremonti then shared his favorite moment of the first half of the OCFC season:
"My favorite moment so far? It would have to be coming back from a goal down against Carpathia with ten men. Although we didn't win, our team showed a lot of strength and resiliency."
Tremonti is currently in his first season with OCFC, and has made five appearances for the club so far. Nathan and his Oakland County FC teammates return to action at Clawson Stadium this Friday, June 29, at 7:30 PM.