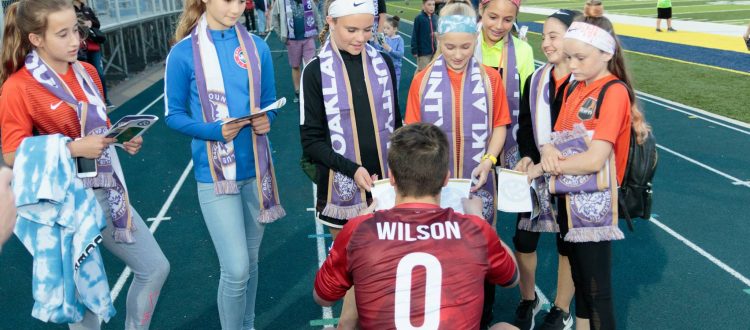 Player Series – Volume 2: Cary Wilson
Written by Robert Kerr, Staff Writer
—
Oakland County FC goalkeeper, Cary Wilson, aims to keep things safe. When the Clarkston native isn't wearing his keepers gloves, he works, and is earning his degree, in cybersecurity. Both in front of goal and a computer, Wilson is working to ensure security. The self proclaimed perfectionist is in his second season with OCFC and has been a goalkeeper since 3rd grade. The local Waza Academy product will be heading into his senior season at Tiffin University this upcoming fall.
Wilson got his first start of the 2018 OCFC season on Memorial Day. It was possibly the hottest day of the year, in Ann Arbor, and the club battled it out with Michigan's top team. Wilson has been selected to start ever since. The cybersecurity student is a very aggressive goalkeeper, willing to charge out at oncoming attackers. He has also showed he possesses a pair of reliable hands. In 2017, however, he was not able to display these qualities, as he was injured in the training session following his first OCFC match that forced him to miss the remainder of the year with the club. This season, Wilson is putting in performances each week, with sincere efforts towards completing his unfinished summer business.
Wilson explains his motivations on returning to Oakland County FC in 2018:
"I played for Oakland county last year. I didn't really get to play much because I played the first game, and during the very next training session, I hurt my knee. I ended up having to do physical therapy all summer. I was pretty limited with all that. But I got the opportunity to come play for Oakland county again this year, and jumped on it just because I thought it felt like I had some 'unfinished business' kind of feeling. I didn't really get to make the impact I wanted, so I came back this summer."
During the college soccer season and back in his travel soccer days, Cary has played most of his competitive soccer career far away from his home in Clarkston, MI. The subject of playing close to home was a topic that brought excitement to the young goalie's voice.
"It's pretty nice to get to play close to home, it's a short travel for my family and some of my friends who live around here can come and support me. It's nice to only drive 20 to 25 minutes to get to my game. When I play down at school, our closest away game is about an hour away. It's nice to be in an environment where I have my family, and they are able to come support, without having to travel any extensive amounts. There are a lot of summer teams that I know of,  that some of my friends [from Tiffin] play for, and they're out in San Francisco and stuff like that. It's nice to get to play for my hometown. It's nice to be able to to live [at home], and that is a larger draw for a lot of the players from this area."
Not only has playing close to home been good for Wilson, OCFC's treatment of the players, and the hometown crowd, haven't gone unnoticed.
"I think it's great how they treat us, actually. I was just telling one of my friends about it the other day. It's crazy how well it is marketed and how professional the club makes it. It's astonishing to come to an Oakland County game and we have 500 people showing up for a club that just started. Being able to draw in this many people with the game day experience shows how well, and how much time, is really being put into the club."
On the new initiative of the OCFC Supporters' Trust:
"I can definitely feel the excitement, and I think it's pretty cool that fans can buy a part of the club. I think that [the Supporters' Trust] gives the fans a more personal connection with the club. I think it was good to really bring in the supporters, and let them feel that personal connection. Maybe it can motivate them to come out and support, and do all that kind of stuff that can make it an even better environment, and grow the club even more."
In conversation with Cary Wilson, he referenced being a 'perfectionist' a number of times:
"In the job I have during the week, everything needs to be perfect, a lot of the stuff I work on will be used in court. In goalkeeping, I want everything to be perfect [as well], and I want my form to be perfect. I am so much a perfectionist."
During tough stretches of results, that personal pursuit of perfection is challenged:
"It's definitely not easy during a tough run of form. The only thing you can do is keep training, and keep trying to fix the mistakes the team can make," Wilson had a firm resolve when he stated: "We have made mistakes than can be fixed, and we need to be making sure we are working as hard as possible, to fix those mistakes."
Wilson has thus far played in eight Oakland games and leads the team in saves. He is currently working at a digital forensics company in Troy, and pursuing a double major in Cyber Security and Digital Forensics. Wilson is will be entering his final collegiate season at Tiffin University, in the fall, where he has been the regular stater since his sophomore season.