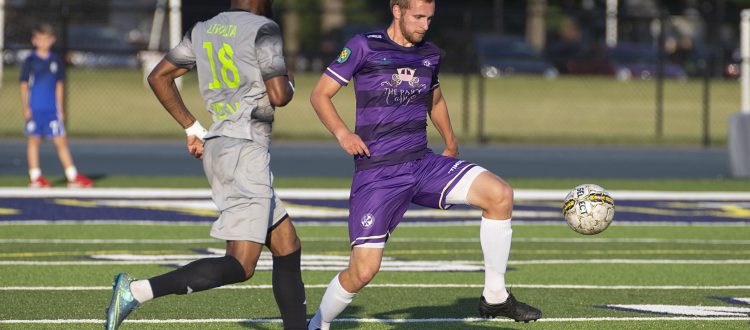 Player Series – Volume 3: Julian Birge
Written by Robert Kerr, Staff Writer
—
Oakland County FC midfielder Julian Birge made himself into the player he is today. Through competitive will, hard work, and good coaching, Birge has emerged as a top player for Michigan's supporter-owned team. The twenty-three-year-old has a remarkably clear view of both his role on a team, as well as on his own personal goals. Birge's drive has already landed him in the coaching world, his career of choice. The East Lansing native is currently an assistant coach with multiple youth teams, in both the Lansing and Grand Rapids areas. The ball-winning midfielder's efforts don't stop there, as he is also furthering his education. To learn more about the composed man in the O's lineup, I caught him on the phone, in between coaching sessions, at a youth soccer camp in Grand Rapids.
Birge grew up playing multiple sports as a kid: soccer, basketball, and baseball. It wasn't until his family spent a year in France, that his love of soccer took off.
"What sent me down the path of soccer, I think, was spending a year overseas during my fourth grade year, when I was nine-years-old." Birge's father took a year sabbatical, from teaching Physics at Michigan State University, to do research abroad. "I was able to experience that culture, and play soccer, and just soccer, for a full year. The winter didn't get all that cold, so we played outside all year round. I think that really helped me focus on the sport."
After having a modest high school soccer career, Julian Birge was happy to just make it onto a team in college. The busy young man speaks with a humble pride in his development as a player.
"Honestly, I just felt lucky to be playing anywhere coming into my freshman year. I didn't have the best high school career, and I was a pretty small kid. I finally grew height-wise, my last couple years [in high school], but I was a really skinny kid. I put in a ton of hard work, in the weight room at Alma, that really helped me grow into this player that I didn't really know I could become. I initially felt lucky to be able to play D3 college soccer, and now, I can prove to myself that I can play with those guys who played at the D1 level. [The OCFC experience] has been a really cool thing for me."
Birge credits the coaching and environment at Alma College for empowering him to realize his potential.
"I'm a really competitive person, and when I was named a captain after my freshman season, I just wanted to work really hard to try and be the best possible player that I could be. I just wanted to get the most out of myself, all that I possibly could. And I think the coaches there, namely head coach Josh Oakley, was a huge help in terms of giving me the confidence and belief in myself. That's huge as a player, and for my teammates too. So, I was able to grow a ton [at Alma College], and really develop as a player."
Birge was able to experience his favorite thing about being a soccer player while at Alma, being a piece of a committed team unit.
"I really like winning and scoring goals, but when a whole team buys in to what they're doing on the field, that is great. When everyone is doing all they can to help each other out on the field, it is really exciting. When everyone works together, really hard, you'll be dead tired afterward, but you get a very satisfied feeling, being part of a team that gave it their all."
The former Alma College captain is currently pursuing a Masters Degree in counseling at Grand Valley State University. He states that his ideal situation for the future is to be a counselor in a middle or high school, and be a coach at that school.
"I really like impacting people in a positive way, and helping as much as I can. For me personally, I had some really important coaches in my life that helped me get to where I am today, and helped me be really successful in college. What they did, and what they mean to me, I want to be that person for future players coming forward."
The versatile 23-year-old midfielder describes his qualities as a player as being a hard worker, able to play simple with the ball, and having a good nose for retrieving the ball.
"He understands the game and knows what he has to do," says Oakland County FC head coach Darryl Evans. "Julian can play the simple pass, and win the ball when he needs to. He's a D3 guy that's clearly not done, he's still got more levels he wants to achieve, for himself, and for our club. He's got that motivation and maturity you need on a team. If you can find 20 players like that, you'd be in a great spot. He comes down here from East Lansing all the time, you can see that he's hungry for this team."
The GVSU Masters student has been limited this summer after having picked up multiple injuries. Birge suffered an achilles injury at the beginning of the season, then a hamstring injury as he re-entered the O's game day lineup.
"I will keep trying as hard as I can, because I like to try and push myself, but this year, it has been harder, and my body has had a tough time staying at a high fitness level. It's been going year by year the past few summers."
While Birge may be unsure about his long-term future as a semi-pro player, he is dead set on helping his OCFC team finish the 2018 season, strong. Birge came down from East Lansing to watch and cheer on his team in Clawson, during the O's July 13 exhibition, and then played 72 minutes the following day out in Muskegon. When asked about appearing in OCFC's season finale on July 21, he said, "no matter what, I'm going to try and play in that final game."
---
Julian Birge and Oakland County FC are set to play their final game of their debut season as Michigan's supporter owned team on Saturday, July 21, at 7:00 PM. The Purple and White will be finishing their 2018 campaign against fellow Metro Detroit based Carpathia FC. Tickets are available and can be found here.