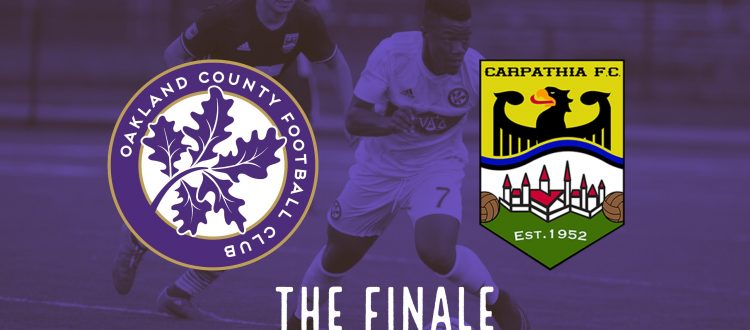 Match Preview: OCFC Aims to Finish on High Note
Written by Robert Kerr, Staff Writer
—
Michigan's supporter-owned team has just one game remaining of their debut season in Clawson. Oakland County FC will get to enjoy the comforts of home for their 2018 season finale. Saturday night will be the last chance for fans, friends, and neighbors to cheer on the Men in Purple. OCFC will be looking to end their season with a win, especially with Sterling Heights based Carpathia FC serving as the opponent.
Oakland County has enjoyed a wonderfully warm welcome from their newfound community. The O's have been supported by an average of over 420 fans at their in their new home in the small suburban City of Clawson. Clawson Stadium, nestled in the heart of the residential neighborhood, has been a perfect setting for OCFC's voyage into community ownership. The club will be sure to reward that support with one last summer night performance to remember.

With a win this weekend, Oakland County could play the roll of the spoiler too. Saturday night's opponent, Carpathia FC, are currently in second place in the UPSL Midwest – East Division, and are looking to clinch a playoff birth by finishing in first.
"I'm expecting it to be a hard fought game against Carpathia, as it always is", says OCFC defender Travis Harrington. "It would mean a lot to get a win, and block their chances of a playoff birth, since we're not in the position we would like to be in." Creative midfielder Hakeem Sadler echoes that thought, stating, "It will mean a lot for us to get the W in our last game of the season, we have to work hard as a team to come out victorious."
Oakland County FC's final game of 2018 will be played Saturday, July 21, at 7:00 PM. Tickets are available and can be found here.