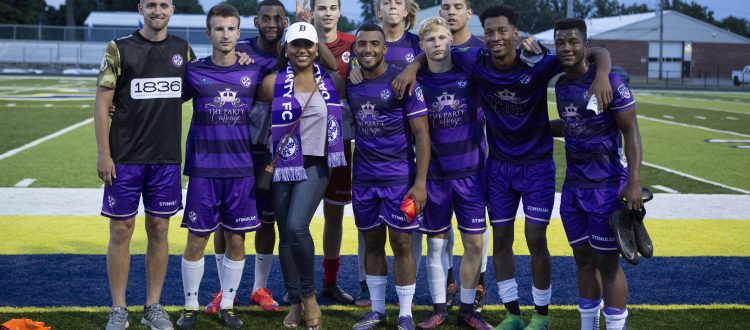 Match Recap: Tough Loss Caps Off Historic Season
Written by Robert Kerr, Staff Writer
—
Oakland County FC (3-0-7) were defeated by Carpathia FC (6-3-1) by a score of two goals to none, on the final day of the UPSL Midwest season.
Michigan's supporter-owned club concluded their foundational season, as such, in front of their home fans on Saturday night. The contest's goals were both had in a chance filled and exciting first half of football. Unfortunately, the visitors were the more clinical side on the night, and were able to find the back of the net with their opening two shots.
The first goal of the night came early in the contest. Carpathia's Matt Ybarra was able to put the ball in the net following a defensive mistake in the sixth minute of the match. Just nine minutes later, the guests doubled their lead when Dave Edwardson's long distance stunner looped inside of the right upright.
The O's recovered well from falling behind early, as they strung together a handful a chances before the halftime break. Most notable, was the dynamic play of attacker Dylan Borczak. The young Detroiter created a number of chances and took OCFC's first four shots of the contest. Borczak, who is transferring to Oakland University in the fall, could be considered the club's most improved player of the 2018 season.
The FINAL Starting XI of 2018 presented by Ortisi and Abate Family Dentistry. #BleedPurple pic.twitter.com/V2IF1xI98H

— Oakland County FC (@OaklandCountyFC) July 21, 2018
While the final score wasn't what the club were looking for, the season concludes with OCFC having built a solid platform in which to build on for the future. Oakland County FC will return in 2019, with another year of growth and experience under their belt.
---
Oakland's Roster:
Starters: Cary Wilson, Alex Ofeimu, Cam Roberts, Travis Harrington, AJ Santavy, Julian Birge, Nate Tremonti, Kevin Lencioni, Hakeem Sadler, AJ Williams, Dylan Borczak
Substitutes: Ian Walker, Kaveon Dux, Vince Vultaggio, August Hunter

---
Postgame Reaction:
Darryl Evans – Head Coach
On Saturday's result:
"[Carpathia] were more clinical in the first half with their two goals and were then able to see the game out. We had a young team with some hungry young players. I think the opponents experience won out a bit, aside from their finishing they were able to make the mature decisions to see the game out".
On Dylan Borczak's run of form:
"Dylan is a player with some real potential. If he continues at this rate of improvement he's probably going to be scoring on his chances and shots in the first half tonight. He's now moving along to Oakland University, and in that kind of soccer environment, he can come back bigger, stronger, faster and get himself to another level. Keep in mind, the player is only 19-years-old, and still has some growing to do."
Derek Peters – Assistant Coach
On Saturday's result:
"I liked the chances we created in the first half, but we had to switch things up in the second half do to injuries. Those changes took away a bit of our creativity and spark I thought. The bounces kind of went their way on the night, and they ended up playing well with their lead."
Nick Morana – Co-owner & Technical Director
On OCFC's 2018 season:
"Our overall record at the end of the season wasn't great, sure, but every other aspect of how the season went was perfect. With the addition of the Supporters' Trust, and the new home stadium and community, it really couldn't have been better. This year we laid our foundation a little bit, and now we can grow from here and we know where to build from here. It makes me smile just talking about it."
---
Man of the Match:
Tonight's MOTM: @Wilson_Cary!#BleedPurple pic.twitter.com/lCaA0KzRXy

— Oakland County FC (@OaklandCountyFC) July 22, 2018