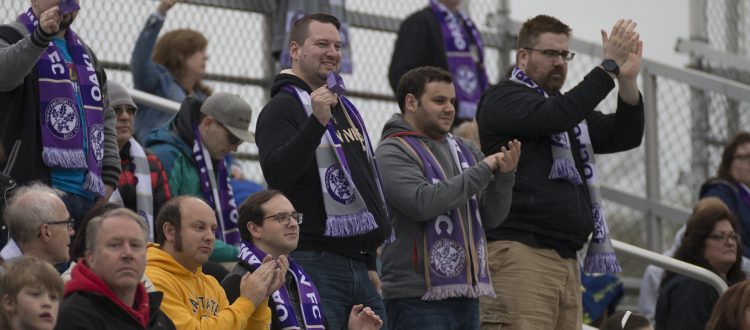 2018 Season in Review | Grassroots Growth
Written by Robert Kerr, Staff Writer
—
2018 has been a big year of firsts for Oakland County FC. The club began the year by launching the OCFC Supporters' Trust, thus becoming Michigan's only supporter-owned team. The club then hired a new coaching staff, a Director of Operations, a Scout, a broadcast crew, and made the biggest move of all: finding a new home at Clawson's City Park Stadium. The 'Little city with a Big Heart' embraced their first semi-professional team since the 1920's through partnerships and fandom. Before the 2018 season fades into memories, here's a numerical review of the year that was.
---
2018 By The Numbers
3-1-2018 | The launch date for the OCFC Supporters' Trust. The day which marked a new era for Oakland County FC and sports ownership in Michigan.
Final Out-of-State Membership packages have been mailed! We have out-of-staters from Colorado, Florida, California, Texas, North Carolina and Pennsylvania. Thank you all! #BleedPurple pic.twitter.com/qHVTCQSzxQ

— Oakland County FC (@OaklandCountyFC) May 25, 2018
1 | Number of supporter-owned clubs operating in Michigan.
"Football without supporters is nothing."

Staff writer @LWOSr2kerr2 sat down with several OCFC faithful to better understand what makes them fans of their supporter-owned club. This piece is a must-read: https://t.co/nEDCaT7tMt.#SupporterOwned #BleedPurple pic.twitter.com/OYrS5MZGIY

— Oakland County FC (@OaklandCountyFC) June 27, 2018
103 | Founding members of the OCFC Supporters' Trust.
#SupporterOwned pic.twitter.com/eVPcHw5MUQ

— Oakland County FC (@OaklandCountyFC) May 16, 2018
425 | Average number of fans in attendance at OCFC home games.

5-12-2018 | Opening day in Clawson! The season started off with a bang, a 6-2 win and a four-goal game from midfielder Robbie Cort.
17 | OCFC goals scored in front of the home fans.

21 | Goals scored in league games, good for third-most in the UPSL Midwest Conference – East.

0 | Tie games. Oakland County FC had not a single draw throughout the 2018 season.

547 | Highest attendance of the 2018 season (second highest attended game in club history).
FINAL: OCFC: 2 – Muskegon: 3. We battle back from 3-0 down but fall just short in front of 547. Goals scored by Cort and Birge. #BleedPurple pic.twitter.com/9cbcDwnp3a

— Oakland County FC (@OaklandCountyFC) June 30, 2018
10 | Oakland County goal-scorers in 2018: Robbie Cort, Kaveon Dux, Dylan Borczak, Hakeem Sadler, AJ Williams, Mario Morana, Julian Birge, Alex Ofeimu, Demitri Pliakos, Kevin Lencioni.

7 | Goals netted by OCFC leading scorer, Robbie Cort.

1 | Number of Oakland County FC supporters groups. The 'Elmwood Elites', became OCFC's first recognized supporter group during the 2018 season.

3 | Games decided by one-goal margins.

6 | Number of youth club partnerships in 2018.
Thanks for having us at your Open House, Clawson Strikers! #StrikerStrong #BleedPurple pic.twitter.com/bE3OscZvVD

— Oakland County FC (@OaklandCountyFC) June 13, 2018
31 | Players that represented the O's during the 2018 season.

12 | Number of points off the top spot in the division at season's end. While it may be a tough number to swallow, closing this points gap will become a catalyst for growth and improvement for the club, moving forward.
---
Oakland County FC has had a remarkable year, and the club's period of growth will continue. Head Coach Darryl Evans and Technical Director Nick Morana, both of which were in their first year in their positions, will be able to build the 2019 team having learned a great deal from the summer of 2018.
Michigan's only supporter-owned club will be offering Memberships to the Supporters' Trust once again in the near future, in addition to adding leadership and a Board of Directors to the Trust. Metro Detroit's family-friendly soccer club will be bigger and better than ever in 2019 and will look forward with eagerness to growing alongside the number of fans, partners, and relationships made during the most successful season in the club's short history.
2019 can't come soon enough.
2019, hurry up. #BleedPurple pic.twitter.com/y1wWrnUWkd

— Oakland County FC (@OaklandCountyFC) August 1, 2018
#BleedPurple