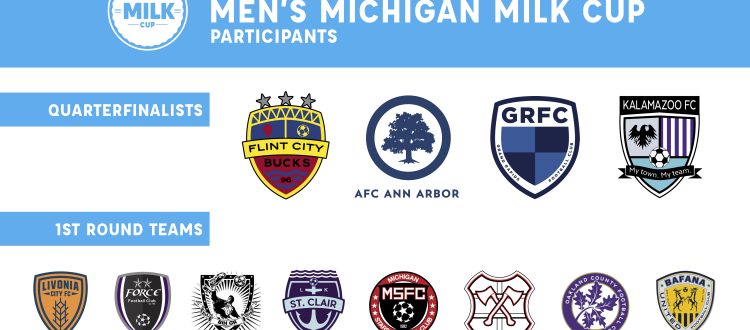 OCFC Enters 2019 Michigan Milk Cup
The 2019 Michigan Milk Cup will see some drastic changes as the cup has now expanded to include a Men's, Women's and Youth tournament.
"We want everyone to be sure to get their three servings of milk or dairy a day and having a broader competition for the Milk Cup just emphasizes the importance of milk to men and women of all ages. Our Michigan Dairy Farmers are proud of the high quality product they produce and enjoy telling their story at the Milk Cup games,"

said Sharon Toth, United Dairy Industry of Michigan CEO.
The Men's cup returns for its third year with a slightly revised format and includes teams from NPSL, USL 2, UPSL and MPSL. The field will include a total of twelve teams: four quarter finalists and eight first round participants. The teams advancing the quarters earned their draw based on previous cup results and/or participation, previous season league results and availability to host a home match. Those teams include AFC Ann Arbor (2017 Milk Cup Champion & 2018 Milk Cup Finalist), Grand Rapids FC, Kalamazoo FC and the Flint City Bucks who will be joining the competition for the first time. In 2018, Oakland matched up with AFC Ann Arbor in a first round bout that saw OCFC drop the round to the eventual finalists.
First round matches can begin as early as April, with the 2019 winner being crowned sometime in July. The winner of the 2019 Men's cup will take home $7,500 in milk money, with $2,500 going to the runner-up. Matchups for the first round will be determined by a random draw to be held on February 20, 2019 (to be streamed live on Michigan Milk Cup's Facebook page). The complete men's bracket and dates can be found here.
The inaugural Women's Michigan Milk Cup includes a field of nine teams. North Oakland and Livonia City FC will participate in a first round play-in to see who will join the other 7 quarterfinalists representing United Women's Soccer and the Women's Premier Soccer League. Those teams are AFC Ann Arbor, Detroit Sun, Grand Rapids FC, Lansing United, Michigan Legends, Motor City FC and AAFC Lumberjills. Like the men's tournament, matchups will be determined at the live drawing on February 20th.
The winner secures $5,000 in milk money, with the runner-up taking home $1,500 for the inaugural year of the competition.
Also new for 2019 will be the introduction of the Youth Michigan Milk Cup which will take place from April 26-28th in the Greater Ann Arbor area. Boys and girls ages 7 to 17, from all over the state and the Midwest, will gather to compete for their respective age group Milk Cup crown.
"Good nutrition is vital for success of all individuals, whether they are athletes or fans" added Toth. "Being able to present nutrition information to a growing  number of fans, with the support of the players who the kids look up to makes this a perfect partnership."
---
About Oakland County FC
Oakland County Football Club is a Semi-Professional soccer team dedicated to providing a remarkable on-field product as well as an unforgettable game day experience. OCFC will strive to bring high-level soccer and entertainment to Oakland County and surrounding communities. Additionally, we aim to cater to every audience, both youth and adult. OCFC's long-term vision is to create a community backed club sponsored by both local and regional organizations, which will give back to the residents of the community in the form of pride and involvement.