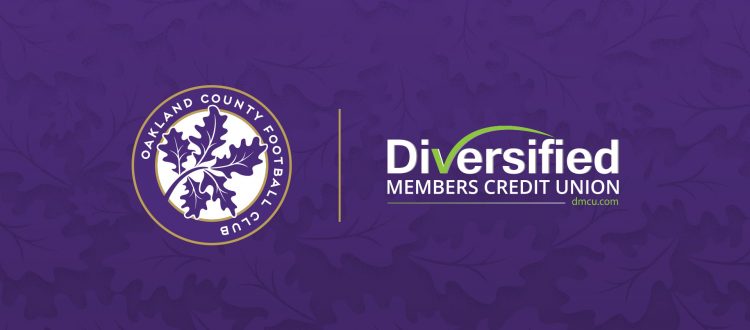 DMCU Named Title Sponsor of Oakland County Football Club
Oakland County Football Club is proud to announce Diversified Members Credit Union as its Title Sponsor and Official Financial Partner for the 2019 season.
As a part of the partnership, the DMCU logo will appear on the front of all jerseys worn by Oakland County FC players in 2019 and DMCU's 25,000+ members will be privy to custom offerings throughout the season.
"It truly means a great deal to have a title partner like DMCU," said Oakland County FC Co-Owner Nicolino Morana. "Like our club, DMCU's mission is to serve the community. They share many of our core values and we can't wait to see where this partnership takes us."

"This is an exciting day for us," said DMCU Clawson Branch Manager Renee Niewolak. "We are proud of our commitment to Oakland County, the city of Clawson and its residents, in particular. This gives us an opportunity to help Oakland County FC bring countless hours of entertainment to local families and gives our members some great perks and privileges. I know we have a lot of members who are soccer fans. We can't wait for the season to begin."
DMCU activation will be present at each home match throughout the season in addition to multiple co-branded offerings at Clawson Stadium and DMCU's Clawson location.
OCFC is also proud to support DMCU's Youth Savings Account for children ages 0-18, which offers savings options to help their youngest members learn good habits and financial responsibility early such as providing $50 every year for a child's birthday with the My Future Savings account.
All season long, DMCU members will enjoy exclusive match benefits on OCFC matchdays, including discounted match tickets and special giveaways.
DMCU loves getting involved in sponsoring athletic endeavors. They are a corporate sponsor of the Detroit Lions and of the Velodrome in Detroit where they sponsor a race team.
The 2019 season kicks off in May with the season schedule set to be released later this month. 2019 Open Tryouts take place on April 6 at Clawson Stadium. Register here. Limited spots remain.
---
About DMCU
Diversified Members Credit Union is a full-service financial institution with branches in Detroit, Novi and Clawson. DMCU offers a full array of loans, including personal, home and auto; savings and checking accounts; credit and debit cards; and mobile online banking. Anyone who lives or works in the state of Michigan is eligible for membership. Formed in 1929, DMCU has grown to 25,000 members and more than $400 million in assets. For more information, visit www.dmcu.com, or on Facebook or Twitter.
About Oakland County FC
Oakland County Football Club is a Semi-Professional soccer team dedicated to providing a remarkable on-field product as well as an unforgettable game day experience. OCFC will strive to bring high-level soccer and entertainment to Oakland County and surrounding communities. Additionally, we aim to cater to every audience, both youth and adult. OCFC's long-term vision is to create a community backed club sponsored by both local and regional organizations, which will give back to the residents of the community in the form of pride and involvement.