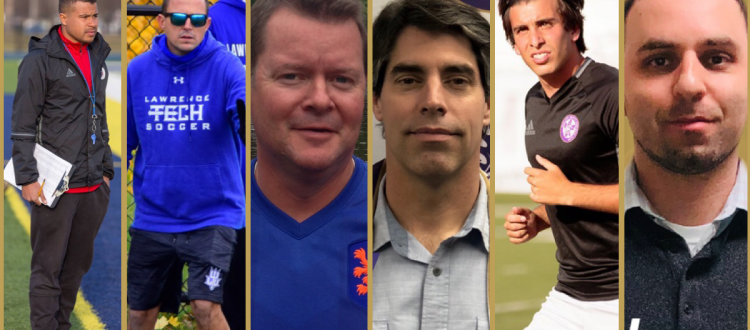 Oakland County FC Appoints 2019 Staff
Oakland County Football Club is pleased to announce coaching staff appointments for the 2019 season.
---
Head Coach: Darryl Evans
Darryl Evans will be returning for his second season at the helm of Oakland County's coaching staff. Looking to continue to grow the culture at the club, Coach Evans is prepared to build off of last season.
"There's definitely some unfinished business from last season," said Coach Evans. "We are building something great here and this new staff will surely guide this club in the right direction this season and for years to come."
A collegiate product of Macomb Community College and Georgia State University, Evans holds a National "D" Coaching License and currently coaches several youth teams with the Michigan Revolution. He also gained coaching experience while in Germany once he completed his playing stint with Tennis Borussia Berlin and FC International Berlin.
---
Assistant Coach: Will Dyer
Coach Dyer graduated from The Ohio State University in 2001 with a Bachelor of Science degree in Sport and Leisure Studies. He began his playing career with the Concorde Soccer Association back in 1982 and then played at The Ohio State University in 1994-1995.
Coach Dyer started his soccer coaching career at Powell Soccer Clubs in 1997 thru 2001 then moving on to Detroit Country Day Middle School from 2002-2009 where he earned his National Soccer Coaches "National" License and holds a Class "B" License from the United States Soccer Federation. He currently serves as Lawrence Tech's Men's Head Coach where he has transformed them into a WHAC (NAIA) powerhouse over his eight-year tenure.
I'd like to thank the owners, the board, Head Coach Evans and in particular Nicolino Morana and Theo Foutris for the opportunity to join a club that has offered ownership to its fans," said Coach Dyer. "I look forward to helping the players and coaches be proud of the crest they wear everyday and compete to win a championship."
---
Assistant Coach: Craig Dejong
Serving as the Technical Director of the local Michigan youth club, Michigan Revolution, Coach Dejong brings a wealth of coaching experience with him as he enters the semi-professional ranks of the pyramid. He played collegiately at Calvin College and holds a NSCAA Advanced National Diploma and a Class "D" License from the United States Soccer Federation.
"I love the spirit of this club and the drive of the ownership group to keep improving. Darryl and I have worked together for years and have spent many hours discussing tactics, styles and the drive to get the best out of our players. I am looking forward to bringing those discussions to life and creating a team the community will get behind and the players will bleed for!"
---
Assistant Coach: Derek Peters
A local product from De La Salle Collegiate, Coach Peters returns for his second season for County after recently serving as an assistant at University of Michigan – Dearborn. Coach Peters returns as a proponent to organization, tactical strategy and making safe decisions on the field. He currently lives with his wife and two kids in Ferndale, MI
I'm excited to get back to work and finish what we started last season," said Coach Peters. "We have some unfinished business and I'm looking forward being a part of this club's future success."
---
Technical Trainer & Scout: Joe Beshara
Joe Beshara returns to the club after playing in both 2016 and 2017, anchoring the midfield and defense at different points throughout each season. After sustaining a knee injury in 2018, Beshara looks to stay close with the club as he prepares for his role as the club's Technical Trainer and a scout. Joe also run's his own technical training program, Evolve Technical Soccer Training, serving all areas of Metro Detroit.
 "Tons to be thrilled about! I can't wait to be working with some of the best players in the area," said Beshara. "The rest of the coaching staff is beyond quality and the organization is extremely organized. I'm looking forward to continuing my journey for this club."
---
Scout: Talal Khoulani
A Flushing, MI native, Talal returns to the club with 17+ years of scouting and management experience as the Founder and Director of FOB Soccer, a non-profit soccer organization located in Flint. Talal will be working directly with Technical Director Nicolino Morana as he continues his search for quality talent throughout the area.
The 2019 season kicks off in May with the season schedule set to be released later this month. 2019 Open Tryouts take place on April 6 at Clawson Stadium. Register here. Limited spots remain.
---
About Oakland County FC
Oakland County Football Club is a Semi-Professional soccer team dedicated to providing a remarkable on-field product as well as an unforgettable game day experience. OCFC will strive to bring high-level soccer and entertainment to Oakland County and surrounding communities. Additionally, we aim to cater to every audience, both youth and adult. OCFC's long-term vision is to create a community backed club sponsored by both local and regional organizations, which will give back to the residents of the community in the form of pride and involvement.