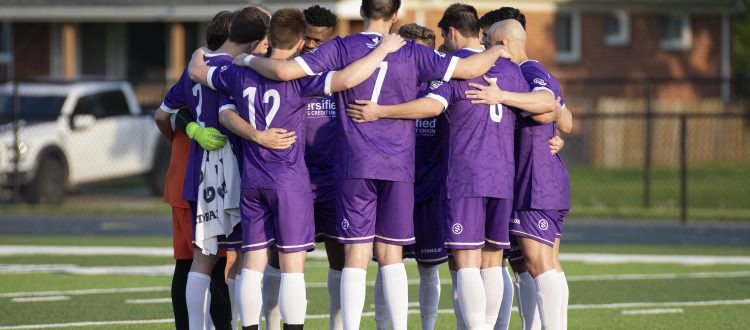 Match Recap: 5 Goals For Purple
Written by Robert Kerr, Staff Writer
—
Oakland County FC was victorious on the road against the AAFC Lumberjacks yesterday evening by a final score of 5-2. County was able to turn around a first half deficit to remain undefeated thus far in 2019. Mike Melaragni netted a hat trick on the night to earn "Man of the Match' honors. Wednesday night's win was an excellent team performance that saw every member of the squad contribute. With two league wins under their belt, OCFC now sit on 6 points in the UPSL Midwest Conference – East Division. Full league standings can be found here.
FINAL: A 🎩 TRICK from @mikemelaragni and a goal apiece from @AubarGarcia and @shawnsloan set the pace for us this evening! #BleedPurple pic.twitter.com/4Uu6bowZg7

— Oakland County FC (@OaklandCountyFC) May 23, 2019
---
Oakland started the game in strong fashion and looked like they were going to take an early lead when winger Cam Wilde's shot, from the right, came back off the Lumberjacks crossbar. The Purple Gang looked to have a good grip on the game, but didn't find a finish to their early chances. The night looked like it might turn sour for County when the Lumberjacks took the lead in the 34th minute. The good play of OCFC was undone by a flukey goal from the hosts.
Tonight's MOTM: @mikemelaragni with the 3️⃣ goals! pic.twitter.com/nH8y3j0Zaq

— Oakland County FC (@OaklandCountyFC) May 23, 2019
Towering striker Mike Melaragni then came to the rescue for OCFC as he netted twice before halftime. The equalizer came by way of OCFC's Rochester connection, as Melaragni headed home a Bobby Harris free kick. The go-ahead goal came just four minutes later, when the striker nudged in a bouncing ball in front of the host's net. County was able to turn a one goal deficit into a halftime lead in the four minutes leading up to the break.
Oakland started the second half as they finished the first. This team continued creating great scoring chances and looked hungry to expand on their 2-1 lead. Just before the hour mark, Head Coach Darryl Evans made a double substitution that paid great dividends.
SUBS: Double change for the boys in purple

Shawn Sloan comes on for Fred

Alvaro Garcia in for Cam Panley

— Oakland County FC (@OaklandCountyFC) May 23, 2019
Moments after substitutes Alvaro Garcia and Shawn Sloan were added to the fray, the opportunity to grab hold of the game presented itself. The two fresh players joined the field as their teammates were set to take an attacking corner kick. Following a dangerous delivery into the box, and a goalmouth scramble, the match referee saw an infraction in the mass of bodies, and awarded a penalty. OCFC veteran Shawn Sloan stepped up to the spot, and calmly gave County a 3-1 lead.
Our guy @ShawnSloan got on the scoresheet for the first time this season with the eventual game-winner. #BleedPurple https://t.co/hHb8Fk9USa pic.twitter.com/mw6nWgxtEG

— Oakland County FC (@OaklandCountyFC) May 23, 2019
Moments after the converted penalty kick, midfielder Alvaro Garcia made it 4-1 for the visitors, with an absolute screamer of a goal. The ball rolled favorably to the substitute, positioned at top of the Lumberjacks box—Garcia made no mistake with his connection to the ball. The player's shot rocketed past the helpless goalkeeper, into the top left corner of the net. The goal will last long in the memory of all who saw it, and is an early favorite for OCFC goal of the season.
Ann Arbor answered back with a second goal of their own, soon after. The host's comeback effort was stifled immediately, however, when Mike Melaragni finished off his hat trick, to put the game out of reach at 5-2.
Tonight's 18 presented by @DMCreditUnion. Kickoff a little under 15 minutes away. #BleedPurple pic.twitter.com/mOY9i0O0J8

— Oakland County FC (@OaklandCountyFC) May 22, 2019
---
Next Stop, Kalamazoo!
Attention now turns to the second round of the Michigan Milk Cup, as the Purple Gang take on NPSL side, Kalamazoo FC. OCFC's early undefeated record will be put to the toughest test, yet, as Kalamazoo have a solid team, and have also started their 2019 season off strong. Wednesday's hat trick hero, Mike Melaragni, will be especially motivated to upset the Kalamazoo side, as their roster boasts a good number of his collegiate teammates. The Michigan Milk Cup second round game will kickoff Sunday May 26, at 5:30 p.m., at Mayor's Riverfront Park, in Kalamazoo.
---
Highlights
---
Head Coach Darryl Evans
"We scored a lot of goals tonight and we could have scored a lot more with how many shots we had. Even with playing on this field, with lots of holes, I think we played some really good soccer, moved the ball well, and created lots of chances. I think we deserved to win tonight. There's a couple things we can improve, but, overall, I'm happy with where we are right now."
Man of the Match – Mike Melaragni
"My first two goals were not pretty, but the third one was probably my favorite of the three. It was a really good counter attack that everyone was involved in. I think [the team is] really coming together  and building chemistry. Every day in training is really nice and I think we are improving, every day."
---

---
More Purple
Our next home match will be played on Thursday May 30, at 7:30 PM at Clawson City Park Stadium where we welcome Carpathia FC in a first place showdown. Discounted online tickets can be purchased here.
The Oakland County FC experience, presented by Diversified Members Credit Union, continues beyond the final whistle. Zeoli's Italian, in downtown Clawson, at 110 E 14 Mile Road, is the official OCFC matchday bar. Zeoli's is serving $1 beers, to everyone, every match day, in 2019! Socialize, dine, and cheer with your fellow fans, before and after the game.
Visit oaklandcountyfc.com for match previews, reviews, highlights, galleries, and more! Follow us on Twitter, Facebook, and Instagram, to find exclusive offers and the latest content. Enjoy the game, and #BleedPurple!