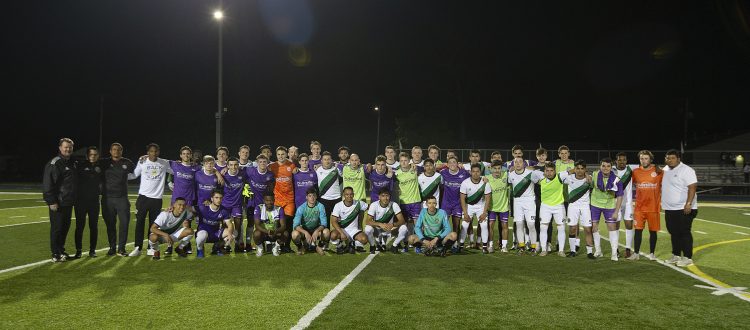 Match Recap: Back-to-Back Home Wins
Written by Robert Kerr, Staff Writer
—
Oakland County FC came out on top in their exhibition match against Inter Detroit by a score of 3-1 this past Saturday evening. The fans in Clawson were treated to pleasant weather and OCFC goals from Cam Wilde, Mario Morana, and Bobby Harris. For the second week in a row, County were able to push on to victory following an equalizing goal from the visitors.
---
Three Times the Fun
The OCFC coaching staff were able to get a good look at more players than usual in Saturday's exhibition. In fact, they sent out a different lineup in each half. Cam Wilde opened the scoring in the 37th minute, after an all-time scrum in front of the visitor's net. The chance came following the purple gang's fifth corner kick of the first half. The Shelby Township native was, somehow, able to force the ball over the line through a mass of bodies in front of goal.
The final here from Clawson: 3-1 thanks to goals from @Cwilde_13, @MMorana23 and Bobby Harris

Thanks for coming out @interdetroit! pic.twitter.com/ZDvQuimEoz

— Oakland County FC (@OaklandCountyFC) May 19, 2019
After an early second half equalizer from Inter Detroit, Mario Morana slotted home the go-ahead goal, in the 68th minute. The OCFC original ghosted into the opponents back post area and latched onto the end of a great cross from the left hand side of the field. Morana was then able to guide his one-time finish through multiple defenders to give the home team the lead.
Tonight's MOTM: Bobby Harris! A goal in his first appearance of the season. #BleedPurple pic.twitter.com/fAcJCcOGbR

— Oakland County FC (@OaklandCountyFC) May 19, 2019
Once County retook lead, they never looked back. The second half unit for OCFC did well to control the ball following Morana's goal. This forced Inter into chasing the ball and committing fouls. The visitor's comeback chances were dented when an Inter midfielder received a red card for a high-and-mistimed tackle in the 79th minute. Their chances of a come back were then destroyed when Bobby Harris netted County's third goal of the night.
---
Matchday Squad
A full look at tonight's squad. Plenty of bodies on the line. #BleedPurple pic.twitter.com/rXh7Rd8K24

— Oakland County FC (@OaklandCountyFC) May 19, 2019
---
League and Milk Cup Action Ahead
Saturday's exhibition match gave the coaching staff a larger body of work to evaluate and plan for the busy period ahead. OCFC start the new week with their regular Monday night training session in Clawson. Wednesday night, the Purple and White resume league play, when they travel to play AAFC LumberJacks at Lincoln High School in Ypsilanti, MI. We finish the week in Kalamazoo, as the Purple Gang are set to take on Kalamazoo FC, in the second round of the Michigan Milk Cup. The cup game is set to kickoff Sunday, May 26, at 5:30 PM, at Mayor's Riverfront Park.
---
Match Highlights
---
Assistant Coach Derek Peters
"We were still trying to see some players and feel them out. We had two different lines, something we wouldn't typically do. Hard to find too much cohesion with so many substitutions, but it seemed like they were receptive to what Coach Darryl [Evans] had to say. They seemed to really come together in the second half of the second half. Overall, not bad."
Man of the Match – Bobby Harris
"For my goal, Cam slotted me in, and all I had to do was finish. Tonight was nice to play with a couple friends that I used to play with growing up."
Cam Wilde
"It was a bit of a nic-nack goal, it wasn't very beautiful but it ended up going in, which is nice. It wasn't very flashy, but it was what we needed, and that's all that really matters."
Player Interviews
---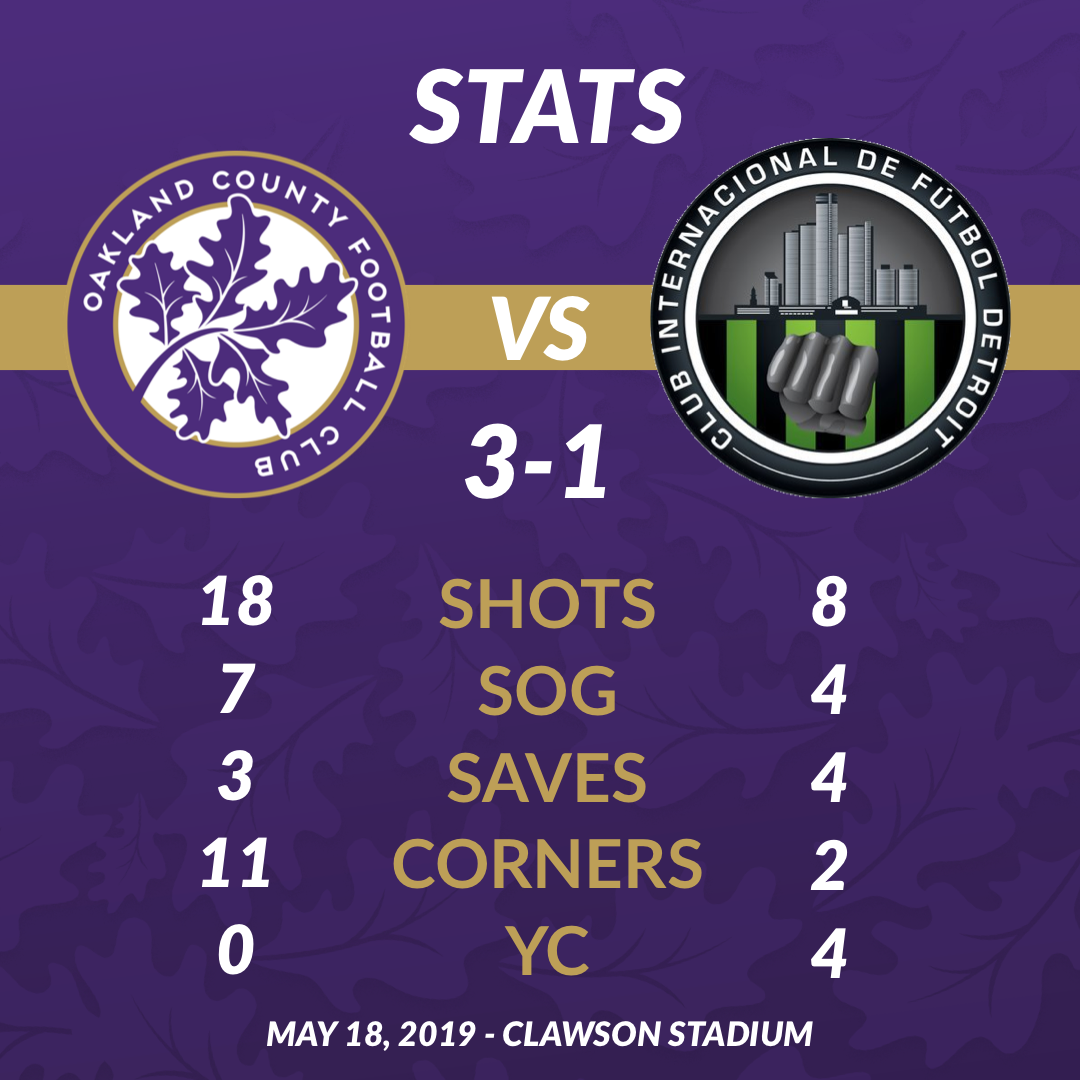 ---
More Purple
The next home match of the season takes place on Thursday, May 30 at Clawson Stadium. Kickoff is slated for 7:30 PM. Tickets for the match can be purchased here.
The Oakland County FC experience, presented by Diversified Members Credit Union, continues beyond the final whistle. Zeoli's Italian, in downtown Clawson, at 110 E 14 Mile Road, is the official OCFC match day bar. Zeoli's is serving $1 beers, to everyone, every match day, in 2019! Socialize, dine, and cheer with your fellow fans, before and after the game.