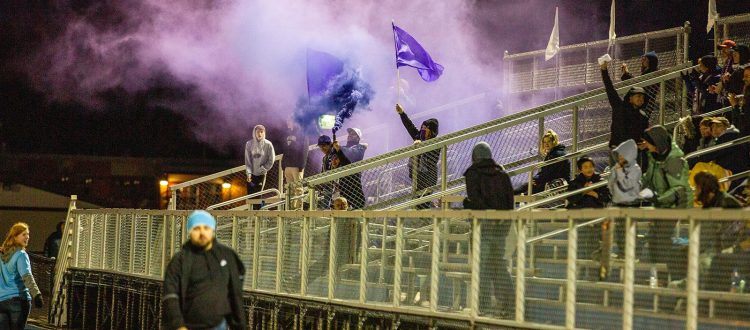 Matchday Preview: New Threads Under the Lights
Written by Robert Kerr, Staff Writer
—
After winning the first two competitive games of 2019, Oakland County FC will look for another victory this Saturday May, 18, at 7:30 PM, as a debut opponent pays a visit to Clawson City Park Stadium. Michigan's supporter-owned club takes on Inter Detroit, in the second of eight home games presented Diversified Members Credit Union. Tomorrow's opponent is currently playing in their inaugural season and will bring an element of the unknown into the match: "I've never seen them before," says OCFC head coach Darryl Evans, "but I'm sure they are going to be motivated, and if we don't match that at 100 percent, it's going to be tough for us."
NEXT UP: OCFC vs @InterDetroit. May 18.

Tickets | https://t.co/bo93Lxz8xp

🍻: Zeoli's starting at 4:30 PM
🏟️: Gates open at 6:00 PM
⚽: Kickoff at 7:30 PM#BleedPurple | #OCFC pic.twitter.com/2DsOBvihw4

— Oakland County FC (@OaklandCountyFC) May 14, 2019
---
This Week in Training
Following the victory on opening night, the squad got right back to work. Coach Evans and his staff were very happy with their team's winning performance, on opening night, having only played together for a short time.
"We worked on our decision making this week," said the boss, "like when certain players can make runs forward, and also on defense; we worked to make sure we are shifting as a unit and knowing who has to put pressure on the ball. This weekend's game will help us as a coaching staff to move the best players into the right areas."
#TacoTuesday was yesterday but we brought the salsa tonight. pic.twitter.com/S5uTuMUuZY

— Oakland County FC (@OaklandCountyFC) May 16, 2019
The size of the squad in training has increased significantly as a number of players returned and joined up from their collegiate responsibilities. The competitive level in this weeks sessions have risen significantly, also.
"I think this week is big for the team's chemistry and building relationships," stated OCFC striker Mike Melaragni, whilst cooling down after his team's practice, on Wednesday night. "Having the big group working together, in training, combined with this weekend's game, will be great for the team and forming relationships. Playing with familiar faces was a big part of me joining OCFC this season too, and I'm excited for the chance to play with some of my ex high school, and academy teammates, this weekend."
The effort put forth by the team hasn't gone unnoticed by the coaching staff, either:
"The work-rate from the group, has really impressed me," said OCFC assistant coach Craig DeJong at Wednesday's training session. "From top to bottom, these players are really competing for places on the team sheet."
County's coaching staff will have a number of tough decisions to make when selecting the weekend's roster. There is a new depth to the talent on the squad, this year, another testament to the growth of Oakland County FC, and what the club is trying to accomplish.
---
Building Together
On match days, throughout the season, OCFC will be welcoming our partners, from out in the community, into our games. Throughout the season, we welcome Diversified Members Credit Union, who have not only become the club's title sponsor, but a fantastic partner and advocate in 2019. More special thanks go to all of our game day sponsors, and of course, the OCFC Supporters' Trust. Thanks to all for supporting and for sharing in the Oakland County FC experience.
---
More Purple
The Oakland County FC experience continues beyond the final whistle. Zeoli's Italian, in downtown Clawson, at 110 E 14 Mile Road, is the official OCFC match day bar. Zeoli's is serving $1 beers, to everyone, every match day, in 2019! Socialize, dine, and cheer with your fellow fans, before and after the game. Part of the pregame festivities on Saturday, will be a special sneak peak reveal of the 2019 OCFC jerseys! Be there at 5:30, on Saturday, to check out County's new threads ahead of the game!

Visit oaklandcountyfc.com for post-match reviews, highlights, galleries, and more! Follow us on Twitter, Facebook, and Instagram, to find exclusive offers and the latest content. Enjoy the game, and #BleedPurple!