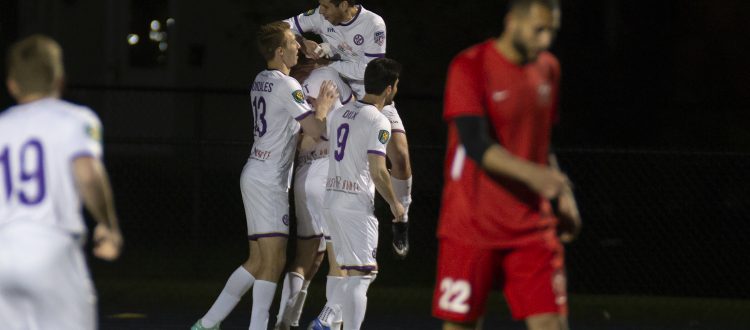 Match Recap: The Perfect Start
Written by Robert Kerr, Staff Writer
—
Oakland County FC was victorious against the AAFC Lumberjacks, 2-1, in their league-opening game of 2019 at Clawson Stadium. Goals from County veterans Mario Morana and Robbie Cort were enough to win the day. The score was all-even after first half goals from Morana and the Lumberjack's Mohamad Miri. OCFC substitute Robbie Cort then scored a dramatic game-winning-goal in the 79th minute. County now sit on three points in the UPSL Midwest Conference – East Division after the first game of the season.
First goal of the season!! Our fans know how to #BleedPurple pic.twitter.com/XdAL6o9RV8

— Oakland County FC (@OaklandCountyFC) May 12, 2019
A festive crowd of 466 came out in the wet conditions to see Oakland refuse to lose after a Lumberjacks comeback. OCFC captain Mario Morana scored the first goal of the 2019 season when he calmly netted the rebound from forward Fred Prest's breakaway shot in the 27th minute. The home side was unable to add more goals during their dominant spell in the first half and were punished by an AAFC goal on the stroke of halftime.
Opening night's second half was a tougher test for the men in all-white. The team displayed great determination, though, and were able to put in enough blocks, tackles, and saves, to keep the game even late in the game. Man of the match, midfielder Louis Sala, made the game's breakthrough connection when he curled a free kick from the left side of the Ann Arbor box onto the outstretched leg of the hurtling Robbie Cort at the back post. Cort's goal is his fifth opening night goal for the club, and has now scored in OCFC's opening game in consecutive seasons, after netting four times in OCFC's 6-2 rout of the Indiana Old Bhoys in 2018. The team's determination then held firm Saturday night, to see-out the final rough-and-tumble minutes of the game.
.@Robbie_Cort GOALASO: An Opening Night tradition. #BleedPurple pic.twitter.com/bdj7NtLNeC

— Oakland County FC (@OaklandCountyFC) May 12, 2019
---
Head Coach Darryl Evans
"[AAFC] were dangerous on set pieces, but overall, I think we deserved to win tonight. We dominated in possession and created a lot more opportunities. I'm happy for the team to get a win. Theres a few things we need to improve on, but we looked pretty good overall for our first league game together."
Man of the Match – Louis Sala
"Honestly, it was a lot of fun and there were a lot of people out, tonight. All of the guys were trying their butts off. We got a win and that's what is important".
Robbie Cort
"I was just hoping for coming off the bench and bring a spark out there and, hopefully, get a game winner. I think it was 6 minutes after I came in, I missed a chance off a header. I told whoever crossed it to try again. I was like 'yo just see me at the back post' and he put a perfect ball in, and I just finished it. [The game tonight] was a lot of fun a lot of fun".
Fred Prest
"Atmosphere was great, all the fans came to support us. We did a great job and the team worked very hard. Everyone that got a chance to play worked real, real hard. We did our best and we deserve the win."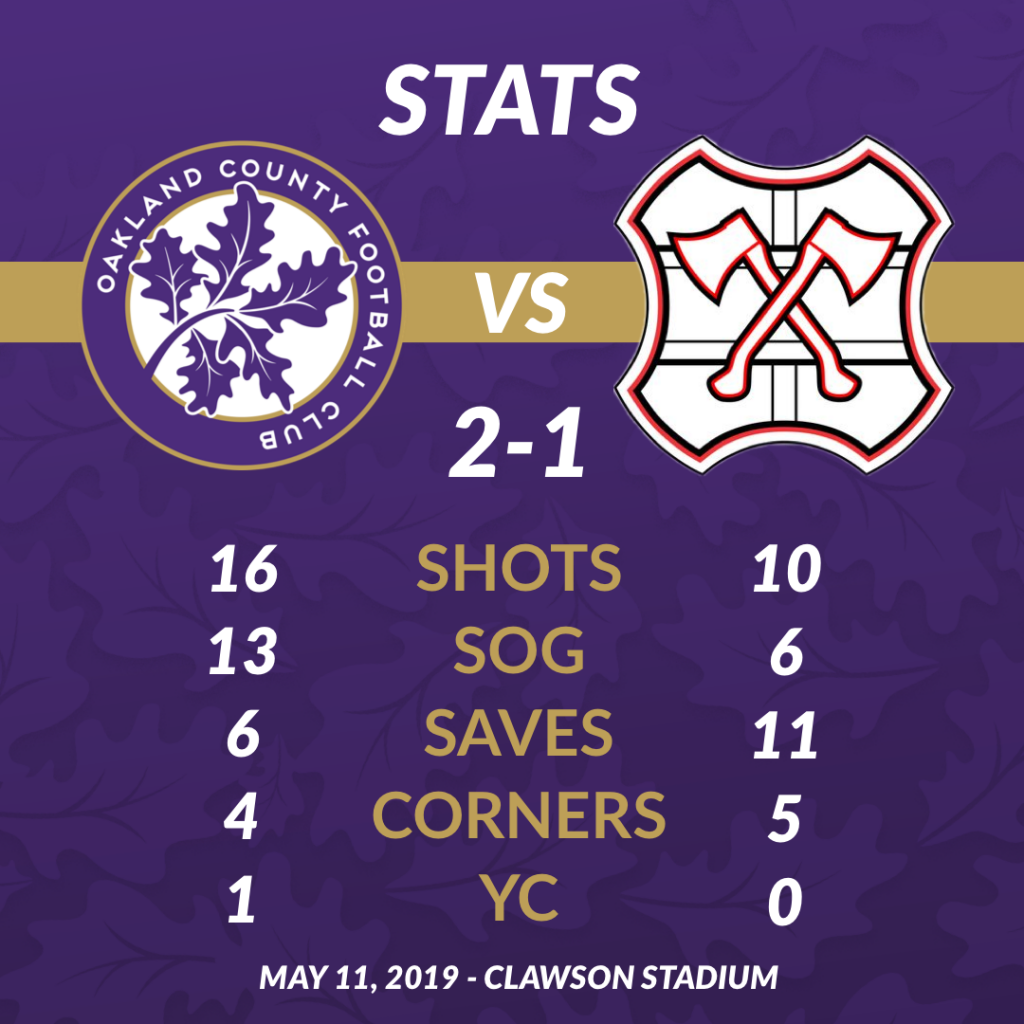 ---
Starting Lineup
Yesterday's Starting XI presented by @DMCreditUnion (in the old school kits one last time).

Prest, Melaragni, Birge, Metcalfe, Ugwuyana, Panley, Dolan, Sala, Nowak, Morana. #BleedPurple pic.twitter.com/cYzQFe5cLZ

— Oakland County FC (@OaklandCountyFC) May 12, 2019
Matchday Squad
Here's a look at the full roster for tonight's bout. #BleedPurple pic.twitter.com/fRuolO82WP

— Oakland County FC (@OaklandCountyFC) May 12, 2019
---
More Purple
The next match of the season takes place on Saturday, May 18 at Clawson Stadium. Kickoff is slated for 7:30 PM. Tickets for the match can be purchased here.
The Oakland County FC experience, presented by Diversified Members Credit Union, continues beyond the final whistle. Zeali's Italian, in downtown Clawson, at 110 E 14 Mile Road, is the official OCFC match day bar. Zeoli's is serving $1 beers, to everyone, every match day, in 2019! Socialize, dine, and cheer with your fellow fans, before and after the game.