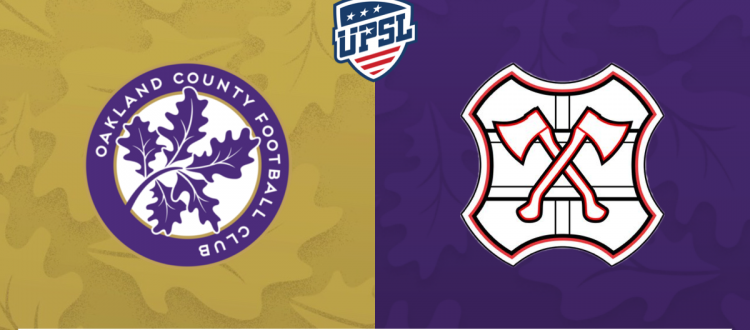 Matchday Preview: OCFC vs AAFC Lumberjacks
Written by Robert Kerr, Staff Writer
—
The Ball is Ready to Roll
Oakland County FC action has returned, at last! The purple and white of OCFC will be flying high once again at Clawson City Park Stadium. The wait to watch Michigan's sole supporter-owned sports team will finally end after the bitter winter. A benchmark will be set on tonight that mark will be the culmination of the efforts and dedication of every player, staff member, and owner, in becoming Oakland County's best entertainment. Tonight, OCFC welcomes the Ann Arbor FC Lumberjacks, for the first of eight home games in 2019 season, presented by Diversified Members Credit Union.
---
"Our Biggest Season Yet"
The 2018 season, through some eyes, was a window into what was possible. Right now, looking at tonight and the new season, it's difficult not to get excited.
"It's always good to get started on the right foot" says Nicolino Morana, County Co-owner and Technical Director. "Opening night puts all the offseason work of scouting and preparation into perspective, as we get ready for our biggest season yet. We enjoy seeing the players respond well to adversity of only having a few training sessions with one another. Hats off to our coaching staff for some really great work."
"We Can Make Things Happen"
2019's Oakland County FC lineup will be much changed one from the one who faced AAFC last July. Fan favorite and club original, Mario Morana, could possibly be the lone returning starter from the 2018 team. The 2019 edition of roster is the most scouted and researched squad in the club's short history. Second-year Head Coach Darryl Evans, and his staff, have assembled what should be a highly entertaining side for fans to watch throughout the summer.
First year OCFC midfielder, Kevin Buca, is one of a number of exciting young players set to don the purple 2019 OCFC Supporters' Trust selected kit. The Rochester native has recently returned from his freshman year at the University of Michigan, and has been an eye-catching performer during his short time at the club.
"I'm looking forward to experiencing the atmosphere created by our fans," says the Stony Creek High School alumni. "I'm really excited to play for OCFC, and to, hopefully, get a positive result from our first league game. We have the potential to succeed." Buca continues, "It's a good group, with lots of different personalities that can help us in many roles, on the field. Once we get to know each other's tendencies, and start building our on-field relationships, we can make things happen."
Building Together
On match days, throughout the season, OCFC will be welcoming our partners, from out in the community, into our games. On opening day, we welcome the staff and members of Diversified Members Credit Union, who have not only become the club's title sponsor, but a fantastic partner and advocate in 2019. More special thanks go to Clawson Public Schools, Clawson Soccer, AYSO Sterling Heights, Epilepsy Foundation of Michigan, AOK Theatre, our 2019 community partners and sponsors, and of course, the OCFC Supporters' Trust. Thanks to all for supporting and for sharing in the Oakland County FC experience.
Visit www.OaklandCountyFC.com for post-match reviews, highlights, galleries, and more! Follow us on Twitter, Facebook, and Instagram, to find exclusive offers and the latest content. Enjoy the game and #BleedPurple!