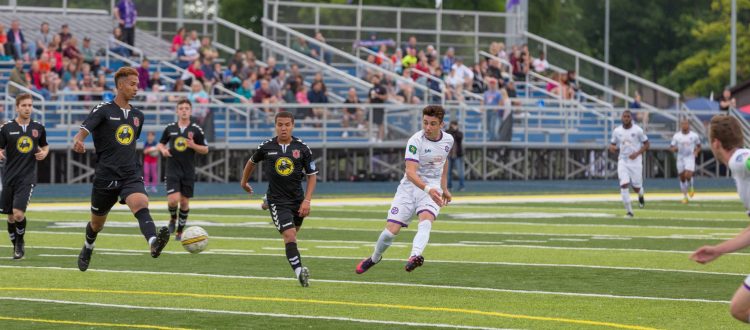 2019 Season Preview: Here. We. Go.
Oakland County FC is on the eve of their fourth-ever season! Michigan's sole, supporter-owned sports team is set to transform the Clawson City Park Stadium into a purple laden soccer party once again. This Saturday May 11, at 7:30 PM, it all kicks off as Ann Arbor FC Lumberjacks come to town. Saturday's game is the first of eight home games presented by Diversified Members Credit Union.
2019's Journey Begins Here
Opening night goal-fests could become a tradition in Clawson, if last year's 6-2 victory is repeated. May 11's opening bout against the AAFC Lumberjacks could well provide those goals too, as the two teams combined for 10 goals in their two meetings in 2018. OCFC and the Lumberjacks split their season series in 2018, with one win apiece. Saturday's match marks the beginning of a four month journey to become Michigan's top team. The club will face big challenges along the way, as OCFC will face powerful and talented opponents. The will of the squad appears to be strong going into the season, and the chance to see the team be tested has finally arrived.
Scenes from last season's Home Opener make us 😀 pic.twitter.com/25XXqW6bHO

— Oakland County FC (@OaklandCountyFC) May 7, 2019
---
The Hurdles Ahead
Oakland County FC will, once again, compete in the United Premier Soccer League Midwest Conference – East Division. OCFC are set to play an all-Michigan schedule. Every league and exhibition opponent, in 2019, hails from the great lake state, a testament to the current ambition of soccer in Michigan. OCFC's six team division is one of three that make up the the highly contested UPSL Midwest Conference. BIH Grand Rapids, Michigan Jaguars, and Waza Flo FC have joined AAFC Lumberjacks, Carpathia FC, and OCFC in the East Division. County will play each divisional opponent twice, once at home, and again on the road.
---
Familiarity and Growth
2019 has become a landmark season for Oakland already as the club's return to Clawson marks the first time they have played at the same venue in consecutive seasons. With a home base in place, OCFC has been able to solidify and grow upon the foundations built in the 2018 season. Familiarity and outreach have led to the expansion of relationships, and partnerships within Clawson, and across the region. County have made a concerted effort to add and improve elements of the game day experience for fans, as well as create mutually beneficial relationships in the community.
The introduction of familiarity and growth is evident on the field as well. As OCFC head coach Darryl Evans and assistant Derek Peters have returned for a second season. The coaching staff has been bolstered further with the addition of assistant coach Craig Dejong and technical trainer Joe Beshara. Coach Evans and his staff's work in training and recruiting has been promising, thus far, and will be put to the test during the approaching landmark season. The squad of players available to Evans are said to be highly coachable, and are obviously competing at a high level to earn a spot in the County starting lineup.
Matchweek training is underway. pic.twitter.com/jbLm0Ukwlc

— Oakland County FC (@OaklandCountyFC) May 7, 2019
---
The Oakland County FC Experience
In addition to the action on the field, every Oakland County FC game features a free kids zone, cost-friendly concessions, giveaways, and plenty more! The Oakland County FC experience continues beyond the final whistle too. Zeoli's Italian, in downtown Clawson, at 110 E 14 Mile Road, is the official OCFC matchday restaurant and bar. Zeoli's is serving food and drink specials, including select $1 drafts to everyone on every match day, in 2019! Socialize, dine, and cheer, with your fellow fans, before, or after, the Oakland County FC game.
The ⚽️ party starts on May 11! Meet up at #Zeoli's beforehand and enjoy $1 select drafts all matchday long!

*Top-level soccer talent
*Affordable food options 🌭
*Bounce house 🎪
*@KwikGoal Kids Zone
*And more!

Tickets: https://t.co/ifc7UdJMWY#BleedPurple | #Clawson | #OCFC pic.twitter.com/beQfB6WPza

— Oakland County FC (@OaklandCountyFC) April 29, 2019
For those who can't make it to Clawson City Park Stadium, OCFC will once again provide a streaming service for home games. Play-by-play announcer Jeremy Otto returns for his third season on the call for Michigan's supporter owned team. Otto will be joined in the booth by OCFC Supporters' Trust member and Detroit soccer personality, Mitch Gatzke. Oakland County FC home games will be streamed live on golivesportscast.com and replayed on the club website.
Visit oaklandcountyfc.com for post-match reviews, highlights, replays, galleries, and more! Follow us on Twitter, Facebook, and Instagram, to find exclusive offers and the latest content. Enjoy the game, and #BleedPurple!