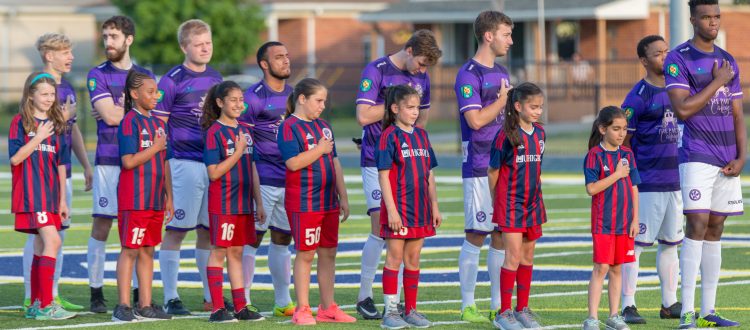 The Growth Continues: Roster Recap #2
Written by Robert Kerr, Staff Writer
—
As the 2019 Oakland County FC season approaches, head coach Darryl Evans' team roster continues to be revealed. The OCFC training sessions have been slowly growing in size as new faces are introduced during the preseason period. Amongst the introductions is a trio of Blue Devils, a midfielder, and a returning goalkeeper. Technical Director Nicolino Morana, and the coaching staff will continue to reveal the 2019 roster during the week of the 2019 home opener, on Saturday, May 11, at 7:30 PM.
---
Santiago Amigo
We are pleased to introduce @amigotei_pitus to the club! A @LTUMensSoccer senior, Santiago joins County's backline for 2019. #BleedPurple pic.twitter.com/iumcx13fcK

— Oakland County FC (@OaklandCountyFC) April 17, 2019
Hailing from Madrid, Spain is a Lawrence Tech new grad, Santiago Amigo. The 6'3" center back joins OCFC following his senior year of a decorated collegiate career. He earned LTU Men's first-ever All-American honors in his junior season, and was a key piece in his team's conference tournament championship this past November.
"After graduating, I still wanted to play at a high competitive level. OCFC opened their arms to me, and have made my decision very easy", says the towering Santi. "I will also be playing with great players and great friends [this summer], and that is always a plus."
Ryan Resendes
Welcome to County, @ryanresendes_! The @LTUMensSoccer junior joins us for 2019! #BleedPurple pic.twitter.com/K70sZ2gdlJ

— Oakland County FC (@OaklandCountyFC) April 25, 2019
The second player in this Blue Devil trio is exciting attacking midfielder, Ryan Resendes. The Windsor, Ontario native scored six goals and assisted two more in his 22 appearances for LTU in the fall. Resendes said he's been playing soccer since he was five years old, and has loved the game ever since. Describing his playing style he states,
"I like to take players on and drive at the back line. [Then] find the killer pass to the forwards and wingers. I also like to shoot from distance, and hope to score a few goals this season."
Tim Dolan
Welcome to the club, Tim Dolan! The @GMCBulldogs keeper joins our last line of defense for the 2019 season. #BleedPurple pic.twitter.com/Z6UFUj87wU

— Oakland County FC (@OaklandCountyFC) May 2, 2019
Looking to pick up where he left off last summer, goalkeeper Tim Dolan states:
"I decided to join and play for OCFC this summer because I was lucky to experience the club in action last year."  The Georgia Military Academy junior then added, "I trained and got to play in a game in 2018, so I have experienced the environment of our home games. I absolutely love the local supporters, and the atmosphere that all of the fans provide at games!"
Dolan played well and made a game changing save in his 45 minute performance in the Michigan Milk Cup first round game on May 1. When asked his thoughts on the overlooked aspects of the goal keeper position, Dolan answered,
"Having the ability to have a short memory is the most overlooked aspect of goalkeeping. Getting scored on is inevitable in the position, but it can also be very frustrating. Personally, I will never be content with getting scored on, even if it is an amazing goal. The most challenging and important part of being a goalkeeper is being able to get scored on, reflect upon any mistakes that I made, and then forget about it."
Alvaro Alaman
Another #BlueDevil in the fold. Welcome to County, @Alvaroahrg! The @LTUMensSoccer defender joins us for 2019. #BleedPurple pic.twitter.com/8pyxmFvVIQ

— Oakland County FC (@OaklandCountyFC) May 2, 2019
The Madrid, Spain native joins Michigan's supporter-owned club following his junior year where he made 22 appearances. The defender says he is looking to grow during his time with County this summer.
"OCFC is a great team with great players. I really think that being in this team is going to help me grow as a player. OCFC plays in a very competitive league, so we are going to face many challenges that as a team we are going to be able to overcome. I think that we have a nice team of not only good players, but also good people."
Brock Schultz
Please join us in welcoming @DU_MSOC sophomore @brockschultz_ to County for the 2019 season! #BleedPurple pic.twitter.com/ZdDOXVXeqT

— Oakland County FC (@OaklandCountyFC) April 30, 2019
Joining the ranks of the purple midfield is Clarkston, Michigan native Brock Schultz. Brock has spent the past two years at Davenport University following an All-Oakland County honored senior season at Clarkston High School.
"What originally brought me to OCFC was the club's past. I knew OCFC was a good local club with talented players, and I knew I wanted to be a part of it someday," shared Schultz. Since arriving to camp, the midfielder added, "my first impressions are that we've got a really talented, skillful, roster. There's some familiar faces and some new ones and the coaching staff does a good job in training sessions and games to push us as much as possible. My work is cut out for me, I think it's going to be a fun summer."
Join your neighbors in cheering on these impressive players as they strive for top competition and club glory. The action all begins this Saturday, May 11 at 7:30 PM under the lights at Clawson City Park. For tickets, news, and updates on the 2019 Oakland County FC season visit www.oaklandcountyfc.com.