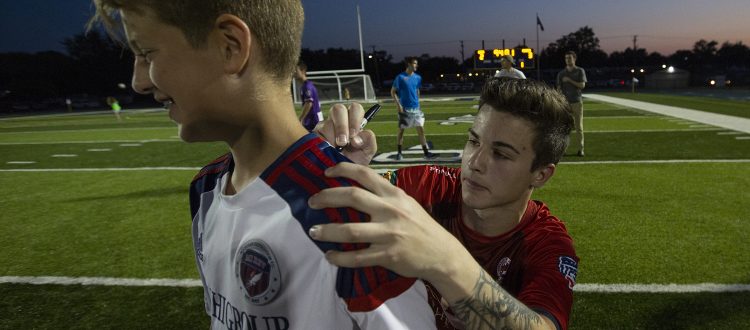 Purple is Upon Us: A Preseason Review
Written by Robert Kerr, Staff Writer
—
Spring has sprung and the sun has finally returned to Michigan. As the familiar sights and sounds of the outdoors return, so too does Oakland County FC's call to #BleedPurple. In our second season as Michigan's Supporter-Owned club, OCFC enters the 2019 campaign at it's highest point in the club's short history. The leading items in a wave of preseason news: the club's fourth ever fixture list, additional community partnerships have been forged, and the announcements of the clubs talented players continue.
FULL SCHEDULE 📅 | Our full 2019 fixture list has arrived!

It all begins with a pair of closed-door friendlies versus @LK_StClair and @NUmenssoccerMI , followed by a visit to @ForceFC_MI for Rd 1 of the @michiganmilkcup.

Tickets 🎫: https://t.co/ifc7UdJMWY#BleedPurple | #OCFC pic.twitter.com/whk6ZzH3K5

— Oakland County FC (@OaklandCountyFC) April 24, 2019
The 2019 season will be a battle for the top spot in the Great Lake State. County will play in a six-team, all-Michigan based, UPSL Midwest Conference – East Division, with eight home games, and at minimum fifteen match days on their schedule overall. Clawson Stadium will host two Thursday night games this year, a first for the club. In addition, there will be three Saturday night games, one game on a Friday night, and another on a Sunday afternoon.
The Supporter-Owned action all begins with the 2019 season opener on Saturday, May 11 with several community outing partnerships such as Clawson Public schools and AYSO in place. The local school district is the first in a series of community groups that will be recognized throughout the 2019 season.
Don't wait! Tickets to our Home Opener on May 11 can be purchased here.
---
OCFC's 2019 Preseason begins
The 2019 squad is beginning to take shape. Preseason training has opened, and players have begun being announced. Second year head coach Darryl Evans, and his full 2019 coaching staff, held the first training session of 2019, on April 15. The first preseason scrimmage will take place on Wednesday evening, April 24, and will be a closed-door match. MPSL side Lake St. Clair will visit Clawson Stadium for the first full-sided tune-up of the preseason.
Catch up on the first wave of player signings here.
---
$1 Beers at Zeoli's
The OCFC matchday experience has added a new element in 2019, $1 beers! Zeoli's Italian, in downtown Clawson, has become an exciting new club partner. As a big welcome to supporters, the newly built Italian eatery on 14 Mile road has truly rolled out the purple carpet. Zeoli's is offering food and drink specials, including $1 beers, all-day, for every OCFC matchday. Full details on the partnership can be found here. Zeoli's is a spacious, modern, restaurant and bar, and will serve as a wonderful gathering site, for fans and friends, alike.
We are excited to announce a partnership with Zeoli's Restaurant as they have been tabbed Official Matchday Bar for 2019!

The kicker? $1 select drafts to everyone (21+) the day of the match. All day. Cheers! 🍻 #BleedPurple

Full Release 📝 | https://t.co/oRufnlSDA9 pic.twitter.com/4fcRG6Rupt

— Oakland County FC (@OaklandCountyFC) April 10, 2019
---
Supporters' Trust Updates
The votes are in. By ONE single vote, this beauty takes the 🎂 for Trust Members in 2019! #SupporterOwned pic.twitter.com/wgNwqEchpf

— Oakland County FC (@OaklandCountyFC) March 4, 2019
The Oakland County Supporters' Trust exercised their voting power over the winter months by selecting the team's 2019 kit design, in addition to the design of the membership scarf. OCFC Trust Members selected Trust Member and team designer Michael Taylor's purple and gold bar design, for the 2019 Membership scarf. The winning design beat out the competition by just a single vote! Oakland County FC's kit designs, for the 2019 season, will be revealed at the annual Trust Members Kit Reveal Party, on Thursday, May 9, at Zeoli's Italian.
---
Oakland County returns to Michigan Milk Cup
The @michiganmilkcup Round 1 matchups have been set! We paired up with @ForceFC_MI. Formal date and time to be announced at a later date.

Who ya got? pic.twitter.com/TolLy0iTtG

— Oakland County FC (@OaklandCountyFC) February 20, 2019
Prior to the 2019 UPSL schedule release, OCFC's first opponent of the 2019 season had already been confirmed. On February 20, representatives from the United Dairy Industry of Michigan, drew County to play away at Force FC, in the first round. This is the third edition of the Michigan Milk Cup, a knockout tournament consisting of 12 teams from across Michigan. OCFC's first round opponent, Force FC, is an MPSL club that finished the 2018 season as the MPSL's Premier Division Champions. In 2018's edition of the Milk Cup, OCFC fell to eventual finalists, AFC Ann Arbor, in a hard fought first round matchup. County will visit Bishop Foley High School, on Wednesday, May 1, at 8 PM for the first round of the 2019 Milk Cup. Further details on the expanding All-Michigan Tournament, which now features both a women's and a youth competition, visit https://www.michiganmilkcup.com.
Stay tuned as we inch closer to the start of the 2019 campaign and unveil additional news for the season. Tickets to our Home Opener on May 11 can be purchased here.