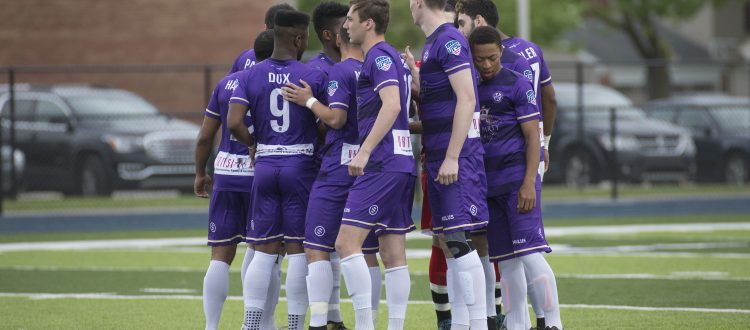 The 2019 Roster Begins to Take Shape
Written by Robert Kerr, Staff Writer
—
2019 is poised to be Oakland County FC's most exciting season yet. Due, in large part, to the new player roster being the most scouted and researched squad in the club's short history. The 2019 squad of players, who will once again wear supporter selected kits, is an exciting mix of returning veterans and promising young talents. The roster has been built primarily of Michigan based talent, most of which are returning home from their collegiate obligations during the summer months. This group may just be the one that earns Oakland County FC it's first title.
---
Mario Morana
The captain is back! Back for his 4th season, @MMorana23 is officially the longest tenured County player. 🏅#BleedPurple pic.twitter.com/EKf7Yzeurm

— Oakland County FC (@OaklandCountyFC) April 4, 2019
Heading into the new season, it came as no surprise who the first announced OCFC player was going to be: winger, Mario Morana, the County original. Morana returns to the club roster as a senior figure, the captain, and is clearly excited to continue helping build up the club.
I'm most looking forward to winning, obviously. But to be honest, building into year two with head coach Darryl [Evans], is something I'm very excited about. Over the years, we have been flipping through coaches. So to have one solid one, we are able to build into the culture he provides, and buy in to what he wants from us [players]. Knowing that all the players are being taken care of, in a professional manner, throughout the season, makes coming back very appealing.
Mike Melaragni
2017 #Michigan Mr. Soccer will be wearing Purple & Gold this season! Please welcome @WMUMensSoccer Freshman, @mikemelaragni to the club!#BleedPurple | #BroncoNation pic.twitter.com/NbLIens6hO

— Oakland County FC (@OaklandCountyFC) April 4, 2019
Oakland County then announced the club's first new player this season: exciting young forward Mike Melaragni. The Rochester native is soon to return from his freshman year as a Western Michigan University Bronco. The 2017 Michigan Mr. Soccer award winner enjoyed a promising debut college season. Melaragni played in each of WMU's 20 games, scoring three times and recording two assists. Upon his announcement to the OCFC roster, the young striker stated that he "wanted to play for the local team near Rochester, and the club's schedule allows me to still have time to take classes in the summer". When asked what he wanted to accomplish on the field in 2019, the Stoney Creek High School star answered,
My goals are to keep building on everything that I learned from my freshman year at Western, and to just enjoy playing soccer with a bunch of great teammates, reuniting with friends, and [working] with the coaches.
Shawn Sloan
Sloan is BACK! #OCFC original @shawnsloan has signed on for 2019 and makes his return to County. Welcome back, Shawn!#BleedPurple | #TheDoc pic.twitter.com/Pu8yinofBU

— Oakland County FC (@OaklandCountyFC) April 4, 2019
Returning to the club for another season in purple is attacker Shawn Sloan. Sloan suited up for OCFC in both the 2016 and 2017 seasons and was the team's leading scorer. The future doctor couldn't stay away from the game he loves for too long, though:
First and foremost, [I came back to Oakland County FC] just for the pure love of the game. Obviously, being in medical school has its commitments, so I haven't been able to play as much as I want. Now, with some free time before residency starts, I cannot wait to get back on the pitch. I truly am just a happier man when I'm kicking a ball around. Another reason, and more specifically to OCFC, is what these guys are building here. I love being a part of it. The ownership, the staff, the players, and the community being built around OCFC are special.
The 66th player drafted in the 2013 MLS Draft then added,
"I've played soccer for over 20 years of my life, and want to do it at a high level until my hips give out. I'm looking forward to having fun moments at games. It is a blast to be out there and feel the support from the fans – and hopefully celebrate some goals!
Julian Birge
Welcome back, @JulianBirge! Signing on for his third season, our passionate midfielder is ready for 2019. #BleedPurple pic.twitter.com/pzqV5OL1gL

— Oakland County FC (@OaklandCountyFC) April 10, 2019
Returning for 2019 is four year Alma college midfielder, Julian Birge. The East Lansing native returns for his third season as an OCFC player. Birge says he's feeling healthy and ready for the challenge of the upcoming season.
I decided to come back because I'm not ready to be done playing competitive soccer, yet. I still feel like I have more to give and I'm feeling better than I did at this time, last year. [In 2019] I'd like to compete for the top spot in our league, as well as the Michigan Milk Cup. Since last season, I started my school counseling program at GVSU in fall, and I've been as assistant coach on the boys and girls varsity soccer teams at East Lansing high school.
Welcome back, Julian!
Kevin Buca
Welcome to the club, @kev_buca! The @umichsoccer freshman joins County's midfield for the 2019 season.#BleedPurple | #HAIL pic.twitter.com/CVPss8bPW0

— Oakland County FC (@OaklandCountyFC) April 11, 2019
Exciting and compact, attacking midfielder Kevin Buca will be spending 2019 close to home with Oakland County FC. Buca, the second of three young Rochester players joining County this summer, returns home following his freshman year at the University of Michigan.
First and foremost, I want to bring OCFC, and their fans, success on the field. I know the squad is very talented, and we have all of the potential to be successful this season. Personally, I'm looking to expose myself to a new environment where I can continue my development. My freshman year at Michigan really pushed me out of my comfort zone, which was something I needed after four years of USSDA soccer. Playing in the physical Big Ten, the matchups really helped me develop my positioning and awareness on the field. It's been a challenge that I've embraced and loved.
Kevin, who earned nine appearances during his freshman season, actually has a historical link to County as well, despite his young age:
I remember Oakland County FC from the early days when they played home games at my high school, Stoney Creek. I remember the stadium preparations and the atmosphere before games, and that's when I knew that I wanted to be a part of [OCFC], at some point.
Cam Panley
Signing back on for 2019 is @GoBearcatsMSOC junior, Cameron Panley. Welcome back to the club!#BleedPurple | #Bearcats pic.twitter.com/WwOduVYrtt

— Oakland County FC (@OaklandCountyFC) April 11, 2019
Returning for a second season in purple is Beverly Hills native midfielder, Cam Panley. The junior had a standout career with both Brother Rice High School and the Vardar Academy, prior to his time at the University of Cincinnati. Upon re-singing for OCFC, Panley had a clear message of what he expects of the team's mentality:
This year, all of our goals should ultimately be to win the league. We have all the pieces, we just have to put it together."
Last year, Panley was a regular in the OCFC midfield, appearing 10 times for the club in 2018.
Join your neighbors in cheering on these impressive players as they strive for top competition and club glory. The action all begins on Saturday, May 11 at 7:30 PM, under the lights at Clawson City Park. For tickets to the 2019 Home Opener, visit https://www.oaklandcountyfc.com/2019tickets