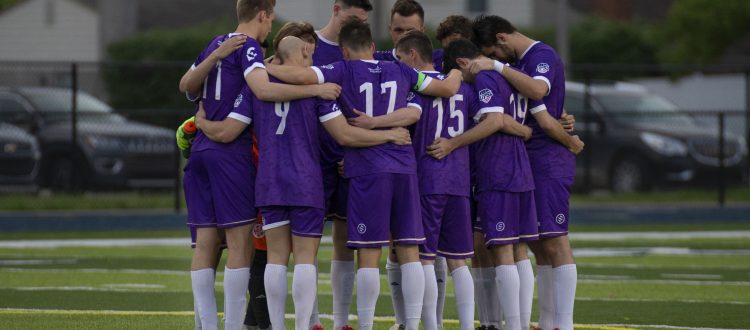 Match Recap: County Suffers First Loss of 2019
Written by Robert Kerr, Staff Writer
—
Oakland County FC was defeated by a final score of 3-0, at the hands of the Michigan Jaguars this past Saturday night. County's league matchup against the Jaguars was complicated, by a game-time decision, to relocate the bout from the outdoors of Detroit Catholic Central to the indoor safety of Total Sports, Wixom. The venue change was due to approaching severe weather. Once the game eventually kicked off, the hosts were resolute in defense, and clinical in attack, to hand OCFC their first defeat of 2019.
Michigan's supporter-owned team started the game off, brightly, as both sides threatened, without creating any clear-cut chances in the opening 20 minutes. The game had a frenetic pace in the smaller dimensions of the indoor pitch. Any mistake, or heavy touch of the ball, was quickly closed down and turned into a counter attack. The hosts were far more comfortable with the field dimensions, and it showed as the game progressed. The Jaguars struck twice in quick succession, around the half hour mark. OCFC looked like they got back into the game, just before halftime, only to see Shawn Sloan's free kick come back off the post, bounce across the goal line, and then cleared off the line again.
The hosts added a third goal eight minutes into the second half, off a glancing header from a powerfully driven corner kick. Once down three goals, the OCFC team fought hard through the difficult and fruitless 35 minutes that remained. The Jaguars defense, and goalkeeper, were excellent on the night, and blocked every shot County sent their way. The Purple Gang had over 20 attempted shots in the game, and had them stopped by defenders or saved by goalkeeper, Damon Favero. OCFC players and coaches will take Saturday's game as a learning experience, and quickly move onto the next challenge ahead.
---
Mario Morana
"I wouldn't say we put together a winning effort, but the three goal score line is a bit harsh on us. We had a plethora of chances we couldn't put away, and due credit to them, they had a couple good combinations that they put into the back of the net."
Head Coach Darryl Evans
"It was a team loss, today, nobody individually was really at fault. Nobody really played great and we didn't defend well, as a unit. We then didn't score on our opportunities, and that's how you lose games. It could have been three to three with all of our chances, but it wasn't. We will continue to train during the week and continue to find our best eleven to go into the next game."
---

---
Michigan's supporter owned team will return to action Friday June 7, at 7:30 PM at High Velocity Sports in Canton, MI, to play UPSL newcomers, Waza Flo. Oakland County FC's next home game will be played on Thursday June 13, at 7:30 PM at Clawson City Park Stadium. The Oakland County FC experience, presented by Diversified Members Credit Union, continues beyond the final whistle. Zeoli's Italian, in downtown Clawson, at 110 E 14 Mile Road, is the official OCFC match day bar. Zeoli's is serving $1 beers, during every match day, in 2019! Socialize, dine, and cheer with your fellow fans, before and after the game.
Visit oaklandcountyfc.com for match previews, reviews, highlights, galleries, and more! Follow us on Twitter, Facebook, and Instagram, to find exclusive offers and the latest content. Enjoy the game, and #BleedPurple