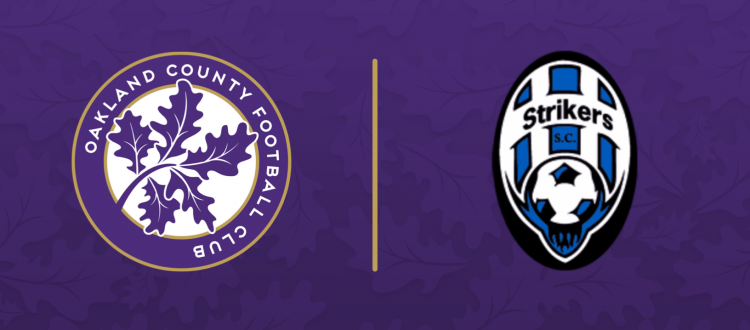 Oakland County FC Launches Youth Program in Affiliation with Strikers SC
Oakland County Football Club and Strikers Soccer Club have announced a youth affiliation that will introduce OCFC as the newest youth club in the ever-growing metro Detroit soccer scene for boys and girls born in 2011, 2012 and 2013.
Serving as a youth partner in both 2018 and 2019, Strikers SC has welcomed Oakland County FC with open arms as both organizations strive to grow the game in both the local and state level.
With this partnership, OCFC first team players will train the new teams throughout the fall, winter and spring seasons and will be managed by OCFC staff. Staff will provide a new platform for player and club recognition through enhanced year-round club awareness, digital and media exposure and top-tier training. Players of the program will also wear the same uniforms as the first team beginning in the fall of 2019. A path to the club's first team for the youth program will be established after the 2019-2020 season.
"Oakland County FC has been more than a fascination on the field of play. It serves as a hub for fans and developmental players to stay aligned with their goals and aspirations. There is so much excitement around the long-lived anticipation to create the youth segment which is finally here and coming to fruition. We hope to provide the top quality our club can offer." – Theo Foutris, Co-Owner
Strikers SC/Oakland County FC Youth will be holding their Open House on June 11th and 12th from 6:00-8:00 PM at Clawson Stadium (650 W. Elmwood Avenue, Clawson).
Tryouts for 2011s, 2012s and 2013s will be held on June 15th and 16th from 9:00-10:00 AM.
"We're very excited to continue our partnership with Strikers SC and introduce youth teams to our organization. This is something we've wanted to build within our organization and are certainly looking forward to how it'll grow in the future." – Ben Rode, Co-Owner
The activation of this affiliation opens a new door to the supporters and sponsors of the organization as it is a step in the right direction for the growth of the Oakland County FC brand.
"We have enjoyed watching the City of Clawson embrace OCFC and are excited to see the impact they will have on player development for these grassroots youth teams. OCFC has a group of talented players and I believe their involvement and support in our community and club will only make us (Strikers) stronger."  – Denise Lanfear, Club Director – Clawson Strikers

---
For more information, please send an email to info@oaklandcountyfc.com or call (248) 629-0251.
About Oakland County FC: Oakland County FC is a semi-professional grassroots soccer club striving to grow the game the right way. Currently members of the United Premier Soccer League and in its fourth year of operation, OCFC is touted as one of the premier organizations in the state of Michigan for their on-and-off the field product.
About Clawson Strikers: Strikers Soccer Club is affiliated with the Clawson Recreational Soccer program and plays in MYSL and MSPSP. The purpose of travel soccer is the advancement of player development through experienced coaching and training in a competitive team environment. We focus on the long-term development of the player and team both on and off the field.