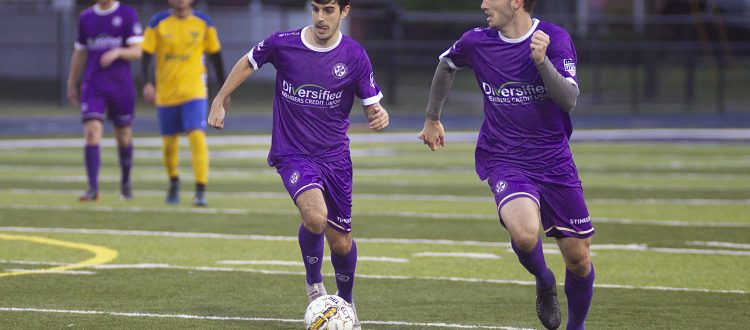 Match Recap: Oakland Suffers Fourth One-Goal-Loss of 2019
Written by Robert Kerr, Staff Writer
—
Oakland County FC was defeated, on the road, by Carpathia FC, by a final score of 4-3. County did well to overcome an early two goal deficit, but was ultimately undone by the hosts, in an action packed game. County's Mike Melaragni and Mario Morana, each netted their sixth goal of the season and remain tied as the club's top goalscorer. Midfielder Demetri Pliakos contributed his first goal of the season with an impressive second half strike. Tuesday night was the third consecutive game in which OCFC scored two or more goals and was defeated. County will now have a welcomed weekend off, after playing three games in six days. The team will now prepare for their Michigan Milk Cup semi final, against AFC Ann Arbor, on June 26th.
Looking ahead to next week's BIG matchup vs @AFCAnnArbor for a shot at the @michiganmilkcup Final. #BleedPurple

📸 | @renalaverty pic.twitter.com/Y4iJkdrg6A

— Oakland County FC (@OaklandCountyFC) June 19, 2019
An absolute peach of a pass from OCFC midfielder Nate Tremonti sparked an unlikely first half comeback, in Tuesday night's encounter. Down 2-0 after 33 minutes, Tremonti brought energy, and belief, back into the OCFC team, when he sprang striker Mike Melaragni for a on-on-one breakaway. Tremonti's perfectly weighted ball, put into motion the most majestic of soccer moments. Those in attendance will long remember the sight of Melaragni's perfectly timed run. The through-ball was so well played, the forward had time to pick his head up, and pick his spot to shoot. The long striding forward's finish never seemed in doubt, as he slotted past Nate Steinwascher, to put County on the scoreboard.
FINAL | 😕 pic.twitter.com/suj2VxQICc

— Oakland County FC (@OaklandCountyFC) June 19, 2019
On the stroke of halftime, Melaragni contributed, again, to equal the score. The Rochester native was thrown to the ground, from behind, while going up for a header in Carpathia's penalty area. The referee awarded a penalty, and County veteran Mario Morana took care of business, from the spot, to tie the game. Momentum was on County's side going into the break.
Six minutes into the second half, County midfielder Demitri Pliakos produced a thrilling moment to put Purple Gang ahead. The University of Detroit junior, found himself in space, around 25 yards from goal, and unleashed an otherworldly blast that found the side netting, just inside goalpost. The hosts appeared stunned to see their goalkeeper beaten by the long distance effort, but the moment did not last long, however.
Tonight's XI.
•
Dolan, Alaman, Brazil, Amigo, Metcalfe, Tremonti, Harris, Pliakos, Morana, Resendes, Melaragni.#BleedPurple pic.twitter.com/LmRlIGPvZG

— Oakland County FC (@OaklandCountyFC) June 18, 2019
Just moments after going a goal ahead, Carpathia winger Dylan Borczak scored his second goal of the game, to tie the match at three. The Detroit native would play a role in the final goal, too, as he was brought down just outside the County penalty area, during a dangerous counter attack. Borczak's work, in disrupting OCFC's defensive wall, on the ensuing free kick, aided in Ybarra's low shot, finding it's way past Tim Dolan, for the winner. The result is County's fourth one-goal-loss of the season, and fifth overall.
---
Coming Home
County's next home game is set for Friday June 28, at Clawson City Park Stadium. The Oakland County FC experience, presented by Diversified Members Credit Union, continues beyond the final whistle. Zeoli's Italian, in downtown Clawson, at 110 E 14 Mile Road, is the official OCFC match day bar. Zeoli's is serving $1 beers, during every match day, in 2019! Socialize, dine, and cheer with your fellow fans, before and after the game. Tickets can be purchased HERE.