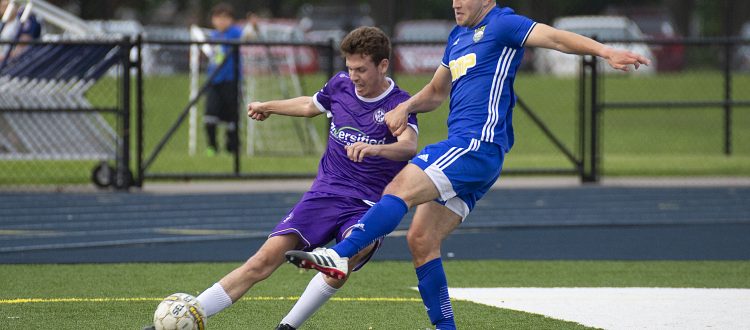 Match Preview: OCFC vs Carpathia FC
Written by Robert Kerr, Staff Writer
—
Oakland County FC continues their search for points on the road, as they take on Carpathia FC, Tuesday night. The midweek matchup comes just three days after County's last minute loss to BIH Grand Rapids. The Saturday loss included two first-time club goal scorers; striker Tommy Dokho tallied on his OCFC debut, and centerback Santi Amigo netted his first in the purple and white. Michigan's supporter-owned team will need to play at their very best on Tuesday night, at Avondale High School, if they are to overcome a strong opponent, and reverse recent results.
FINAL | It's been that kind of June. The boys take a tough loss on the road in the final minutes. #BleedPurple pic.twitter.com/5RoM4Kfvbs

— Oakland County FC (@OaklandCountyFC) June 16, 2019
---
Close but not Quite
On a wet and humid Saturday night on the west side of Michigan, County came agonizingly close to a point, on the road, against a division topping BIH Grand Rapids team. The Purple Gang looked good in the middle of the field, with midfielders Bobby Harris and Louis Sala creating a number of dangerous chances for OCFC. Royal Oak Native, Tommy Dokho, scored in his very first OCFC appearance, after just 21 minutes.
County's good start was undone by a brace from Bih's Brogan Shrimpton. The 27-year-old forward netted past Tim Dolan on the stroke of half-time, and again, in the 74th minute, to give the home team the second half lead. OCFC defender Santi Amigo then looked to have salvaged a draw, when the towering Spaniard scored his first for the club, with just four minutes remaining in the game. The scoreline didn't hold, though, as the home team was able to grab a winning goal, on the stroke of full-time, leaving County empty-handed on the night.
.@mikemelaragni and @MMorana23 lead the club with 5️⃣ goals apiece in 2019. #goalsongoals pic.twitter.com/6R5gpwX3nx

— Oakland County FC (@OaklandCountyFC) June 17, 2019
---
Rise to the Challenge
Oakland County FC will look to stop the current streak of bad results, against a cross-county foe. OCFC will make the seven mile trip, up to Avondale High School, to take on Carpathia FC. County staff and players will need to be aware of winger Dylan Borczak throughout the game, as the former County player is in top form, scoring twice, and adding an assist over the weekend. The OCFC strike force will be a danger too, as club scoring leaders Mario Morana and Mike Melaragni will be available once again, for selection. Earning a first-ever win against Tuesday's opponent, would be an excellent way to reverse the current run of results.
---
Coming Home
County's next home game is set for Friday June 28, at Clawson City Park Stadium. The Oakland County FC experience, presented by Diversified Members Credit Union, continues beyond the final whistle. Zeoli's Italian, in downtown Clawson, at 110 E 14 Mile Road, is the official OCFC match day bar. Zeoli's is serving $1 beers, during every match day, in 2019! Socialize, dine, and cheer with your fellow fans, before and after the game. Tickets can be purchased, HERE.