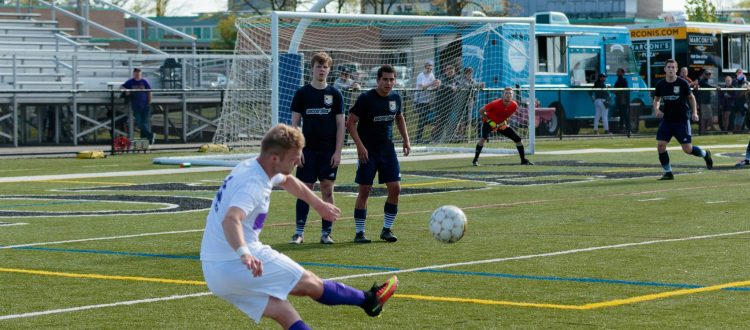 Season Finale Match Preview: OCFC vs Livonia City FC
Written by Robert Kerr, Staff Writer
—
Oakland County FC will host Livonia City FC in the final game of the 2019 season this Saturday night. As with all 2019 OCFC home games, the season finale is presented by Diversified Members Credit Union. The final match weekend is set to be a celebration of the club's fans, partners, and neighbors. County will be looking to end the season with a win against a cross-town opponent, in front of the home fans. A win on Saturday will lift OCFC to a 9-6-2 record, across all competitions. Presale priced tickets to the 2019 season finale, can be purchased here.
One more go for your boys in purple this weekend. What a year!

Tickets: https://t.co/0G2kjZBGix#BleedPurple | #Season4 pic.twitter.com/YyNAFu83gY

— Oakland County FC (@OaklandCountyFC) August 1, 2019
Last time out at Clawson City Park, OCFC attackers Mario Morana and Fred Prest were the stars of the show. The duo scored goals and combined with flair against the Muskegon Risers on July 13. Fans will be excited to hear that Morana, Prest, and defender Cam McNeil are amongst the players available for Saturday's game. So far, 12 County players have found the back of the net in 2019. Will there be a new name added to the season's scoresheet on Saturday?
The player who got himself added to the 2019 County scoresheet during the last home game, will actually be playing in his final County game on Saturday.
A
ttacker Jonah Kibirige will be appearing in his farewell match for County as the native Ugandan has been on a mission to play soccer in the United States. With the season concluding, so does his time with us. Jonah has trained hard, and has been a consistent competitor for County, throughout the entirety of the 2019 season. Kibirige notched his first goal for OCFC on July 13, when he netted the fourth goal, of the 4-0 win, over the Muskegon Risers. 
---
The Opponent
Livonia City FC is OCFC's final foe of the fourth-ever County season. Livonia City FC is an Elite Amateur soccer club from Livonia, MI. whose first team plays in MPSL Premier Division, U.S. Open Cup, and U.S. Amateur Cup. 
The visitors were also 7-0-0, in the MPSL, this year. Livonia City FC owner, Craig Beebe, sites their U.S. Amateur Cup win, over Grand Rapids FC, as the highlight of their 2019 season. In the sole previous meeting between two clubs, County defeated Livonia FC, by a score of 4-1, in an
exhibition match in 2017
.
A tradition is born. The inaugural OCFC Supporters' Cup takes place tomorrow night!

⚔️ | Staff vs #County faithful

Who takes the 🏆? #TeamStaff | #TeamSupporters @ElmwoodElite pic.twitter.com/fxh7GsWjTt

— Oakland County FC (@OaklandCountyFC) August 1, 2019
As a celebration of OCFC fans, partners, and neighbors, the finale weekend will begin with the first annual
Supporters vs Staff game tonight at Clawson City Park. The game will be followed by post-game fun and socializing, at Zeolis, in downtown Clawson
. The winning side will be taking home more than bragging rights, as the
inaugural OCFC Supporters' Cup will be awarded to Friday's winners
. 
On Saturday, and all match days in 2019, OCFC welcomes our partners from out in the community, into our games. This week, we will be hosting guests from the Clawson Chamber of Commerce, St Jude Children's Cancer Research Hospital, and Clawson Youth Assistance. Throughout the season, we welcome Diversified Members Credit Union, who have not only become the club's title sponsor, but a fantastic partner and advocate for Oakland County FC in 2019. More special thanks go to all of our game day sponsors, and of course, the OCFC Supporters' Trust. Thanks to all for supporting and for sharing in the Oakland County FC experience. 
As the season winds to a close, we want to thank @DMCreditUnion for supporting us throughout it all! A great partnership indeed.

🎥 | @ZerdsWorld#BleedDMCU pic.twitter.com/tLCqmzj8oy

— Oakland County FC (@OaklandCountyFC) July 31, 2019
August 3rd's game against Livonia FC, will also serve as the jump-off point to OCFC's offseason community partnership, with St Jude Children's Cancer Research Hospital. A portion of proceeds from the game will be donated as part of Oakland County FC's participation in St Jude's Run Walk in Detroit, MI., on September 28. To join or donate to OCFC's St Jude Run Walk team, text "Detroit" to 785-833. Find team OCFC, at http://walkrun.stjude.org/teamOCFC.