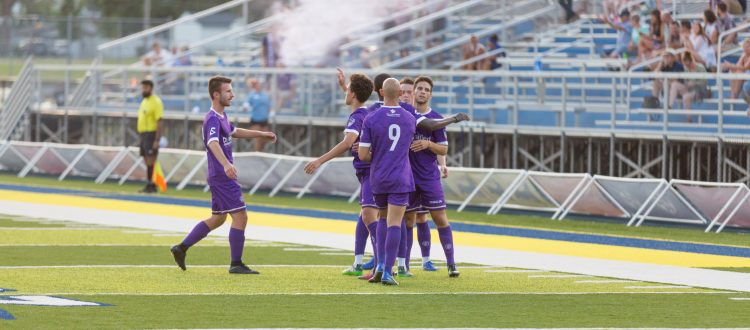 Season Finale Recap: The Perfect Ending
Oakland County FC was victorious in the season finale, against Livonia City FC by a 2-0 scoreline. County captain Mario Morana netted his team-high tenth goal of the year, while Blessing Tahuona scored his first for the club. The exhibition win was a fitting conclusion to a celebratory weekend, and an eventful season. Oakland County FC thanks all of the fans, partners, and neighbors, for the support throughout the 2019 campaign. 
FINAL | A fitting way to close out 2019! OC! 👏🏻 FC! 👏🏻 #BleedPurple | #Fin. pic.twitter.com/LC45wu2OHG

— Oakland County FC (@OaklandCountyFC) August 4, 2019
OCFC wrapped up it's fourth-ever campaign with a shutout and two exciting goals. County original, Mario Morana was a goal threat from the opening whistle, combining well with strike partners Fred Prest and Blessing Tahuona. The captain broke the deadlock in the 23rd minute with an excellent strike from a free kick taken from just outside the Livonia penalty area. Morana won the free kick after having having gone on a slicing run through the middle of the visitors defense. Morana was brought down and awarded the free kick, about 20 yards from goal. Morana's strike curled up and over Livonia's wall of defenders and then just inside goalpost as the visiting goalkeeper dove in vain, to his right. A highlight reel goal for County's top scorer.
Here's a 👀 at our game-winner this past Saturday and @MMorana23's 1️⃣0️⃣th goal of the season! #BleedPurple
~
🎥 | @ZerdsWorld | Magdiel Crisan pic.twitter.com/6mSixyWbmi

— Oakland County FC (@OaklandCountyFC) August 6, 2019
Following a festive halftime presentation, which honored OCFC's undefeated run in the Michigan Milk Cup, and the winners of the inaugural OCFC Supporters Cup, County began the second half on the front foot. Just over two minutes into the second half, County's advantage was doubled. Attacking midfielder Blessing Tahuona, scored his first goal in County purple, when he finished off a goalmouth scramble that followed a deflected Fred Prest cross. 
Tonight's Starting XI (don't mind the fact that there's XII 🤫).
~
Nicholson (GK), McNeil, McComas, Lencioni, Chunn, Schultz, Lahbiki, Morana, Tahuona, Prest, Hobbs. #BleedPurple pic.twitter.com/IPCiQAMz0k

— Oakland County FC (@OaklandCountyFC) August 3, 2019
County's defense and goalkeepers then took care of business to maintain the 2-0 scoreline. Center back Cam McNeil and County debutants
Joe Franchini and Derek McComas, blocked off and limited the visitor's attacks. The defensive effort made plain work for the young County goalkeepers. OCFC debutant
Andrew Nicholson
did well to stop the limited shots that came his way. The only caveat to Saturday's win, was young goalkeeper Zack Miller having to leave the game, due to injury, shortly after being subbed on, in the game's second half.
2019 Supporters' Cup Champs: Team Supporters! History made. #BleedPurple pic.twitter.com/jys85wCaH9

— Oakland County FC (@OaklandCountyFC) August 3, 2019
---
Statistics

---
Twenty Four hours before the exhibition game against Livonia FC, the Supporters team were victorious in the inaugural Staff vs Supporters match, in Clawson city park. Fourteen OCFC supporters took on the staff of the club, in a game filled with fun and laughter. The supporters team ran out to a 3-1 lead in the game, only to see the staff team score twice in second half injury time, to force a penalty shootout. Team Supporters secured the first ever OCFC Supporters Cup, with an impressive display of penalty taking. The game and surrounding festivities were a fantastic start to a new club tradition.
The season finale served as the kickoff to OCFC's offseason community partnership, with St Jude Children's Cancer Research Hospital. A portion of proceeds from the game and raffle will be donated as part of Oakland County FC's participation in St Jude's Run Walk in Detroit, MI., on September 28. To join or donate to OCFC's St Jude Run Walk team, text "Detroit" to 785-833. Find team OCFC, at http://walkrun.stjude.org/teamOCFC.
To follow along with all of OCFC's off season activities, visit oaklandcountyfc.com, for post-match reviews, highlights, galleries, and more! Follow us on Twitter, Facebook, and Instagram, to find exclusive offers and the latest content.