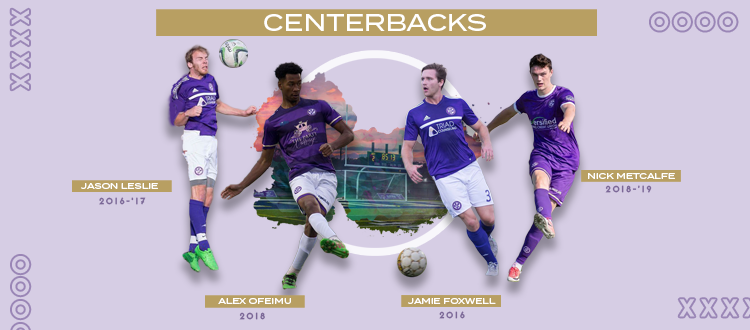 Vote For The All-Time OCFC Roster: Centerbacks
Written by Robert Kerr, Staff Writer
—
The first position of Oakland County FC's All-Time Roster to be revealed is that of the centerback: the rocks of any team.
Alphabetically listed, OCFC presents four of the top performing centerbacks through the club's short history. Jamie Foxwell (2016), Jason Leslie (2016-'17), Nick Metcalfe (2018-'19), and Alex Ofeimu (2018). Over the next three days, supporters can vote via the poll below or on our Twitter page. The top two vote-getters will be named as starters in our final XI.
---
Jamie Foxwell (2016)
The vocal defensive leader of OCFC's debut team. The authoritative central defender was known for his physical play and happy-go-lucky attitude. Foxwell's demeanor was said to be great for bringing the team together. The Marysville, Michigan native made nine total appearances in County Purple, one of which was in OCFC's lone foray into the U.S. Open Cup. Foxwell came to play for County following a superb four-year career at the back for Liberty University. The OCFC original has since played for a number of local elite amateur teams, coaches youth soccer, and now works in finance.

---
Jason Leslie (2016-'17)
Jason Leslie was another major piece of County's debut backline, partnering with fellow selectee, Jamie Foxwell, at the back in 2016. Leslie was great on the ball, in the air and caused problems for opposing forwards with his sneaky speed. The Troy, Michigan native, returned to OCFC in 2017, and ended up making 17 total appearances for County. Leslie states that his favorite OCFC moment was a 2016 road trip to Aurora, Illinois, where the team earned a 2-1 comeback win, and collected a unique trophy during post match celebrations. A keepsake which he possess' still to this day.
Leslie went on to captain University of Detroit Mercy in two of his four years playing for the Titans. The defender is now the Academic Coordinator for Syracuse University athletics.

---
Nick Metcalfe (2018-'19)
Nick is OCFC's mountain of a man. The 6'4" Royal Oak, Michigan native, made his mark instantly in County's purple. The towering defender put in a 'Man of the Match' worthy performance in the home opener of OCFC's 2019 season. Only a couple weeks later, the towering defender would provide one of the seasons top moments. A goal down and with time running out, Metcalfe rose higher than any Carpathian defender to head home a dramatic last gasp equalizer.
"ICE IN HIS VEINS!" – @JeremyOttoPxP @JacobMattia ➡️ Cam Panley ➡️ @metcalfe_nick. What a finish to last night's thriller. #BleedPurple pic.twitter.com/cGxphYRVLO

— Oakland County FC (@OaklandCountyFC) May 31, 2019
Metcalfe continued his fine summer form by leading OCFC to the Michigan Milk Cup Final. He pushed on still into the fall, earning himself 2019 Northern Michigan University's Soccer Athlete of the year award. Currently, Nick is starting his career in public accounting in January.

---
Alex Ofeimu (2018)
Central defender Alex Ofeimu was a mainstay for County's backline through the 2018 season. The physically gifted defender appeared 10 times for the club, covering tons of ground and willing to play physically. He also loved to move up the field to join in on the attack. Ofeimu states his favorite OCFC memory as May 26ths, 2018 away victory in Indiana. The game featured a long bus ride, weather delays, and he himself scoring one of five OCFC goals.
Ofeimu has since graduated from Rochester University after transferring from Oakland University. With plans to work in soccer abroad currently put on hold, Ofeimu is continuing his work as a personal trainer and soccer coach.

---
Cast your vote below (top two selections will be named starters in our final XI):
Alex Ofeimu (44%, 80 Votes)
Jason Leslie (31%, 56 Votes)
Nick Metcalfe (15%, 28 Votes)
Jamie Foxwell (9%, 17 Votes)
Total Voters: 181

Loading ...
If you are experiencing issues with the poll above, you can also cast your vote HERE.
About Post Author