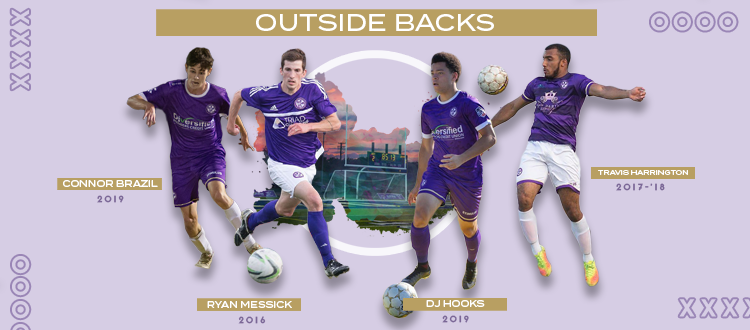 Vote For The All-Time OCFC Roster: Outside Backs
Written by Robert Kerr, Staff Writer
—
Next up, the second position of Oakland County FC's All-Time Roster: the outside back. Also referred to as fullback, this position has become one of soccer's most evolved ones over the past decade or two. The position has taken on more responsibility and influence as soccer tactics have shifted towards ball control and creating player overloads in attack. OCFC fullbacks have regularly been tasked with both offensive and defensive duties since inception.
The club is proud to have had so many fine fullbacks to select from to make up the All-Time Roster. Alphabetically listed, OCFC presents the four top performing outside backs through the club's short history: Connor Brazil (2019), Travis Harrington (2017-'18), DJ Hooks (2019), and Ryan Messick (2016). Over the next three days, supporters can vote via the poll below or on our Twitter page. The top two vote-getters will be named as starters in our final XI.
---
Connor Brazil (2016)
Connor Brazil brought a consistently high level of play to the left back position of OCFC in 2019. Whenever Brazil was on the team sheet, the left side of the field was locked down defensively. Being a fast, physical, and highly fit player, Brazil was also able to get involved and support his team farther up the field too. Brazil appeared in nine games for County and sites his favorite moment as the team's glorious 2019 Milk Cup run.
Happy #VictoryThursday! #BleedPurple pic.twitter.com/b9aVaySSRe

— Oakland County FC (@OaklandCountyFC) June 27, 2019
Connor was set to play for Michigan State University this fall, following his three years playing as a Louisville Cardinal. Brazil is currently working on his master's degree as a Spartan, and patiently awaiting the return of college soccer.

---
Travis Harrington (2017-'18)
Travis Harrington is always putting is best foot forward. Both on and off the field, the Macomb native puts in a lot of work for those around him. In thirteen appearances over two seasons for OCFC, Harrington played in multiple positions, and elevated the players around him in each one. The Oakland County FC All-Time Roster selection also had a sterling and humanitarian award winning collegiate career at Oakland University. Harrington graduated with a Bachelor's degree in Social Work. He then declined his final year of NCAA soccer eligibility to enter into the Peace Corps as an English teacher in Togo. He states his favorite County moment as OCFC's winning visit to the Muskegon Risers, in July of 2017.
FINAL: Oakland: 3 – 2 :Risers. Morana's beauty makes the difference. Beautiful W! #OCFC pic.twitter.com/XdaNM7S6bm

— Oakland County FC (@OaklandCountyFC) July 9, 2017
Travis currently ten months into his assignment in the soccer-loving West African country. When he's able to return abroad and complete his time in Togo, Harrington is eager to immerse himself into the local village's popular amateur league.

---
DJ Hooks (2019)
The outstanding DJ Hooks came to OCFC in the summer of 2019, following his graduation from Stoney Creek High School. Prior to being selected to Oakland County FC's All Time Roster, Hooks', had already written himself in OCFC lore. Hooks' OCFC debut came in arguably the club's biggest win to date. On June 26, 2019, Hooks showed off impressive technical ability, great tenacity, as well as astonishing fitness, in OCFC's 3-2 Milk Cup Semi-Final win over AFC Ann Arbor. The Southfield, MI native seemingly covered the entirety of the right side for County to get the big win in the fading daylight of Ann Arbor.
Tonight's starting XI. #BleedPurple pic.twitter.com/xzOfSarIdD

— Oakland County FC (@OaklandCountyFC) June 26, 2019
Through his six appearances in 2019, Hooks also displayed useful versatility. As the fullback performed at a high level, on both the left and right sides of the OCFC defense. The 2019 team came together on the pitch during the successful Milk Cup run. The team's performance hit its peak, when he and fellow Oakland County FC All Time Roster selection, Connor Brazil, were first partnered on County's back line.
Hooks was set to return to OCFC in 2020 and is now underway in his sophomore year playing and studying at Butler University.

---
Ryan Messick (2016)
Ryan Messick is an OCFC original. Proving to be durable as well as talented. Messick featured sixteen times in County's debut 2016 season. The player joined County on the heels of a successful collegiate career at Anderson University in Indiana. He was also asked to contribute to teams forward play in addition to his defensive responsibilities. The versatile player states his favorite OCFC memory as playing in the club's first ever home win, a hard-fought victory over the Muskegon Risers.
#OC pic.twitter.com/sZjhDq0G08

— Oakland County FC (@OaklandCountyFC) May 22, 2016
Messick currently splits his time between working at his families bakery in Ann Arbor, and in flight school training to become a commercial pilot.

---
Cast your vote below (top two selections will be named starters in our final XI):

Connor Brazil (49%, 8,702 Votes)
Travis Harrington (32%, 5,687 Votes)
DJ Hooks (18%, 3,192 Votes)
Ryan Messick (1%, 107 Votes)

Total Voters: 17,688

Loading ...
If you are experiencing issues with the poll above, you can also cast your vote HERE.
---