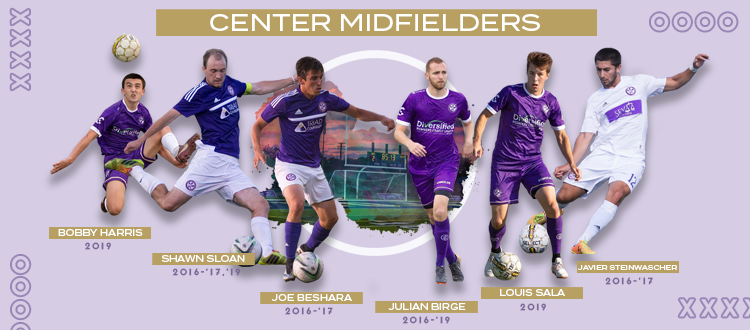 Vote For The All-Time OCFC Roster: Center Midfielders
Written by Robert Kerr, Staff Writer
—
The OCFC All-Time Roster backline players have been revealed and voted on. Next up to be revealed is the lynchpin of any team, the central midfielders. They control and advance the ball, set the tone of play, and cover the most ground. A team only goes as far the midfield takes them. Oakland County has been blessed with a plethora of talented midfielders, which in turn led to lengthy discussions making these roster selections.
The All-Time Roster includes six central midfielders. Alphabetically listed, they are: Joe Beshara (2016-'17), Julian Birge (2016-'19), Bobby Harris (2019), Louis Sala (2019), Shawn Sloan (2016-'17, 2019), and Javier Steinwascher (2016-'17).
Over the next three days, supporters can vote via the poll below or on our Twitter page. The top three vote-getters will be named as starters in our final XI.
---
Joe Beshara (2016-'17)
A player unlike any other, Joe Beshara was an easy selection for the Oakland County FC All-Time Roster. A unique mix of power, style, and tenacity, Beshara was a key midfield piece for the club through its first two seasons. Always willing to express himself, on and off the field, the Troy, MI native truly relished his time with the club. The midfielder lists his favorite OCFC memories as just being involved in the high level training sessions, making his teammates laugh, and the week-long buildup heading into a game. He loves to share the feelings he had during his time playing youth soccer, with those around him as an adult player.
Leaving the office on a #Friday like new Technical Director Joe Beshara. 🚨#BleedPurple | #JoeJoeJoe pic.twitter.com/JVr1HLKKBS

— Oakland County FC (@OaklandCountyFC) March 22, 2019
Beshara is currently a youth soccer trainer, along with being involved in other unrelated business ventures. He made 20 total appearances for OCFC, and remains a club ambassador.

---
Julian Birge (2016-'19)
Birge has been ever-present for Oakland County FC. The East Lansing native midfielder has been involved in each OCFC season so far, appearing in a total of 28 games for the club. Birge's story as a player has been one of constant and steady growth. He began his tenure as a member of the reserve squad, and over time became a penned-in starter for the first team. The ball-winning midfielder always displays a great hunger, commitment to succeed and to win, while carrying himself with confidence and modesty.
"He's got that motivation and maturity you need on a team. If you can find twenty players like that, you'd be in a great spot." – HC Darryl Evans

Staff writer @LWOSr2kerr2 adds Volume 3 to the Player Series with OCFC original, @JulianBirge: https://t.co/qvLOkKAD1t#BleedPurple pic.twitter.com/ylstiPNTpS

— Oakland County FC (@OaklandCountyFC) July 18, 2018
Birge relays that scoring in his club debut was his favorite OCFC memory to date. Although, 2019's Milk Cup Win in Ann Arbor comes in as a close second. Birge was set to return to play for OCFC in 2020 and add to his appearance total. He is now entering his first year as a Middle School counselor, and continues to be an assistant coach for the boys and girls teams, at East Lansing High School.

---
Bobby Harris (2019)
Bobby Harris came to County amongst a cohort of exciting young Stoney Creek High School graduates in 2019. Harris' game grew tremendously as the season progressed, both individually and as a teammate. The elevation of Harris' confidence, and impact on the game, was visible to all over the course of his ten OCFC appearances. The young attacking midfielder covered a lot of ground, linked play well, and became a physical presence with the ball.
Tonight's MOTM: Bobby Harris! A goal in his first appearance of the season. #BleedPurple pic.twitter.com/fAcJCcOGbR

— Oakland County FC (@OaklandCountyFC) May 19, 2019
The Rochester, MI native played a significant role in OCFC's run to the 2019 Milk Cup Championship. Bobby sites the 2-1 semifinal win over AFC Ann Arbor as his favorite OCFC moment. Harris was set to return to play for OCFC in 2020, and is currently studying at Wisconsin's School of Business.

---
Louis Sala (2019)
Louis Sala showed out in the Purple of OCFC, in 2019. The classy midfielder's play was so impressive that he's earned a spot in the Oakland County FC All-Time Roster in just seven appearances. The West Bloomfield raised, Sala, pushed OCFC's level of play up every time he was on the field.
Sala relates that his favorite moment so far was his debut game, a 2-1 win over Ann Arbor FC, in 2019's home opening night at Clawson City Park.
Some casual strolling 🎶 and Saturday's goals while you enjoy this fine Wednesday weather.#BleedPurple pic.twitter.com/KiF81EGzZM

— Oakland County FC (@OaklandCountyFC) May 15, 2019
Sala was set to return to play for OCFC in 2020. He recently transferred to Michigan State University from Northern Illinois University, where he appeared in all 36 games of his first two college soccer seasons. He is currently studying as a Spartan while he awaits the return of college soccer.

---
Shawn Sloan (2016-17, 2019)
An OCFC original and the leading goalscorer of the team's first ever season, Sean Sloan is truly a club cornerstone. Whether it be connecting play through the middle of the field, or scoring from long range rocket shots, Sloan was highly influential for OCFC. Sloan came to Oakland following an outstanding college career, which garnered him enough attention to be a 2013 MLS draftee for the Columbus Crew.
SIGNING: #OCFC signs @HighPointSports alum and former @ColumbusCrewSC player Shawn Sloan: https://t.co/nIOfPF7I23. pic.twitter.com/jBbkPoA7r9

— Oakland County FC (@OaklandCountyFC) March 23, 2016
The Geneva, Ill. native relates that his favorite club moment was OCFC's 2017 trip to Minneapolis, for Open Cup qualifying. Sloan has appeared 25 times for OCFC over the course of three seasons, and was set to return to play in 2020. The Oakland County All -Time Roster selection is currently in his second year of residency, as an emergency medicine physician, at Detroit Receiving Hospital.

---
Javier Steinwascher (2016-'17)
Javier Steinwascher electrified OCFC crowds in every appearance he made. The Sterling Heights native suited up in County purple twelve times through the club's first two seasons. The dynamic midfielder has great poise on the ball, and is always a threat to the opponent's goal. Javier has racked up an average of nearly a goal or an assist per game, throughout his soccer career. Whether supplying or scoring, Steinwascher is a gem in any midfield.
If you're a #RoyalOak resident, check your mailbox for the latest edition of Royal Oak Today! #BleedPurple pic.twitter.com/dUO22fmQF1

— Oakland County FC (@OaklandCountyFC) May 18, 2017
Following a record breaking four year college career, at Indianapolis University, Steinwascher now works in logistics and plays with local foe, the Flint City Bucks.

---
Cast your vote below (top three selections will be named starters in our final XI):
Joe Beshara (76%, 1,141 Votes)
Julian Birge (18%, 271 Votes)
Shawn Sloan (3%, 42 Votes)
Javier Steinwascher (3%, 41 Votes)
Bobby Harris (0%, 3 Votes)
Louis Sala (0%, 1 Votes)
Total Voters: 1,499

Loading ...